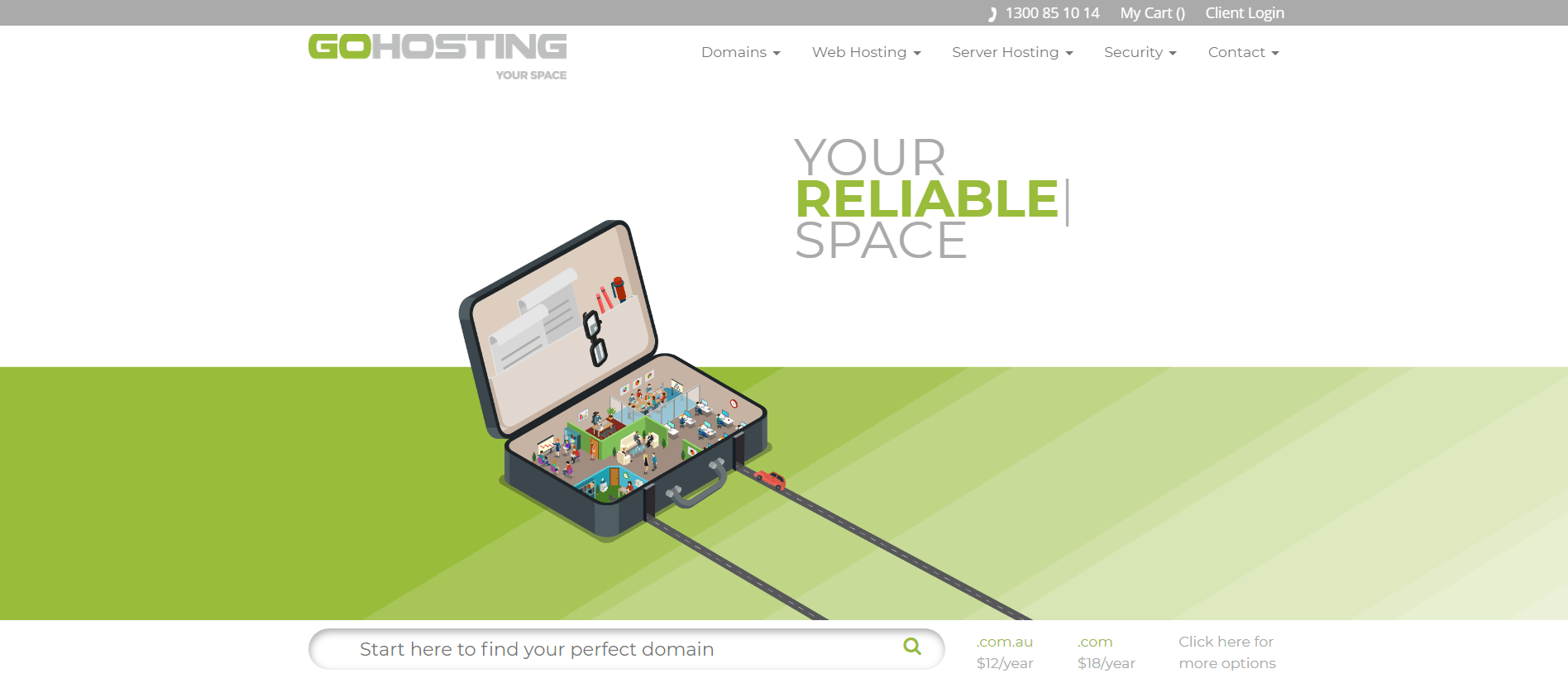 GoHosting's founders could both boast
15 years of experience
when they founded the Canberra-based company in 2003. So
you're in good hands
with GoHosting. Strong service partnerships in cPanel, Dell, TransACT and Tier 4 data centers allow them to offer
solid solutions
to mostly medium-sized companies and individuals in Australia.
Features and Ease of Use
GoHosting's Web Hosting plans offer the following features:
cPanel + WordPress or Plesk: Three shared web hosting plans with a choice of cPanel + WordPress or Plesk (more expensive) as your control panel. Plan 1 provides 1 GB storage, 4 GB bandwidth, and 1 add-on domain. Plan 2 provides 5 GB storage, 20 GB bandwidth, and 2 add-on domains. Plan 3 provides 30 GB storage, unlimited bandwidth, and 4 add-on domains.
Office 365: More storage for small and medium-sized enterprises (SME) to collaborate. 50 GB mail storage, 1 TB OneDrive storage, Exchange ActiveSync, and Outlook Web Access. Higher plans also include Yammer and Skype for Business.
Cloud Business Pack: An all-in-one hosting solution aimed at small businesses. 5 GB of storage, 20 GB data transfer, everything in the Office 365 Business Essentials plan, security, Rapid SSL certificate, and a (.au) domain.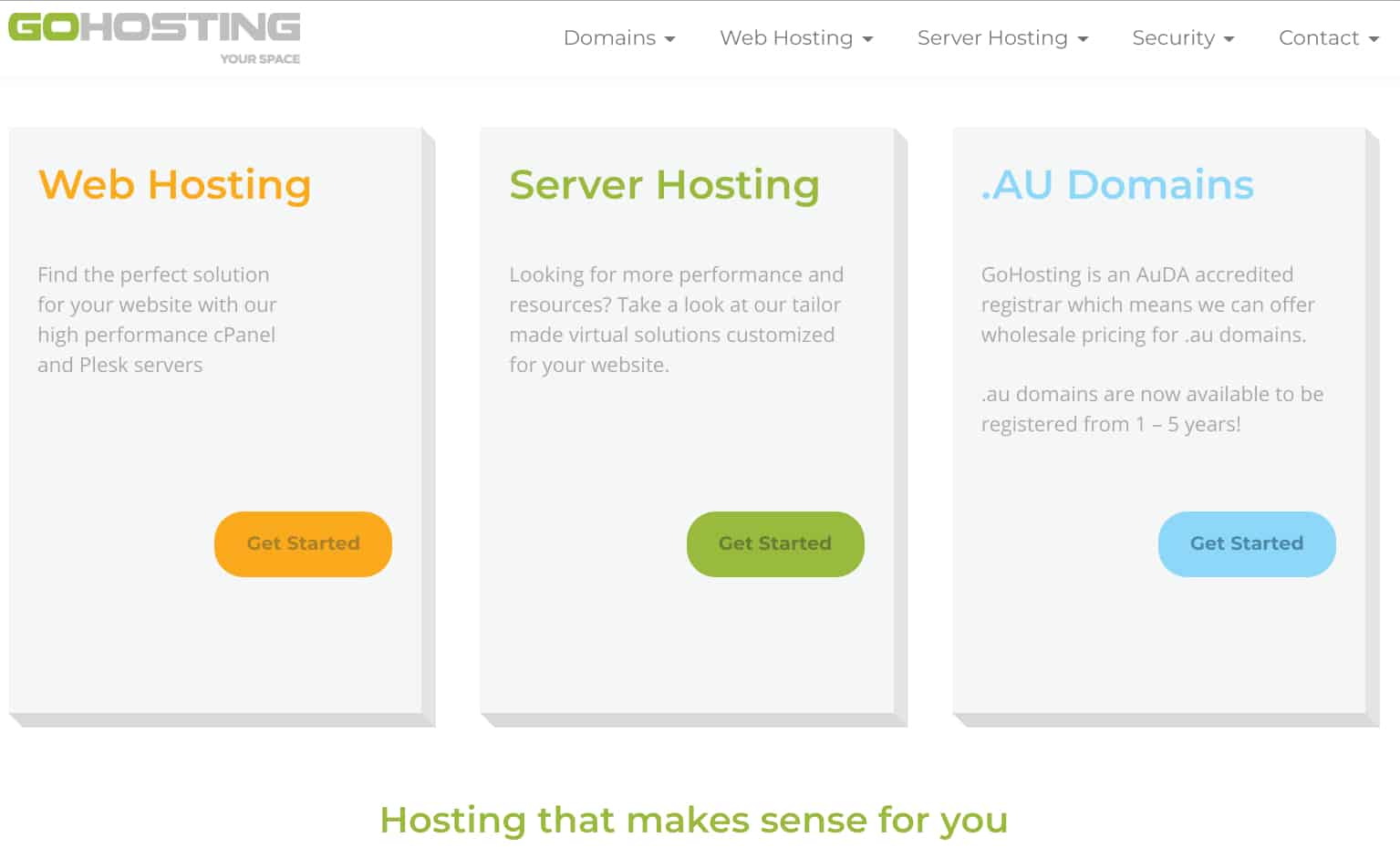 GoHosting's Server Hosting plans offer the following features:
Managed cPanel Servers: Fully managed cPanel servers with dedicated resources. MCP1 provides 2 GB memory, 40 GB storage, and 400 GB bandwidth. MCP2 provides 4 GB memory, 60 GB storage, and 500 GB bandwidth. MCP3 provides 8 GB memory, 100 GB storage, and 1000 GB bandwidth.
Virtual Servers: Truly virtualized server space with dedicated resources and enhanced firewall protection for businesses. GoVSpace1 provides 2 GB memory, 40 GB storage, and 400 GB bandwidth. GoVSpace2 provides 4 GB memory, 60 GB storage, and 500 GB bandwidth. GoVSpace3 provides 8 GB memory, 100 GB storage, and 1000 GB bandwidth.
Dedicated Servers: Housed in one of two ASIO T4 Standard data centers with Tier 4 redundancy, and provisioned on a custom basis in response to a request for a quote.
In addition to the wide range of hosting solutions, GoHosting has the basics covered through a combination of:
Domain registration (free .au domain with the Cloud Business plan)
Purchasing of SSL certificates with RapidSSL, Wildcard SSL and EV Certificate options
Email hosting
Office 365 business hosting
VPN management
Software such as Perl, CGI-BIN, Python, and Ruby
These basic hosting services are complemented by additional add-on services including:
GoVPN: GoHosting's VPN software, based on OpenVPN and utilizing SSL encryption for an ultra-secure connection that is easy to manage
GoHosting MailFilter: A feature-rich mail filtering product that protects against spam and viruses, allows you to manage VPN users, and offers advanced email filtering
Each type of hosting provides you with the necessary software and resources for achieving success. The shared web hosting solution includes cPanel, Softaculous, MySQL, and various software frameworks like Python and Ruby. On the other hand, the Office 365 hosting solution offers software tailored to SMEs, including Yammer, Skype for Business, and Exchange ActiveSync.
No plans come with a content management system (CMS) pre-installed, but the simple sign-up process gives you the freedom to set up a solution that is perfect for you.
Pricing and Support
First, the bad news. No trial periods or refunds for hosting plans are offered unless GoHosting is unable to provide the promised service. Nor do they offer website migration.
Now the good news. GoHosting does offer a three-day grace period during which you can refund your domain.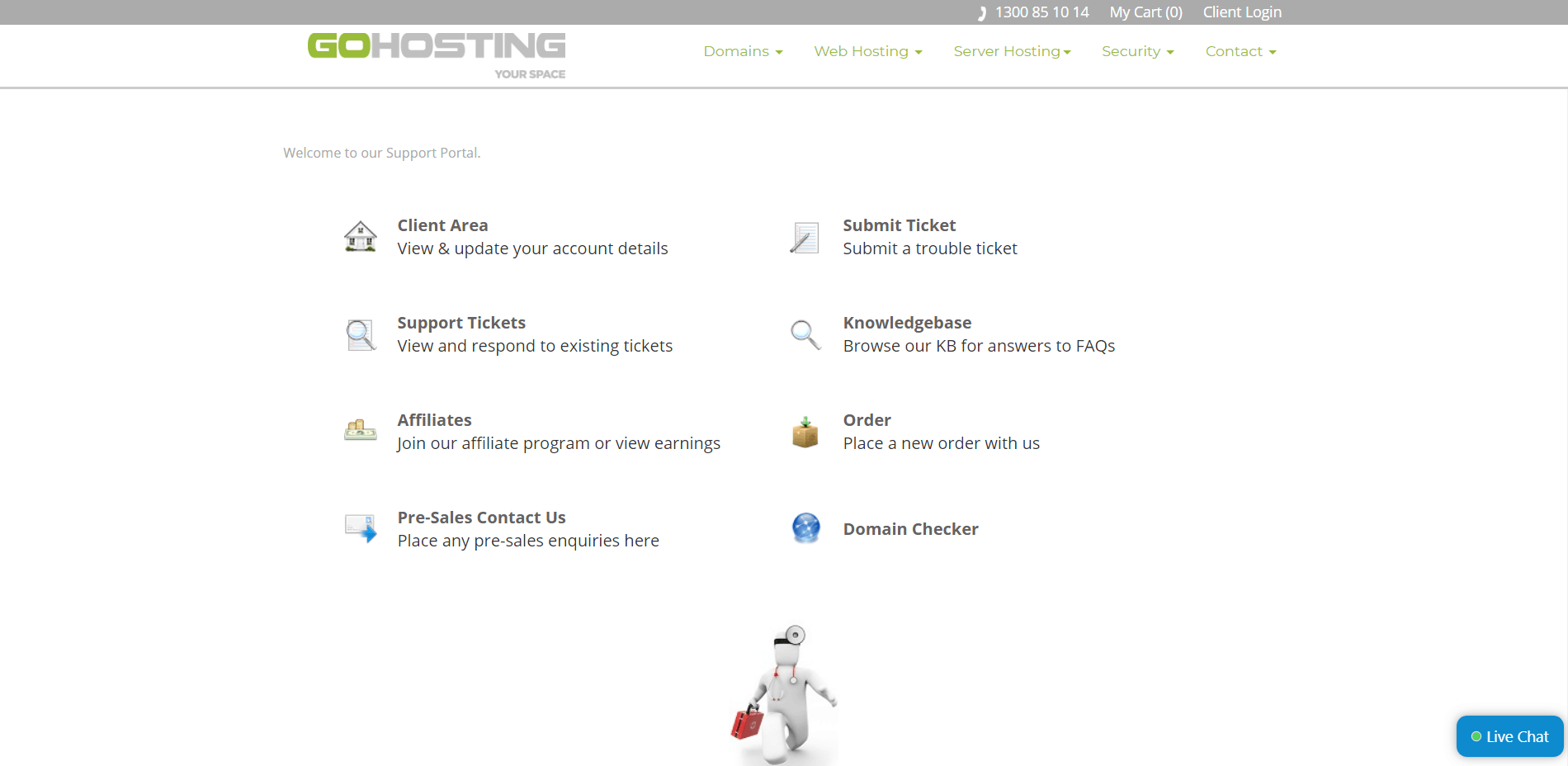 24/7 support is offered with all pricing plans via an Australian phone line or ticket support. They have a good reputation for responsive expert technical support plus a well-populated knowledgebase.
Despite the decent range of products and prices, I would personally prefer a few more unlimited options and fewer restrictions on their cheaper plans.