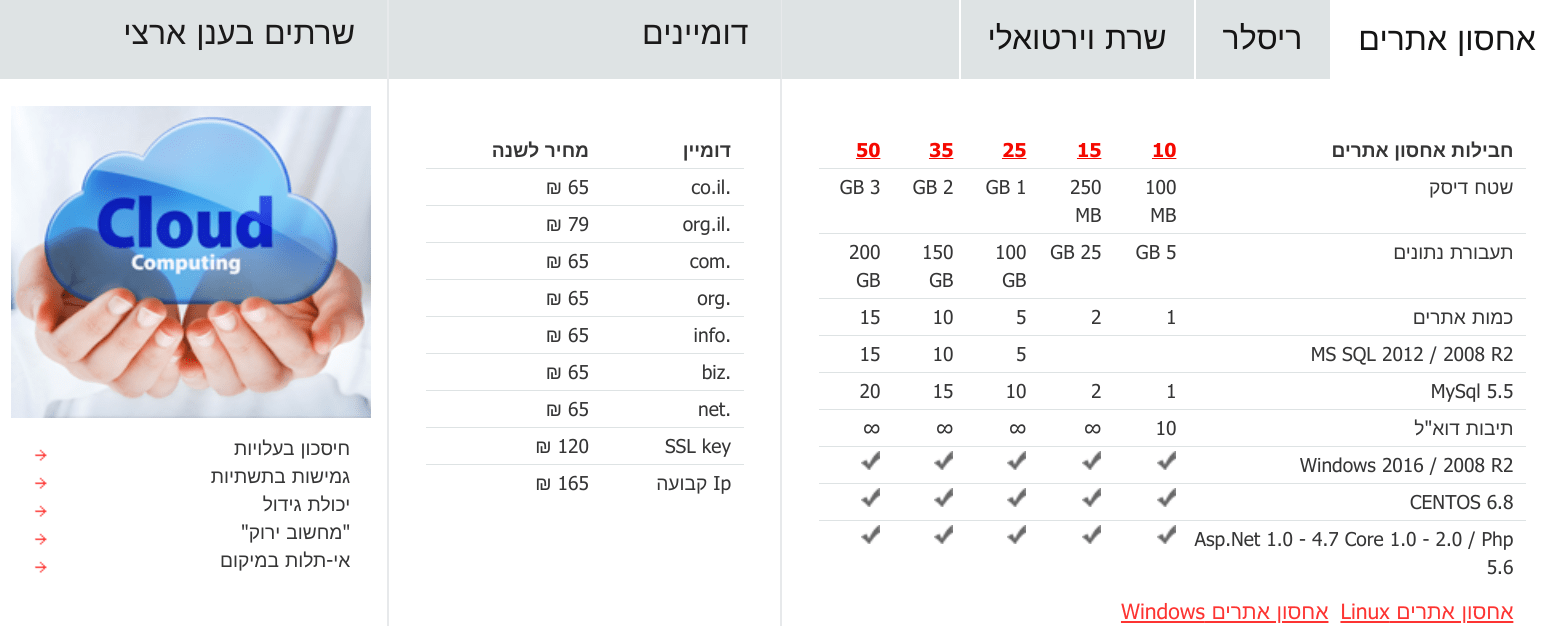 Floxyk Hosting is an
Israel-based website hosting provider
. It is not clear when they launched, or how many customers they have, but the fact that they have 50+ employees does suggest a large customer base. Their
website and support are both in Hebrew
.
Features and Ease of Use
Floxyk Hosting offers a nice selection of website hosting plans including Linux, Windows, WordPress, reseller and virtual private servers. They also offer domain registration and SSL certificates.
As standard, their website hosting plans include the following features:
99% availability
Daily automatic backups
Domain registration at an additional cost
From 1 to 25 domains, dependent on package
Free SSL certificates
From 100 MB to 5 GB disk space
The website is a little confusing for beginners. With quite technical language, it takes some time to review the different packages – which are each on different web pages – in order to compare them. However, they do offer a variety of base configurations for you to choose from; e.g. Linux or Windows operating systems, ASP.NET / Microsoft SQL, add-on domains, and varying amounts of bandwidth and disk space.
All packages come as standard with good security features including firewall protection, daily data backup, and SSL security certificates. However, they only offer support for PHP 5.6 (rather than 7.2) and no advanced scripting such as Ruby on Rails or Python.
Pricing and Support
Floxyk Hosting's pricing compares well with local companies, but not with international competitors. However, their base packages do include many features that would cost extra with other companies. And of course, the extra cost may well be worth it if you're looking specifically for an Israeli host.
They offer several different contract lengths of one, three, six, twelve and twenty-four months, with the price getting less for longer terms. Their prices include VAT, so there are no surprises when you check out. They do not offer a free trial or a money-back guarantee, but you do only pay pro rata (plus a small cancellation fee) if you choose to end your contract early.
Floxyk Hosting's preferred customer contact method is 24/7 telephone, and in fact, they have no other contact methods. No live chat, no email, no ticket support, and no active social media profiles. But their support is helpful and they've always managed to resolve my issues with ease. They also have a minimal frequently asked questions section.