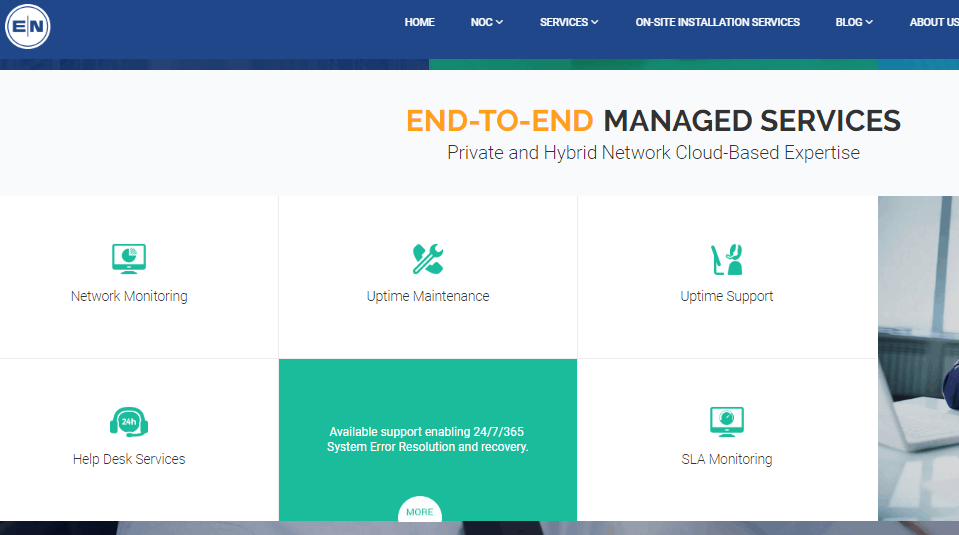 ExterNetworks is an IT service provider that was established in 2001. It prides itself on having invested in high-end solutions that are characterized by innovation and opportunity, along with a non-negotiable commitment to service. The firm operates in several locations worldwide and it has over 1,000 field technicians as well as more than 500 full-time employees.
Among others, it specializes in providing NOC services, Managed IT services, network design, and consulting as well as integration and deployment services.
Features and Ease of Use
ExterNetworks is not a web hosting provider with typical web hosting solutions, such as shared web hosting, reseller, and server solutions. Instead, it offers support and NOC services to hosting firms across the globe. Some of the features included in its NOC services are:
Back-up and 24/7 network monitoring

Dedicated and experienced NOC team

Maximized ROI by outsourced NOC services

Remediation of user's IT infrastructure

Advanced reporting tools and metrics
ExterNetworks boasts of high-performance services powered by state-of-the-art network and monitoring systems. To guarantee secure and quality services, the company has partnered with leading brands, including Cisco and Juniper networks as well as outsourcing networking services from big companies like Avaya, Fujitsu, and ShoreTel.
At ExterNetworks, uptime network is non-negotiable. To ensure this, the vendor deploys the best techniques in the market, such as the use of a cutting-edge Artificial Intelligence (AI) system that helps its NOC engineers quickly detect a problem when a threat strikes.
What's more, the company has designed these systems in a way that after potential threats are detected, the alerts are escalated automatically to the NOC team for a quick fix. This way, the vendor can maintain a 100% uptime with very rare cases of IT outages.
Pricing and Support
Due to the nature of its services, potential customers interested in getting a plan with ExterNetworks can only send them a message and request a quote. With that in mind, how much the company charges users will depend on the customer's demands based on their business requirements.
That said, unlike other NOC service providers, ExterNetworks offers no free trials or any refund policy for its services.
The ExterNetworks customer support team is available 24/7 and you can contact them via its dedicated sales telephone numbers for different continents; one telephone support allocated for customers in North America, the other for customers in India or Asia, and lastly for clients in Europe, the Middle East, and Africa.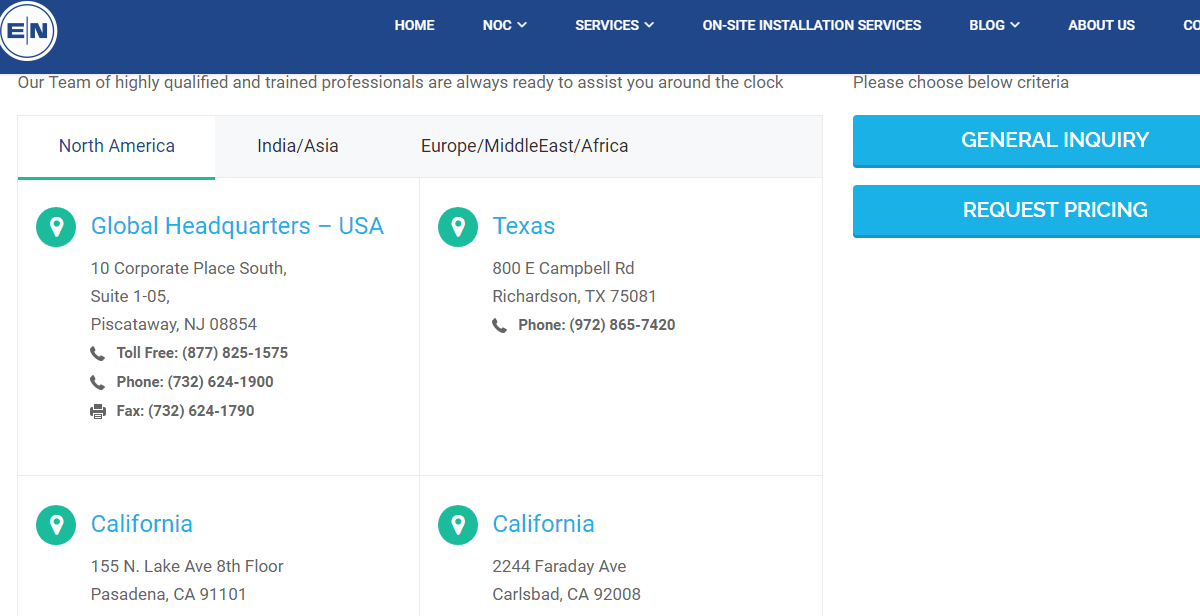 You can also contact them via live chat, ticketing system, or through a contact form. All the same, the hosting company does not seem to have email support.
To learn more about ExterNetworks website services, users can download the attached materials available on their websites.