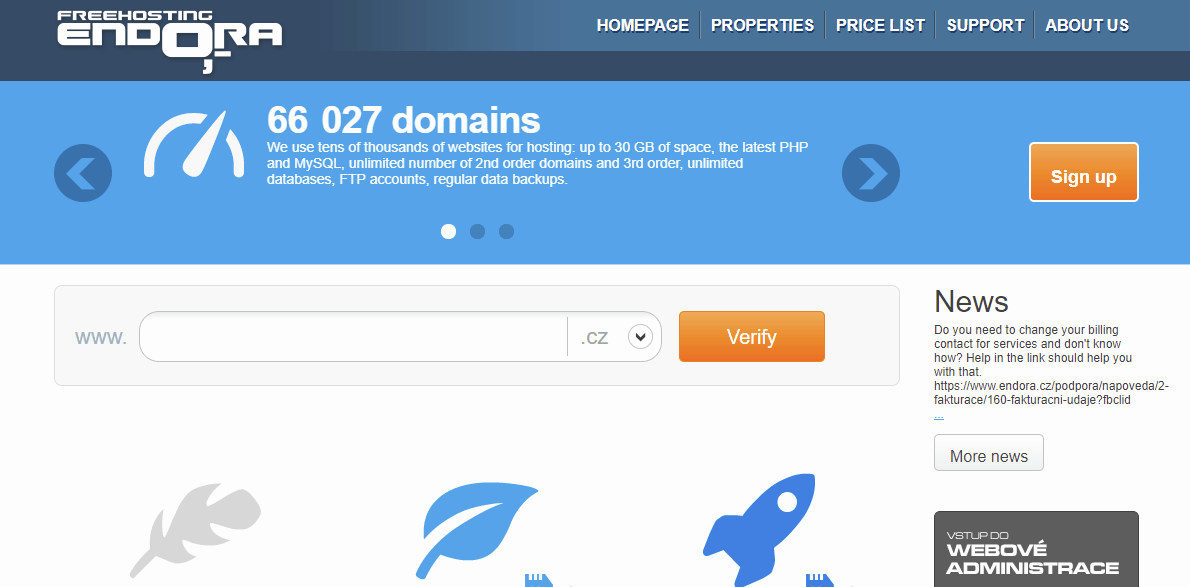 Endora is a web hosting provider that is located in the Czech Republic. The company was founded in 2009 and is operated by Stable.cz with servers located in Prague, Czech Republic. It offers domain registration, shared servers, email services, business card design, and more. Its website is available in Czech only.
Features and Ease of Use
Endora offers four shared hosting plans that provide features suitable for small to medium-size businesses. The first two plans aren't on Solid State Disks but the top-two plans provide SSD storage.
These are the features that customers on shared hosting enjoy:
98% uptime SLA
Daily automatic backups
Free SSL certificate
Free domain on some plans
Unlimited domains per account
1GB, 2GB, 10GB, or 30GB storage
If you are on the first two plans, you're not assured of your backups except if you compile them yourself. The company doesn't guarantee that it actually processes backups or will have backups ready for customers on those plans. However, those on the two top plans are guaranteed backups.
If you're all for a simple text landing page, you'll like Endora. It calls it a web business card, and it's already programmed. All you need to do is insert your contact and about details, choose colors and backgrounds and you're up.
However, your chances of ranking or scoring well in modern design are low with the business card option. So, Endora provides another alternative to building websites for beginners, which is a one-click installation of WordPress, Joomla!, and PrestaShop. Also, if you choose WordPress at checkout, it'll be installed for you.
Endora supports multiple versions of PHP and you can switch to the version you want in your control panel. You can create and manage MySQL databases, upload files with FTP, and set cron jobs for tasks.
Slow loading time is one of the banes of websites and if yours is slow, you'll definitely lose out on visitors and after a while, SEO ranking. Endora helps with that with SuperCache for customers on the top two plans, giving your website the opportunity to be 30X faster after it's activated.
Pricing and Support
Endora offers two free plans. The first plan provides 1GB of space and 1GB of bandwidth, while the second plan offers 5GB of space and 30GB of bandwidth. These plans can accommodate most company websites, and the best part is that they are completely free. However, you will need to pay for your domain.
For the other two plans, the prices are some of the lowest you'll get for the features on offer. The lowest subscription period is six months, with added options of 12 months, 24 months, and 36 months. A free domain comes with these plans, as well.
You can pay with Visa, MasterCard, Visa Electron, Maestro, or bitcoin.
Endora has a help center with guides and another section for video tutorials. If you're not DIY inclined or want an immediate solution without having to search through articles, you can send an email or call support. Its phone support works from 8:00 AM to 4:00 PM from Monday to Friday.
Be aware that if you're on the free plans, you are not guaranteed support, and you might not even get a response. For the paid plans, one of them also has a restriction for phone support. If you can't get the support agents to answer you, try the available support forum.
I had to email the customer support but it was outside of support hours, so I received a reply the next day.