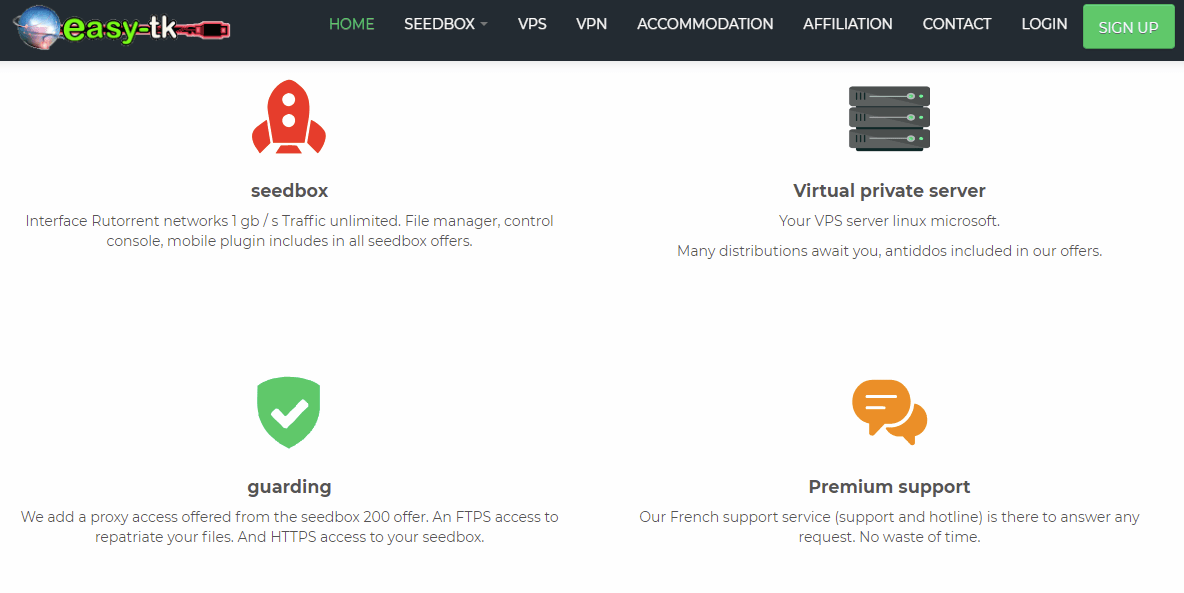 Easy-Tk is a company that's based in France. It offers Virtual Private Server (VPS), seedbox, and VPN. The company also offers shared hosting under another brand name: Easy-web. Its servers are located in France and Canada. Its website is available in French only.
Features and Ease of Use
Given that its shared hosting is under a different brand name, I'll focus on its VPS. Easy-Tk's VPS comes in two plans that are suitable for large websites. They come with the following features:
Unlimited bandwidth
200GB or 500GB SATA
Easy.Tk offers 100 Mbps connection. 1-10 Gbps is better, but if your website isn't a large/traffic-intensive one, you won't notice the difference. You'll either get one vCore or two vCore at 3.6 GHZ. For RAM, it's either 2GB or 4GB. If you need more resources, you can check out its Easy-web website as there are some options there.
The company provides one-click applications enabling customers to deploy production environments in one click. The applications are WordPress, PrestaShop, OsCommerce, XOOPS, OwnCloud, Nextcloud, and OpenVpn.
It allows customers to pick their preferred/needed operating system. You can stop, start, or change the OS at any time in one click from your control panel. It supports different versions of Debian, Ubuntu, Centos, Gentoo, OpenSUSE, and Windows Server.
Easy-Tk provides DDoS protection as part of its VPS features. This protects your server from being unreachable due to the flood of traffic that comes from DDoS attacks.
Pricing and Support
Easy-Tk doesn't have a free trial that you can use to see if committing your money is worth it, but its subscription periods are one month, three months, and one year. If you're not fully convinced, but are willing to spend a bit, you can pay for one month and go from there.
The prices are low, especially considering the features that come with them. It's rare to find such prices elsewhere for similar features. However, there's no money-back guarantee, but that's no surprise since most companies don't offer that for VPS.
You can pay with MasterCard, Visa, Payza, or Skrill.
The company has a knowledge base, but it's more focused on the SeedBox service. The tutorials for VPS are very few. If you want to contact support agents, know that the options are limited; there's no live chat or phone number to call, so don't expect an immediate response.
You can either open a ticket or send an email. I sent an email and received a response about an hour later.