Easily is a U.K.-based hosting provider that started life as a domain registrar, Easywebnames.com, back in 1999. Easily itself was later launched with the primary purpose of providing affordable and simple hosting solutions, though they still provide domain name registration services and see themselves as one of the pioneers that made domains low-cost.
Today, they serve customers all over the world but are still focused on the U.K. market.
Features and Ease of Use
Easily caters to the needs of users with low to mid-range requirements. While their features are nothing groundbreaking, there aren't any big gaps in their offering. They provide:
Domain registration services
Webmail manager with a calendar and push email tools
The ability to create a store on your website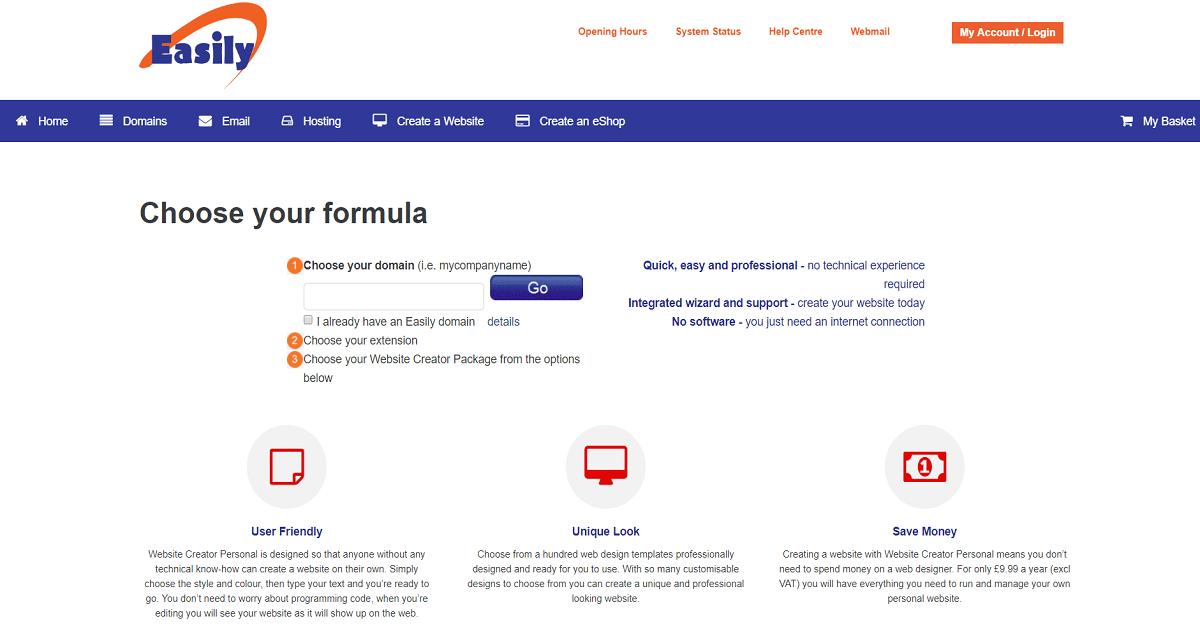 Some of their more outstanding features include:
Advanced Marketing Tools: Available in higher-end e-commerce plans only, these tools let you create newsletters, discounts, coupons, and more
Website Creator: Their in-house website builder comes with a few handy features like voting widgets, multiple themes, map integration, image editors, and so on
Choose between Linux or Windows hosting: With very similar plans on both platforms, you can really choose whichever is your preference
Except for a hiccup when they switched portals, it's pretty straightforward to use the Easily management tools. However, the graphics are a bit dated by now and it's due for an overhaul. If you choose to use WordPress with the one-click installation feature on your hosting solution, you won't really need the control panel much. The same can be said of their other tools, such as the e-shop, website creator, and webmail tools.
Pricing and Support
Luckily, it's quite easy to choose a pricing plan on Easily. They've kept it deliberately simple with hosting broadly split into either Linux or WordPress hosting with three plans each. All plans are billed yearly.
Both beginner plans are ideal for small websites or blogs, advanced plans are geared more towards small businesses who need a bit more resources, and professional hosting is for larger businesses with high computing demands. All plans come with unlimited bandwidth, one-click WordPress installations, and a hosting manager control panel.
The Linux plans work as follows:
Beginner: 1GB of web space and a single MySQL database
Advanced: 5GB of web space and two MySQL databases
Professional: 20GB web space and five MySQL databases
The Windows plans are very similar:
Beginner: 1GB of disk space
Advanced: 5GB of disk space
Professional: 20GB of disk space
There aren't any free plans, but there is a 30-day money back guarantee. There are also paid subscriptions to their website creator tool, webmail, or online shop tools. If you need any of these, remember to calculate it into your total costs.
Easily provides phone support in the U.K., but only within office hours during the week and for a few hours on Saturdays. Staff are overall friendly and helpful. However, it seems as if they suffer from a lack of resources as they can be slow to reply, especially when something happens that affects a large group of customers at once. For example, their shift to a new portal a few years back left many unable to access their websites for some time.