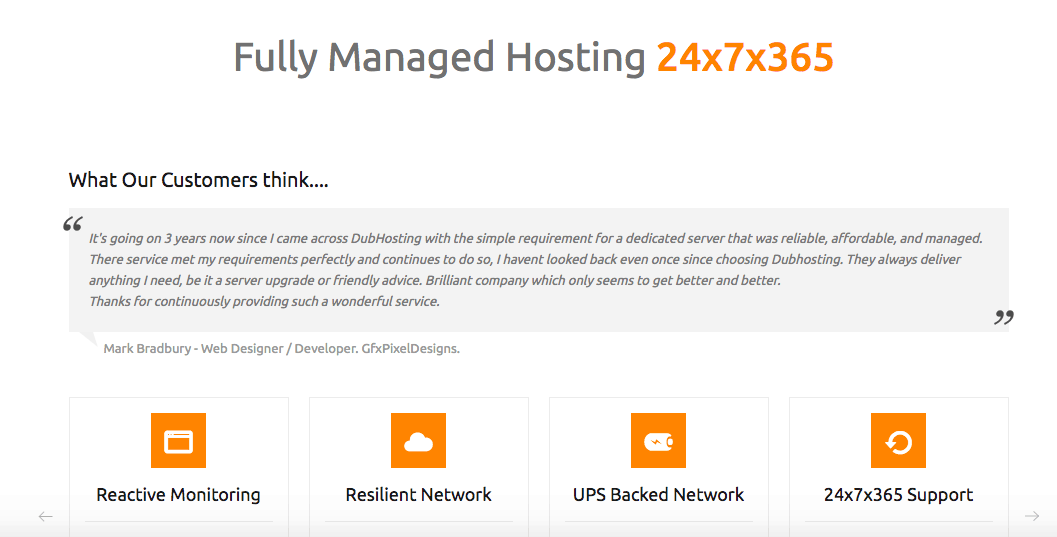 DubHosting is a U.K. based company that has been in business since 2004. It's
primarily focused on enterprise-level hosting
and top notch customer service. The slightly old-fashioned website is available in English only.
Features and Ease of Use
DubHosting specializes in managed hosting plans and the standard features are as follows:
99% uptime guarantee
Backups can be configured
Up to 150GB disk space
Up to 2000GB bandwidth per month
Choice of Linux or Windows operating system
DubHosting co-locates its servers in a Tier III (less than 1.6 hours of downtime per year) data center located in London. The uptime guarantee is low, however, at only 99% while the industry standard tends to be 99.9%. If you run a high traffic website or downtime would be problematic, this could be an issue for you.
As DubHosting offers fully managed services, it will handle all of the day-to-day technical aspects e.g., configuring and maintaining servers, as well as security. It's odd that in the terms and conditions, DubHosting states that it does not take responsibility for backups. They can be manually configured, but it's down to the customer to do so.
The VPS plans can be accessed by SSH (Linux) or RDP (Windows). You have full control via root access, so you can start, stop, reboot, or reload your operating system from your client area with a couple of clicks.
You can choose between Linux distributions (CentOS 5 and 6, Ubuntu, Fedora, Suse 11, or Debian 6) or Windows (Windows 2003 32bit, Windows 2008 R2), and there are also tools like Clonezilla and Darik's Boot and Nuke.
The plans use robust hardware including Hewlett Packard and Supermicro with disks in RAID configuration to mitigate against the risk of data loss in the event of a disk failure.
Pricing and Support
The dedicated server rentals are in line with other similar companies, while the VPS plans are extremely cheap. In fact, the prices are not too dissimilar to regular shared hosting plans. Of course, you'll need to buy an SSL certificate or domain name, but the prices are still great.
Upon checking out, you can purchase a couple of optional add-ons including a one-click installer (Softaculous or Fantastico) or paid backups. To pay extra for backups is a pet peeve of mine, especially as DubHosting claims it is offering fully managed services, but with such good monthly prices, it's hard to complain.
DubHosting prides itself on "fast 24/7" customer service. You can contact them by online ticket, customer desk, live chat & by phone or if you want to do-it-yourself, there's a decent-sized knowledge base. I contacted the team by ticket at around 9:00 AM on a weekday morning and within 25 minutes I had received a response answering my question in full.