Based in the U.S. and providing web related services since 2002, Dot5Hosting is known for being one of the best budget hosting services around. They pride themselves on their
reliable service and knowledgeable customer support staff
. They were acquired in 2007 by EIG, who also happens to be the owner of HostGator and Bluehost.
Features and Ease of Use
Here's a list of the basic features you can expect at Dot5Hosting:
Automated daily backups
Domain registration possible with a free domain when signing up
Unlimited domains can be hosted in one account
SSL certificates available
Unlimited storage and scalable bandwidth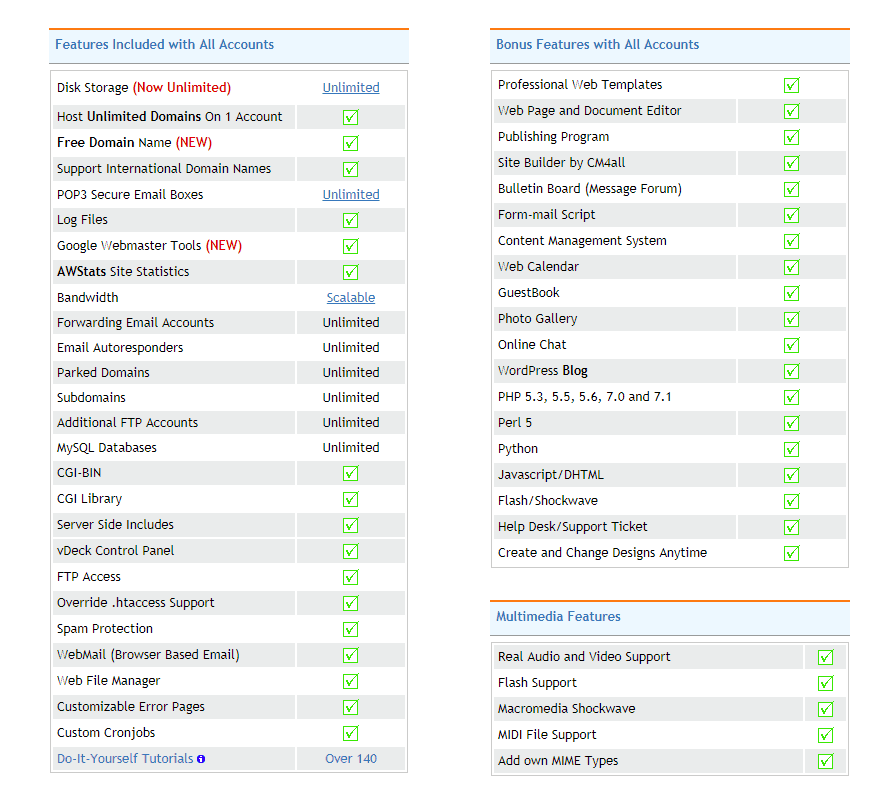 Dot5Hosting's data centers are located in Boston, U.S. They have modern infrastructure with equipment from DELL and redundant power supplies. However, despite this, they do not offer any uptime guarantee. They do seem to have everything you'll need to have a good uptime though, especially with the 24/7 security and DELL high-performance servers.
Using Content Management Systems at Dot5Hosting is quite easy. Even though they don't mention a single-click installer on their website, they do have all of the major software you'll need including WordPress, phpBB, and Joomla among others. When it comes to e-commerce, they offer osCommerce and Agora shopping carts, as well as SSL certificates and password protected directories. Once you sign-up with them, you can also access free Adwords and Yahoo search credit, to be used in the promotion of your website later on.
In addition to all of the features included in your hosting plan, there are loads of other services on offer that will help you improve your website's performance. All of these services come at an extra price, though. You can also hire a consultation expert to help you in the initial stages of setting up your website. To add security and reliability to your websites, you can choose the extra backup options as well as added defense against malware and malicious software. Further services aid in growing your online business or blog and reaching a wider audience through improved marketing techniques.
Pricing and Support
Dot5Hosting only offers a single plan for your hosting account. This comes with all of the above features that Dot5Hosting offers with their hosting. Even though there is only a single plan, if your requirements exceed what is offered in the shared hosting plan, you can get in touch with them and ask for more resources, which they'll happily provide you with.
When you sign-up for the first time, you can use the 'special intro offer' that makes the hosting neither expensive nor cheap and seems about right for the features on offer. However, it gets doubly expensive from the second year onwards and that can be a concern as it seems too pricey for the available features. You can pay for one or two years in advance.
They provide one of the best knowledge base sections with detailed information on all aspects of website hosting. However, the link to customer support on their website only directs you to the knowledge base section, making it difficult to find a way to contact them directly. Unfortunately, their website still has an outdated design and the navigation isn't very user-friendly. It took me a while to discover that you can access the live chat from the top right-hand corner. Their live chat was surprisingly good for a website that looks so old.