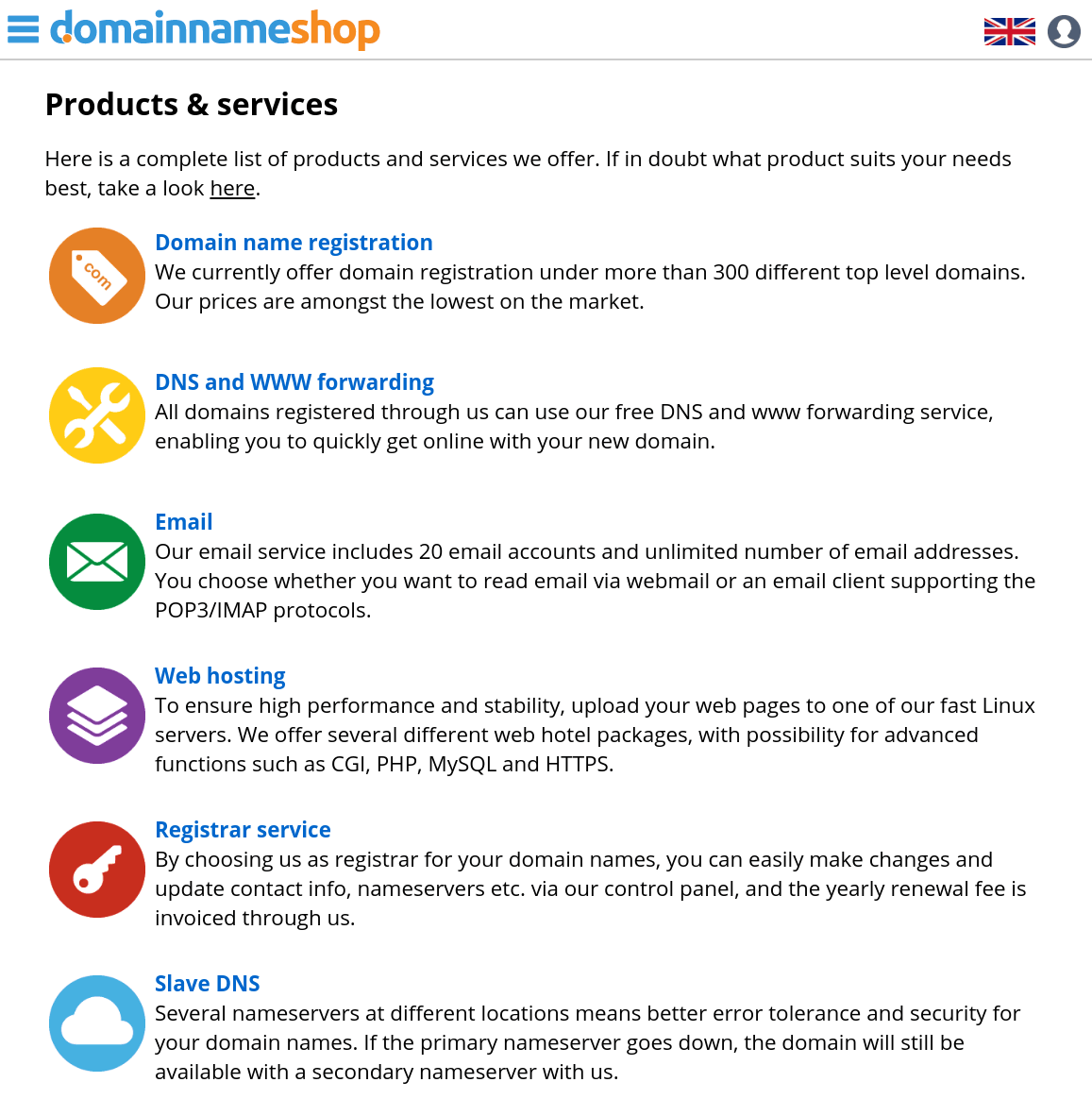 Founded in 1996, and with over 300 different top-level domains and 500,000 domains registered, DomainNameShop (Domeneshop AS) is one of the largest domain registrars in Europe.
DomainNameShop's data center in downtown Oslo has connections Norway's major internet exchange point, NIX. Its website is available in Norwegian, Swedish, Danish, and English.
Features and Ease of Use
DomainNameShop offers four web hosting plans.
The entry-level Mini plan features 1 GB of disk space, 20 email accounts (with 10 GB of space each), FTP, free HTTPS, and a website builder, but no databases or PHP/WordPress support. The Medium plan provides two MySQL databases and one-click WordPress installation as well as 5 GB of disk space and 50 email accounts. The higher plans increase disk space to 20 GB and 100 GB, and email accounts to 100 and 200 respectively.
Web hosting includes:
Free Let's Encrypt SSL
Website builder
FTP
IPv6
Unlimited email addresses and subdomains
Email spam filter
If you don't need a website, and you're only looking to get hosted email with email addresses on a particular domain name, you can purchase one of DomainNameShop's email plans that provide 20 email accounts, unlimited email addresses, and DNS.
Customers who already own a domain can transfer it to DomainNameShop via a simple process. Transferring a domain is free if the "keep current registrar" option is selected.
Pricing and Support
DomainNameShop's website hosting packages are affordably priced compared with leading European and international providers, but the feature set is a bit bare compared with some of those competitors. So, shop around, just to make sure you're getting everything you need.
The entry-level plan only costs around the price of a fast food outlet's cup of coffee per month, which is well below many competitors' budget offerings. But bear in mind that you don't get MySQL databases or WordPress at this price, so the entry-level plan is really only suitable for a static website.
To host WordPress or any other CMS, you'll have to choose a higher plan that costs a couple of times more per month.
DomainNameShop provides support via telephone, email, fax (remember those?), and traditional postal (yes, really). You can call the company during working hours on weekdays.
When I email the support team after business hours on a Friday, I received a response the following Monday: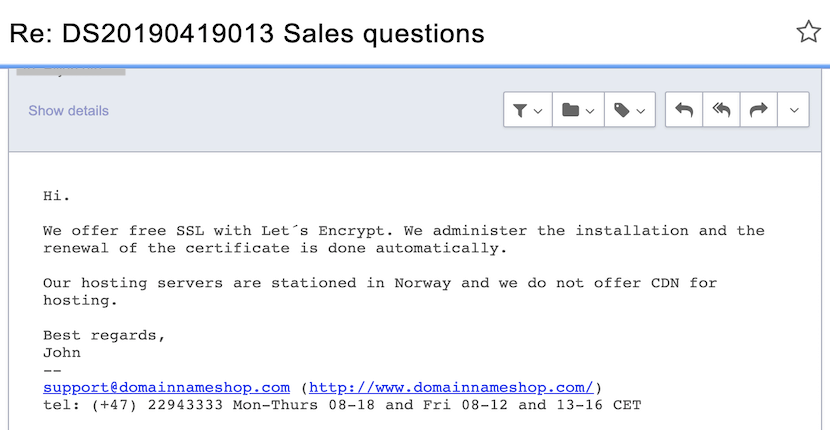 How much does DomainNameShop cost?
DomainNameShop offers multiple plans priced highest to lowest. The price depends on which type of hosting plan you choose. You can see the updated pricing table (updated weekly) below.

Which DomainNameShop plan should I get?
My recommendation is to start with a cheaper plan. You can always upgrade later on. DomainNameShop can help you with the migration to a more expensive plan. The increase in visitors many times takes longer than expected and you shouldn't pay a lot of money until the need arises. Of course, your needs may vary, and you can consult with a hosting expert from DomainNameShop here.

How good is DomainNameShop's customer support?
DomainNameShop is not ranked as one of our top web hosts. But that can also be a result of DomainNameShop being a small, under the radar, hosting provider. There are advantages to a small hosting company – as a customer, you are more important to them. You can also check out our comparison of the most popular web hosting services here.