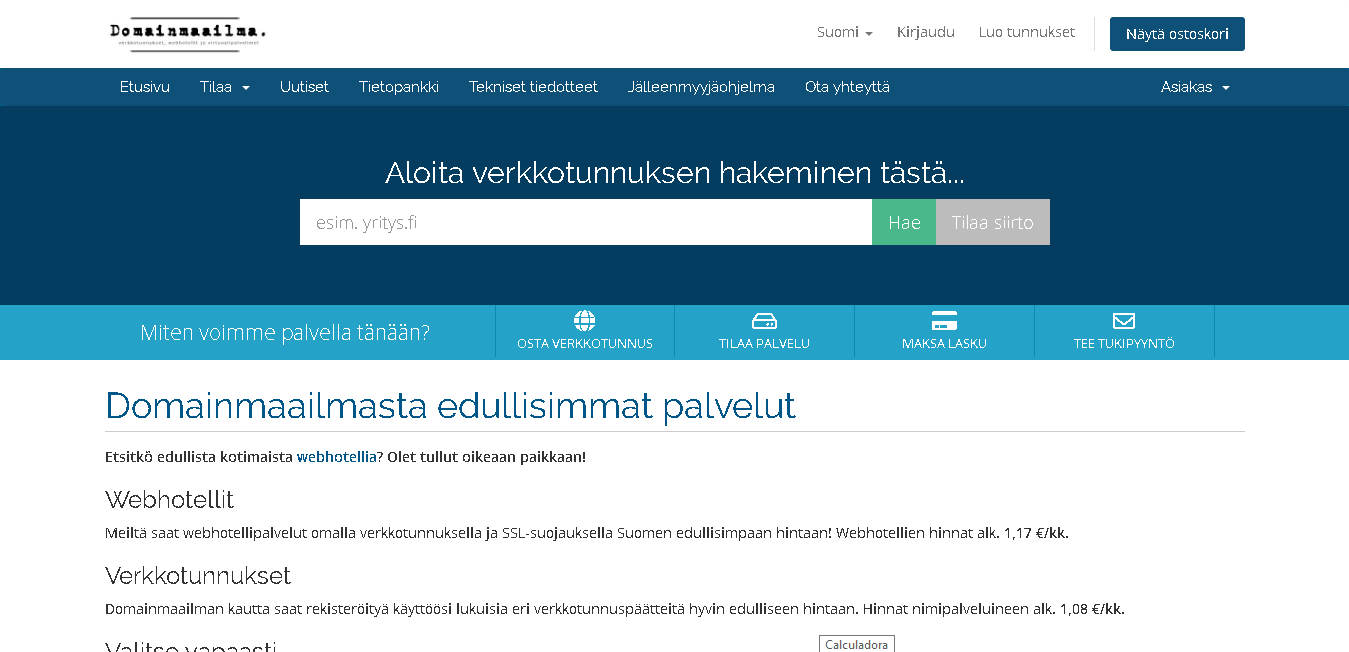 Domainmaailma is a subsidiary of a Finnish IT company called Capnova. The company was founded in 2000 and is based in Tampere where its servers are also located. Domainmaailma maintains a multilingual website that allows for partial translations in Finnish, English, and Swedish.
Features and Ease of Use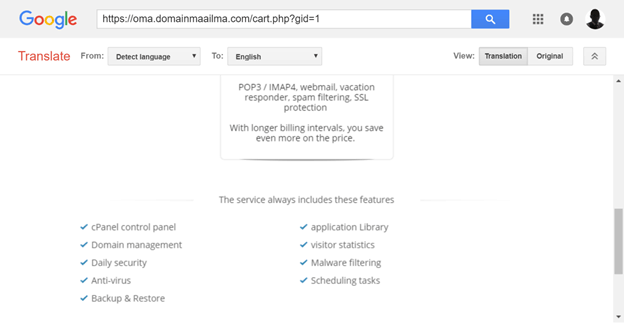 Domainmaailma offers web hosting and domain services primarily. For web hosting, users are allowed to select features and develop their own customized plans. Some of the web hosting features you can choose from include:
100MB to 15,000MB disk spaces
1GB to 1,000GB bandwidth (per month)
Zero to 50 MySQL accounts
Up to 500 email accounts
Up to 1,000 subdomains
Up to 100 FTP accounts
To enhance both yours and your visitors' security online the vendor has web servers with free Let's Encrypt SSL, Spam filters, and antivirus. However, it also gives you the option of upgrading to Comodo PositiveSSL (for a fee, of course) or you could buy it anywhere else and still use it.
Domainmaailma features a user-friendly cPanel control panel which comes with a feature-packed interface that simplifies administration. The control panel gives users complete control of their hosting accounts.
Under the cPanel interface, you will also get the Softaculous app installer. This will enable you to effortlessly deploy numerous scripts on your website. A beginner webmaster can install WordPress in a few minutes through its stepwise wizard and start publishing.
Additional value added web hosting features include:
SFTP/SSH license
CGI license
PHP support
Backup and restore
Visitor statistics through Awstats, Webalizer, and Analog
Pricing and Support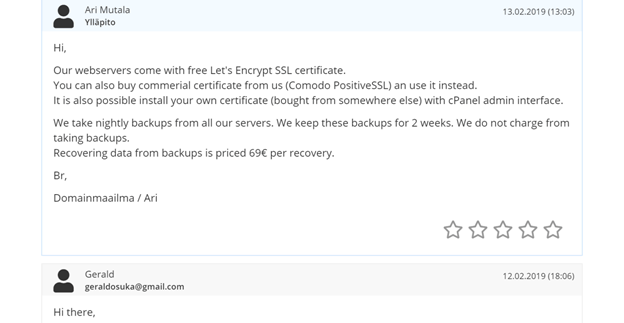 Domainmaailma strives to provide its clients with cheap yet quality web hosting services. Allowing users to only pay for specific features that they use is its comparative advantage in the web hosting market. Unlike other vendors, there are no packages and hosting plans listed.
The only thing I didn't like is that there's no of offer free domain transfers, which I believe most beginners would really benefit from. However, I find comfort in the 14-day money-back guarantee which assures customers can feel safe when trying out the service.
To get started with Domainmaailma, you will have to place an order but first, you will have to decide on the features that you plan to use.You will then fill in a form with your personal details, pay for the order, and almost immediately be given access.
The payment methods include checkout through online banking and PayPal with monthly billing cycles.
Customer support is via phone, email, and tickets. The customer support team is also multi-lingual and very helpful, even though responses take a while. This is based on my personal experience with the ticket support system, though the agents did give candid and easy to understand replies.
There is also a moderately-detailed knowledge base and F.A.Q sections which came in very handy when I was writing this review. If you have any quick questions, I would suggest that you explore these two sections first. But if it is urgent and you need quick tech support, then you should probably give them a call. They always answer immediately.