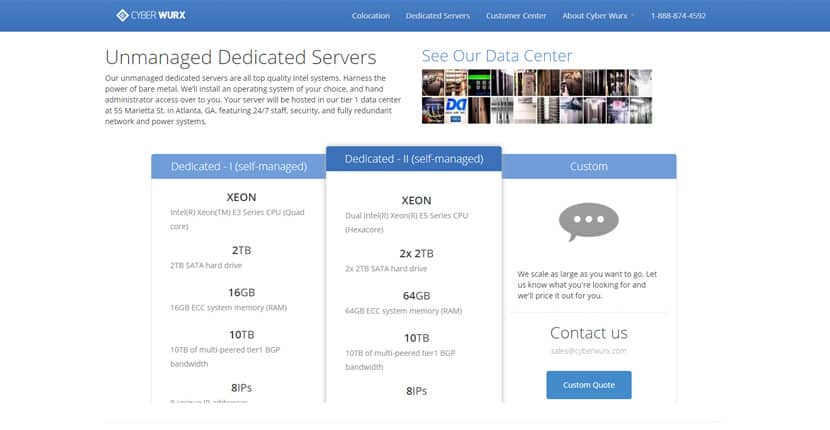 Cyber Wurx is a colocation and dedicated server provider based in Atlanta, Georgia. The company, which has been in business since 1997, has a single 20,000 square foot data center in the heart of downtown Atlanta. Over the years, Cyber Wurx has grown to become one of the leading dedicated server and colocation service providers in Georgia and beyond. Cyber Wurx has a loyal customer base that often talks about the satisfaction they've experienced for many years using this brand's hosting solutions.
Features and Ease of Use
Cyber Wurx customers enjoy the various services this vendor offers. Their portfolio of services includes bare metal servers, virtual private servers, networking and data center solutions, and industrial colocation services. Some of the features included in their managed and unmanaged server packages include:
A fiber-optic infrastructure
Intel Xeon processors
10TB of multi-peered Tier 1 BGP bandwidth
10Gbps redundant uplinks to providers and cross-network distribution
Scalable bandwidth
With their colocation services, you can host your hardware in their 24/7 monitored and fully staffed data center. The service affords you the following features:
24/7 multi-layered security and 24/7 NOC support
Optional DDoS protection available
First five minutes of remote hands free
UPS and generator power and A+B power redundancy options
Fully meshed redundancies with multiple BGP peers
Surge protection and voltage regulation
Network engineers on site for quick consultations
Regular preventative maintenance
Fiber-run access to nearby facilities and carriers
Data center with a 500-ton expansion capacity
Cyber Wurx uses a multi-tier network to connect their customers to some of the world's leading carriers so that they can deliver super fast website loading speeds. The vendor has invested heavily in security systems and protocols to guarantee customers that their websites and data are safe. The control panel you use with these solutions give you full root access to your system and includes live graphs that give you a clear picture of the system in real-time.
Pricing and Support
All Cyber Wurx hosting plans might at first glance seem expensive, but considering the features and resources they allocate their users, I'd say that they're reasonably priced. Cyber Wurx has structured their solutions so that they can offer more storage, bandwidth, and high-level management services. Unsurprisingly, as a premium hosting provider, Cyber Wurx doesn't offer a money back guarantee.
Cyber Wurx requires their customers to login to access any support channels. Based on my experience, their support staff is fantastic and usually responds within minutes to any work order I submit. They definitely have one of the most responsive support systems I've come across in the dedicated server niche.