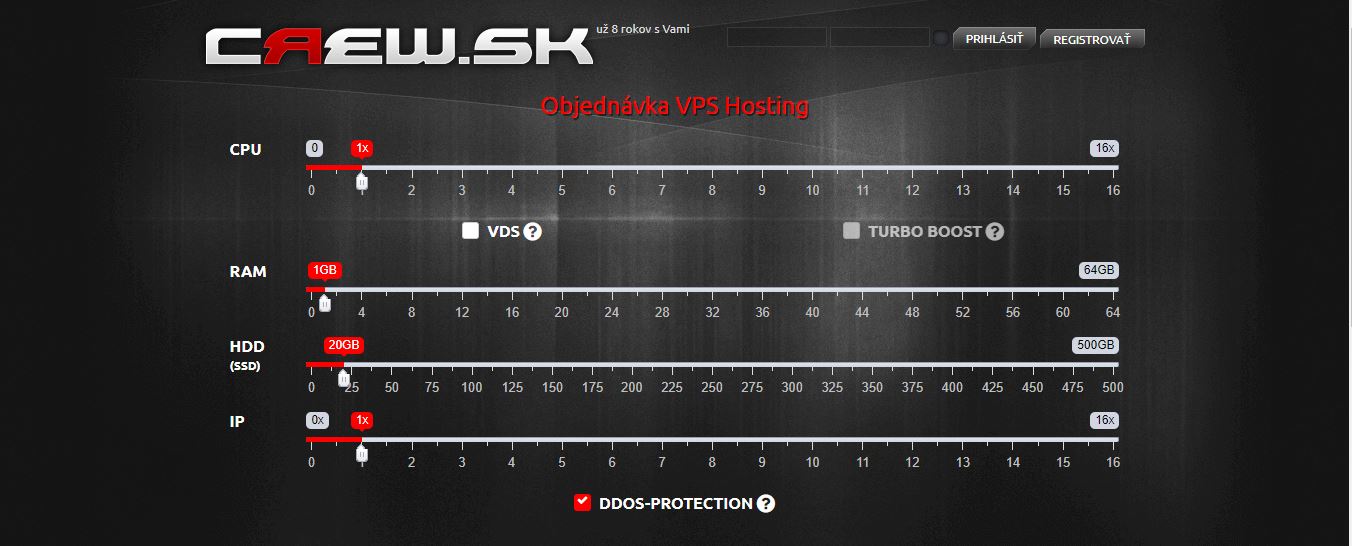 Based in Czech Republic, crew.sk isn't your typical web hosting provider. In fact, it's mainly a game hosting provider that offers VPS (virtual private server) hosting on the side. It's been in operation for more than a decade and has data centers in two locations in Czech Republic.
The website doesn't look bad, but it doesn't have much information. It's in Slovak only and all prices are displayed in euros.
Featues and Ease of Use
Unlike most VPS hosting providers, crew.sk offers fully customizable VPS packages down to the last detail. There are four gauges for server specifications that you can adjust according to your requirements, such as CPU (number of cores), RAM, HDD storage, and number of IP addresses. Some key features:
CPU from 1 core to 16 cores

RAM from 1 GB to 64 GB

HDD storage from 5 GB to 500 GB

Between 1 and 16 dedicated IPs

Custom control panel

Application installer

DDoS (distributed denial of service) protection
Under the CPU gauge, there are two checkboxes labeled VDS and Turbo Boost. VDS (virtual dedicated server) gives you dedicated processor performance without aggregation. Checking the VDS checkbox opens the option to choose Turbo Boost, which places your account on the powerful AMD Ryzen 3900X servers.
Once your server is configured, you can scroll down to find a few drop-down menus to choose the operating system and language you prefer for your account. The price automatically populates depending on your specifications.
All packages come with a custom control panel, giving you easy management over FTP accounts, game servers (start, stop, restart, etc.), IP addresses, the credit system (payments and bills), domains, support tickets, and much more.
Within this custom control panel, there's a built-in application installer that lets you install numerous scripts and applications quite easily, including AMXBans, SourceBans, FastDL, and several others.
Pricing and Support
I played around a little bit and built the lowest- and highest-priced packages possible to get a better idea of crew.sk's price range. The good news: this company offers reasonable prices in comparison to its international competitors.
Crew.sk allows you to pay for your subscription either daily or monthly. Unfortunately, it doesn't have a money-back guarantee, nor does it offer a free trial. You can pay for your services via credit/debit card, PayPal, or bank transfer.
As previously mentioned, the website content is poor despite the availability of a few guides and tutorials in the knowledge base that are mostly related to game hosting. You can contact customer support through phone, email, or ticket support. I spent almost a month trying to get in touch with the support team, but still no answer.