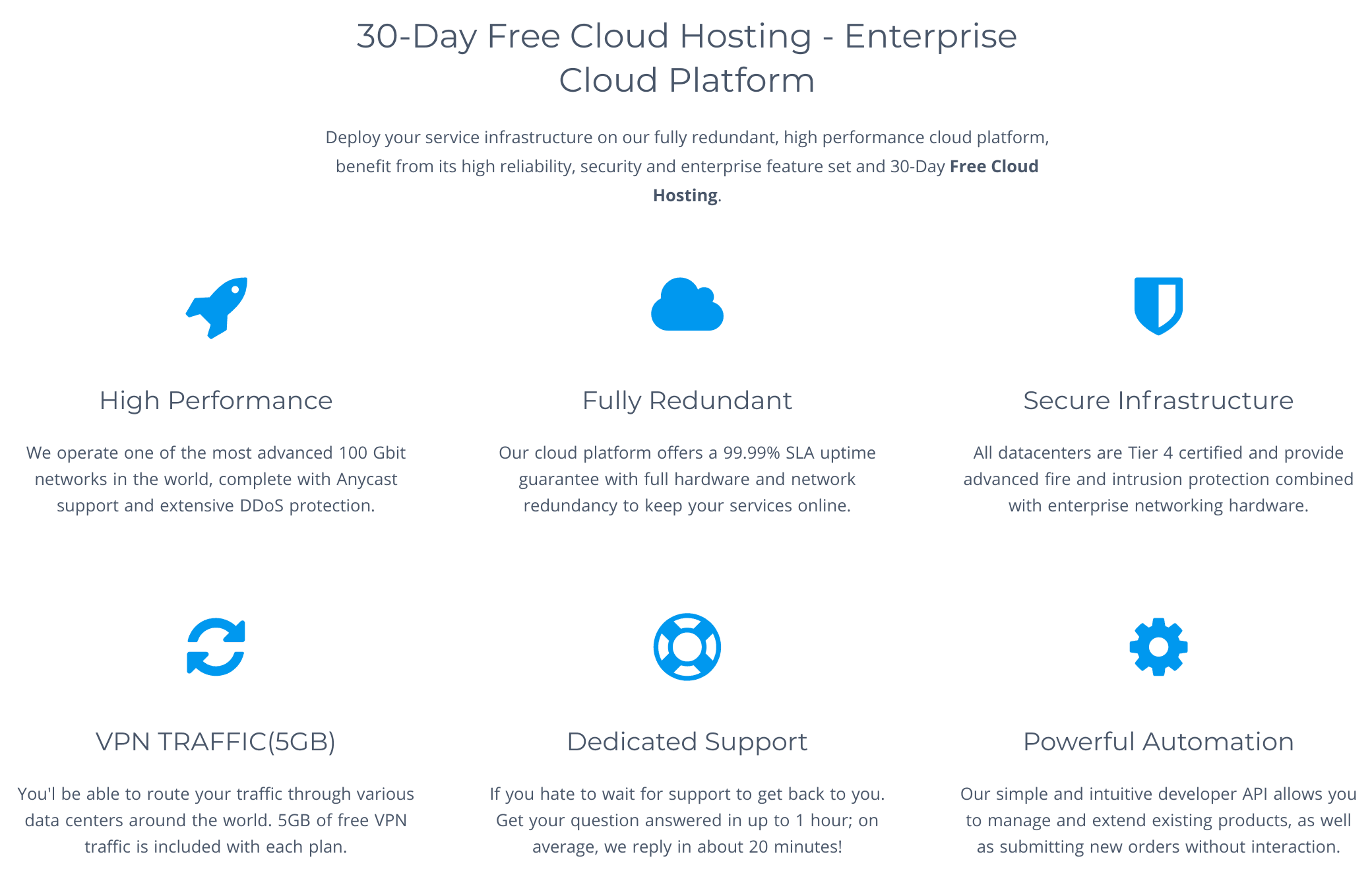 CloudRocket was established in 2004, and today, this British business operates five Tier 4 datacenters in Chicago (U.S.A.), London (U.K.), Pori (Finland), Sofia (Bulgaria), and Sydney (Australia).
From cloud hosting and reseller hosting to VPS, semi-dedicated servers, and dedicated servers, you can get it all here. And the fully redundant network and hardware ensure your website should be always online.
CloudRocket's website can be switched between ten languages: English, Arabic, Bulgarian, Finnish, French, German, Japanese, Italian, Spanish, and Portuguese.
Features and Ease of Use
CloudRocket offers four cloud hosting plans, 14 VPS plans, two semi-dedicated server plans, 11 dedicated servers, and four unlimited cPanel reseller plans.
The four cloud hosting plans provide:
One to unlimited hosted domains
99.9% server uptime
One free domain registration (with annual billing on all but the lowest plan)
Multilingual control panel
Unlimited disk space
Unlimited monthly traffic
Unlimited subdomains and parked domains
Five to unlimited MySQL databases
Up to unlimited PostgreSQL databases
Up to unlimited Cron jobs
SSL certificate generator
Daily backups
Web/FTP statistics and log viewers
A one-click application installer lets you install popular programs — such as WordPress, Drupal, and Joomla — with a single click. And as an alternative to a CMS-backed website, you could use the online website builder to build your web presence without having to be a web designer or developer.
The hosting plans are Dreamweaver-compatible, they come with SSI, and they support Python and Perl programming plus Microsoft FrontPage Extensions. You can even access your hosting via an intuitive developer API.
Since no specific RAM is indicated, I clarified with a support agent who assured me that (under the cloud) the "RAM is plenty." SSD data caching and website accelerators help ensure peak performance, and there are plenty more performance measures such as a 100 Gbit global network with DDoS protection.
Pricing and Support
CloudRocket's cloud hosting plans are cheap, and you might be able to save more money with some limited-time offers. Although the only billing period is annual, there is a 30-day free trial that doesn't require a credit card to get started (although it does have some service restrictions).
When it comes time to pay, you can do so in various currencies (CAD, USD, GBP, EUR, or AUD) by bank transfer, PayPal, credit card, or Skrill.
You can contact this company's 24/7 customer support team by telephone, ticket, email, or live chat. You are assured a one-hour response time, with typical response times of just 20 minutes. I got quick answers to my pre-sales queries via the live chat channel: