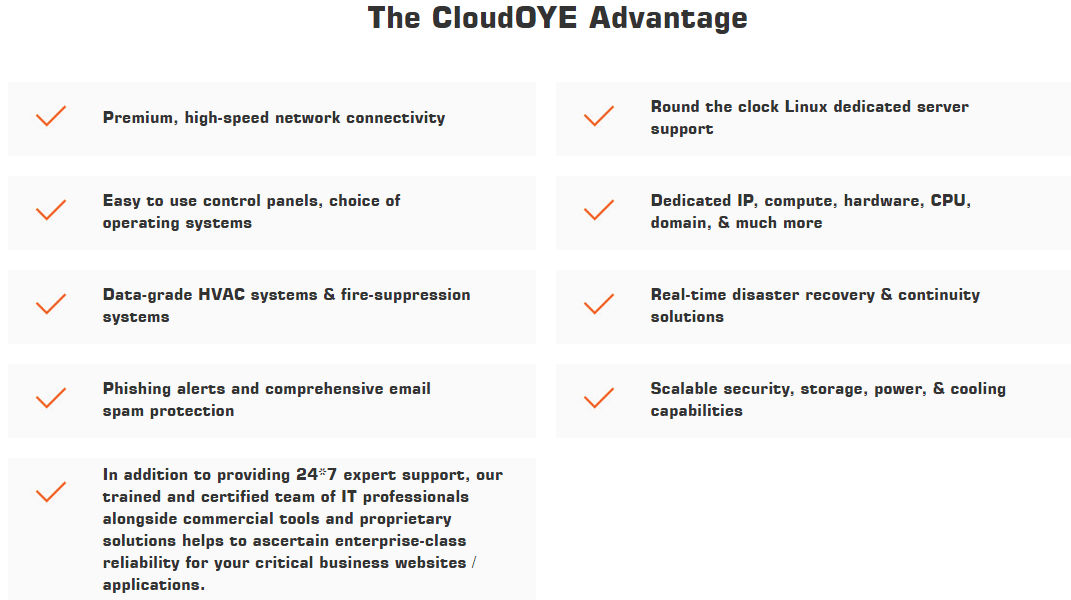 India-based CloudOYE has been in business since 2000 and has established itself as one of the leading providers of cloud and data center services. It is also present in the U.K. and the U.S. Thanks to its scalable packages that grow with your business and professional support staff; it has only increased in popularity and won awards that it proudly boasts on its website.
Features and Ease of Use
Thanks to its state-of-the-art hardware, CloudOYE provides the following general features:
99.95% uptime guarantee
Affordable backup services
Wide variety of SSL certificates available
Limited storage and bandwidth but easily scalable
CloudOYE offers dedicated servers as well as VPS hosting with both Linux and Windows operating systems. There are many features that make CloudOYE stand out. It proudly offers Tier 3 data centers with a 99.95% SLA backed network uptime. You can also choose from both SSD and SATA hard drives. Server monitoring and management are done with great care at CloudOYE as that is where it's good reputation stems from. In fact, you can let CloudOYE experts manage all the OS installations, server deployments, patch management, and antivirus installations.
For times when customers expect a traffic surge, it has a system in place in collaboration with top telecommunication service providers. This ensures that at big events or times where the traffic to your website spikes unexpectedly, you don't have to worry about your site going down.
Managing your online data is also quite easy with the WHM and the cPanel control panels. These are industry standard control panels and as a user, you couldn't ask for something better and easier to use than these. Thanks to their wide usage, there are easy solutions available to any problems users generally face when using these control panels.
Pricing and Support
The best thing about CloudOYE is that it offers a variety of packages, making it easier for you to choose the one that satisfies your exact requirements. For VPS hosting, you can choose from eight different plans. These offer bandwidth in the range of 1TB to 8TB and disk space starting from 40GB up to 250GB.
The variety in dedicated servers packages is equally impressive and you can choose from a number of server specifications. Since CloudOYE is based in India, its prices are quite attractive and with the quality it offers, the service is definitely worth the investment.
Interestingly, the VPS hosting packages have a 'Chat Now' button instead of a 'Buy Now' button. This is so you can get the best custom configuration for your requirements before opting for a package. As for the dedicated server packages, the capability to instantly opt and pay for your configuration of choice is there, but the link wasn't working at the time I tried to go through the process. I then contacted live chat and was told they would make a custom configuration for me if I told them my requirements. Basically they want the customer to order the packages by getting in touch with them, instead of opting for a pre-prepared configuration.
It also offers a flexible payment schedule, with multiple options ranging from monthly payments to advance payments up to three years. The more you pay up front, the more you end up saving.
CloudOYE has one of the most impressive support systems around. Its knowledge base contains comprehensive articles, while the wiki section offers all the knowledge you'll need to learn more about the hosting world. There is even a forum where you can ask for help from other community members.
The live chat was good as the agent appeared immediately after I posted my query. I asked if they offered a money-back guarantee to which I was told that there is a refund policy in place, but I didn't get a direct answer to my question. Still, the fact that the agent is online at all times is a great plus point. All my other queries were answered to complete satisfaction.