CloudHost TH is one of the leading web hosting companies in Thailand with a market share of 0.05%. It also has a significant presence in the United States as well as Singapore. It offers a range of hosting solutions powered by cloud infrastructure distributed across several locations in Thailand, France, and the United States. The hosting firm offers shared web hosting, cloud solutions, and VPS server solutions. The CloudHost TH website is only available in Thai.
Features and Ease of Use
CloudHost TH web hosting solutions are hosted on cloud infrastructure that has excellent resources to enhance its service availability. The hosting solutions come with the following standard features:
DirectAdmin control panel

phpMyAdmin support

Unlimited domains

Unlimited subdomains

SSD cloud storage

PHP 5.2-7.0

MySQL databases
Powered by Intel Xeon core processors, CloudHost TH's servers run through different hypervisors and virtualization technologies developed by VMware, Inc. This includes the enterprise-grade type-1 hypervisor, VMware ESXi, used for deploying and serving virtual machines, which also integrates vital OS components like kernels allowing virtual machines to run faster and more efficiently.
All of this vendor's shared hosting services are powered by the cloud server system with SSD storage disks. With these solutions, users get access to cloud resources and get to deploy software such as web servers, database servers, email servers, FTP servers, etc, to help them successfully operate, manage, and run their online projects. Shared hosting customers also get to select the operating system they prefer; either Linux or Windows OS platforms.
Another excellent feature included in this vendor's hosting solutions is the PHP version selector, where clients have the freedom to choose their preferred version from PHP v5.2 to PHP v7.0, and they can also upgrade to the new and updated versions without much of a hassle. Moreover, its hosting solutions come with the upgraded version of the DirectAdmin control panel making the administration of your website easier.
CloudHost TH cloud hosting system has an automatic backup system for its users that performs backup activities every six hours. So, whether your data was deleted or infected, you can easily retrieve and restore all your files and website data as if they had never been lost.
Pricing and Support
Normally, one would expect cloud-based hosting solutions to be quite expensive. On the contrary, CloudHost TH web hosting solutions are affordably priced and don't include any hidden costs. Some of its solutions come with monthly billing cycles, while others only include annual payment plans. Prices are listed in both Thai baht and U.S. dollars.
CloudHost TH guarantees a 99.9% uptime guarantee and users are entitled to a seven-day money-back guarantee.
The CloudHost TH support team is available via its dedicated telephone numbers (Bangkok office tel, Singapore tel, and the U.S. tel), email, or ticketing system. Customers can also visit their offices in Bangkok, but only during business hours. The technical support staff is available 24/7. However, this vendor does not seem to have live chat support.
This vendor responded quite fast to my email query, taking just two hours.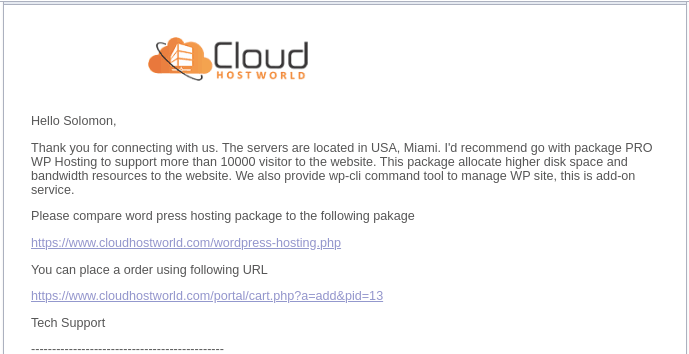 Disappointingly, CloudHost TH has a very minimal knowledge base.