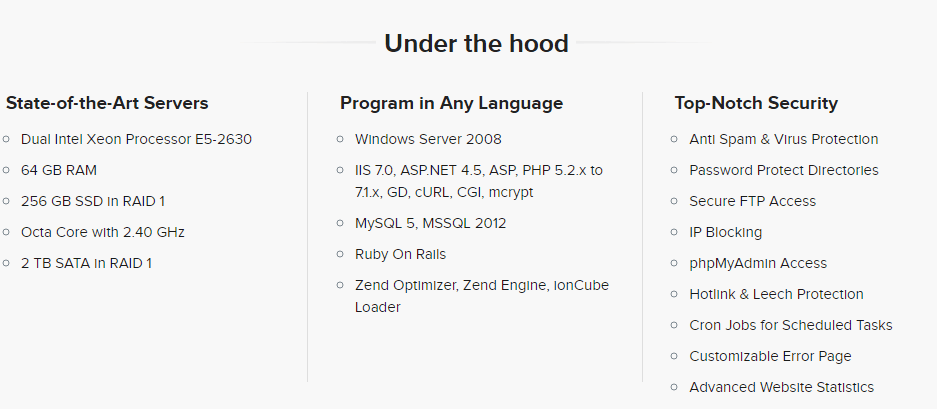 ClickHere2 Network is a Singapore-based web hosting company that began  operations in 1999. The veteran hosting vendor offers an array of hosting services, including shared hosting, dedicated servers, and reseller hosting. It also offers other internet solutions, including domain registration, business email solutions, and security tools and services.
Features and Ease of Use
The following are some of the standard features that you will find included in ClickHere2 Network hosting solutions:
Unmetered disk space

Unmetered data transfer

Unlimited email accounts

Zend Optimizer, Zend Engine, ionCube Loader

Anti-Spam and virus protection

phpMyAdmin access

Cron jobs for scheduled tasks

Website Statistics with AWstats
ClickHere2 Network has three data centers: one in the U.S., another in India, and a third in Hong Kong. The data centers are built for scalability, high availability, redundancy, and clustering. With top-of-the-line hardware and Varnish caching, this firm can host websites that load up to twice as fast as those hosted by most other vendors in Singapore.
The vendor's global hosting infrastructure deployment incorporates intrusion detection systems, firewalls, and DDoS mitigators to keep its clients' data in its servers safe. It is no wonder that the vendor boasts of having weathered many DDoS attacks and hacking attempts, sometimes as many as three a day, without the system suffering degradation.
ClickHere2 Network hosting solutions include both Linux and Windows platforms. With automatic failover protocols in place, users can rest easy knowing that in the event of a hardware issue, their website data will be moved to another server without incurring any downtime.
ClickHere2 Network offers daily and weekly server backups. Most of its products include a built-in Backup Manager with an easy-to-use one-step wizard that helps customers backup their data. For a more advanced backup solution, the vendor offers CodeGuard, a cloud-based backup solution that regularly backs up your website automatically in the background.
Pricing and Support
ClickHere2 Network offers some of the highest-priced hosting solutions in the Singaporean hosting market. Although the vendor does provide an extensive list of premium features, the prices are still exorbitant when considering all factors.
Besides, the vendor has inflexible billing cycles, with the shortest lasting six months, though users who commit to longer contracts pay discounted prices. The prices are listed in Singaporean dollars.
ClickHere2 Network offers a 99.99% uptime guarantee and a 30-day money-back guarantee.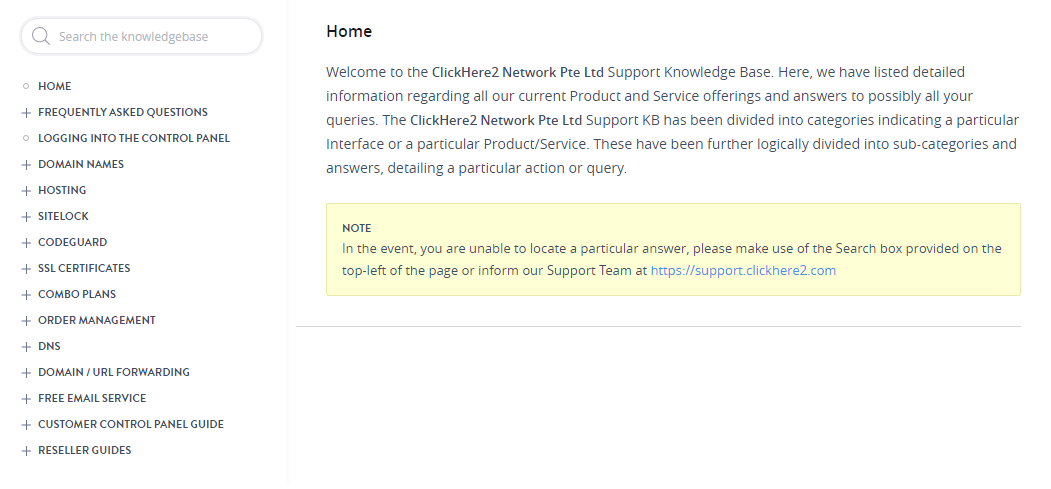 Users can contact this vendor in several ways, including the support phone number, email, and ticketing system. The vendor has not provided a live chat option on its website. My email query to this vendor's support team went unanswered, as well.

It does, however, have a comprehensive knowledge base on its website.