Clever Internet is a web hosting company based in Singapore. The hosting vendor gives somewhat contradictory statements about the year it began operations. In one section of the website, it claims to have started in 1996 but in another, it says it began operations in 2003. It is privately owned and has remained a relatively small vendor occupying a small market share in Singapore. Its hosting solutions include VPS hosting and dedicated servers. It also offers search engine optimization (SEO) solutions and virtualization technologies.
Features and Ease of Use
Some of the standard features that Clever Internet includes in its hosting plans are:
Plesk control panel

Anti-virus

Anti-Spam

Pop/Webmail

Website builder

MySQL database

Free setup
Clever Internet has one data center located at Science Park in Singapore and several others in a number of countries, including Malaysia, Hong Kong, China, New Zealand, and Japan. The data centers are ISO 9001 certified and powered by N+1 redundant UPS systems with single 800 Amps incoming power supply switchboards.
The backup power system in these data centers can keep running for up to 45 minutes in the event of a blackout. This vendor has taken very deliberate and extensive measures to keep these data centers safe, including using biometric palm scanners in addition to having security guards onsite.
Clever Internet's most basic shared hosting plan is the Pretty Clever Plan. It comes with 1GB disk space, 2GB data transfer, and 24/7 FTP access, among other features. The most advanced shared hosting plan includes 8GB disk space, 8GB data transfer, one free domain, and 50 sub-domains, among other features.
Clever Internet does not expressly say that it offers MSSQL databases, but a number of what looks like invalid links on its website suggests that it might. The vendor also offers managed backup solutions, but they are quite expensive.
For users unwilling to pay for managed backup services, the hosting firm has Virtuozzo, a tool that customers can use to prepare their own backups via the control panel. Disappointingly, the Clever Internet website looks outdated and may not have been updated since 2010.
Pricing and Support
Clever Internet hosting solutions are somewhat expensive compared to vendors in Singapore with similar offerings. The prices are listed in  Singaporean dollar. Its hosting plans do not include a setup fee, have a pretty inflexible annual billing cycle and do not offer a money-back guarantee.
You can make payments using your Visa or MasterCard credit card. Clever Internet email hosting solutions have a 99.9% uptime guarantee, while its hosting services have a slightly higher uptime guarantee of 99.97%.
You can contact Clever Internet's 24/7 support team via phone, email, or ticketing system, but there is no live chat support. In spite of the disorganized and out of date website, this vendor has a highly responsive support team; I sent them an email query and got a response in just over nine hours.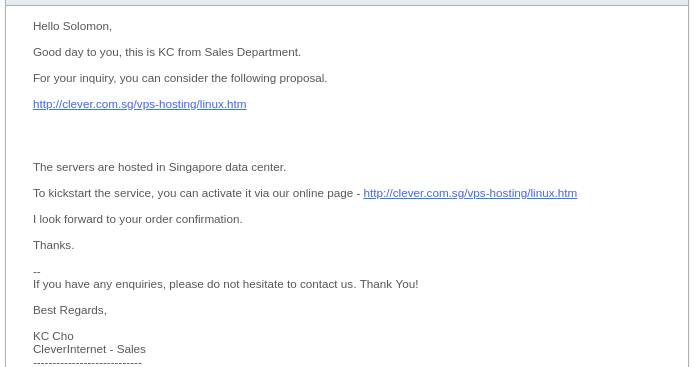 What's more, it has a comprehensive knowledge base that includes video tutorials. That said, none of the video tutorials opened on my browser. I kept getting a "took too long to respond" error.