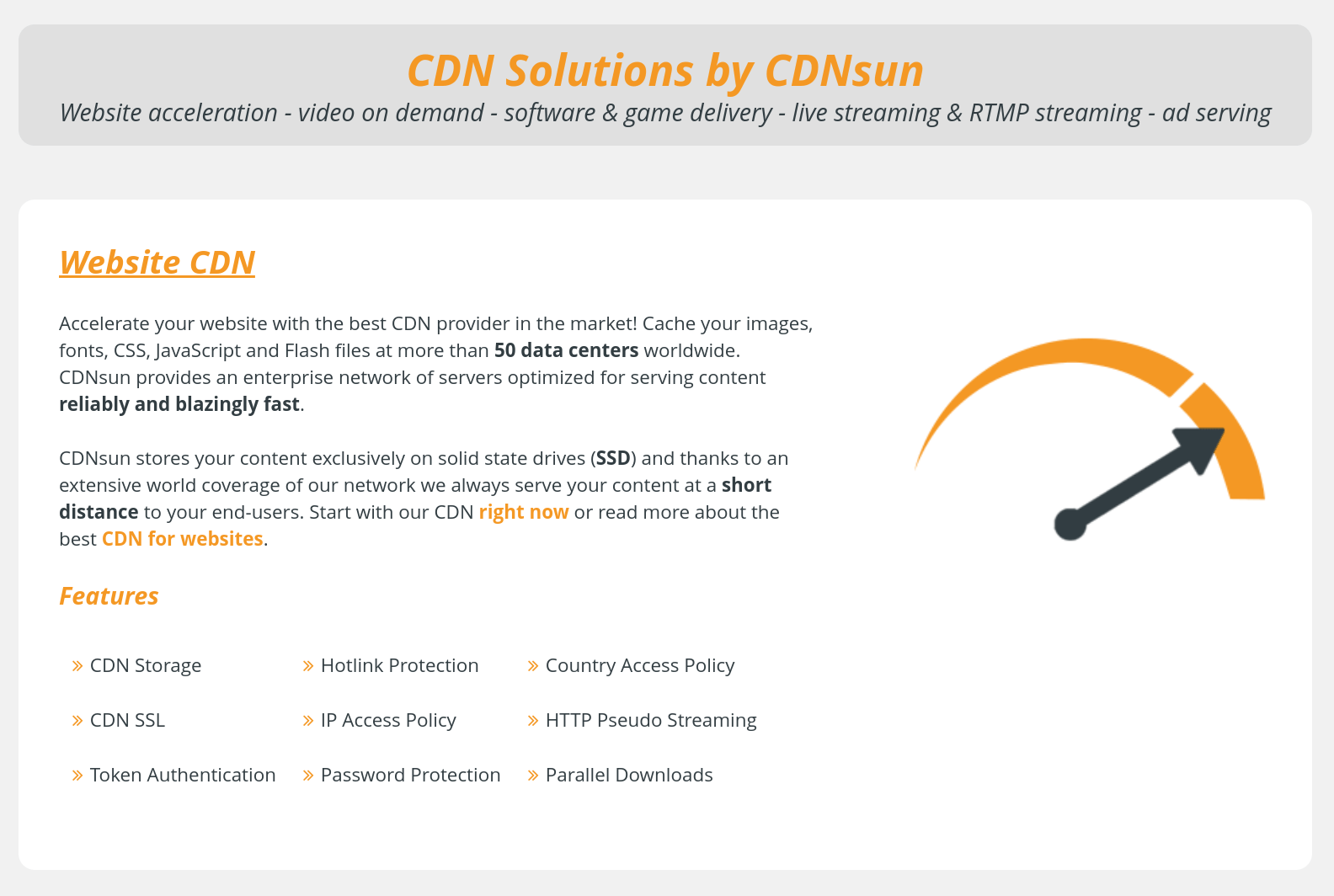 CDNsun is a content delivery network (CDN) provider based in the Czech Republic. The company was established in 2012, and it currently serves 2000+ customers via a pay-as-you-go (PAYG) pricing model.
CDNsun has a head office in Prague plus a global presence via data centers located in Europe, Australia, Asia, North America, South America, and Oceania. This worldwide audience is addressed via an English language website.
Features and Ease of Use
CDNsun is not your typical shared web hosting provider; it's a specialist provider of content delivery network (CDN) services to accelerate the delivery of your online content. This content can include websites, live streaming, ad serving, software delivery, on-demand video streaming, or game delivery.
CDNsun's content delivery solutions generally feature:
SLA-based 100% uptime guarantee
Over 50 points of presence
IP access policy
Hotlink protection
Country access policy
HTTP pseudostreaming
Token authentication
Password protection
Parallel downloads
By using these CDN services, your website will not only become faster but also improve its Google search ranking. CDNsun guarantees protection against DDoS threats and supports easy integration of CMS software like Magento and WordPress.
This CDN provider has more than fifty data centers worldwide to ensure the lowest possible latency. Once you sign up, you will be given a variety of data uploading options including FTP, FTPS, HTTPS API, SFTP, and RSYNC. You get 20 GB storage space on fully redundant 100% SSD drives, plus free shared SSL certificates.
Pricing and Support
CDNsun's services are provided on a transparent pay-as-you-go (PAYG) pricing model with no surprise costs to start or stop the service, and the 30-day free trial allows you to try the service before you buy it.  There are eight plans charged per gigabyte, and you can pay by bank transfer, PayPal, or credit card.
The lowest plan supports up to ten websites whereas the other plans provide unlimited website support, and they all come with free backups and CDN SSL.
For self-support, there is a comprehensive knowledge base. For one-to-one 24/7 support, you can contact the company via telephone, ticket (contact form), email, or live chat. No agent was available when I wanted to test the live chat, but I received a reply to my email approach in less than an hour: