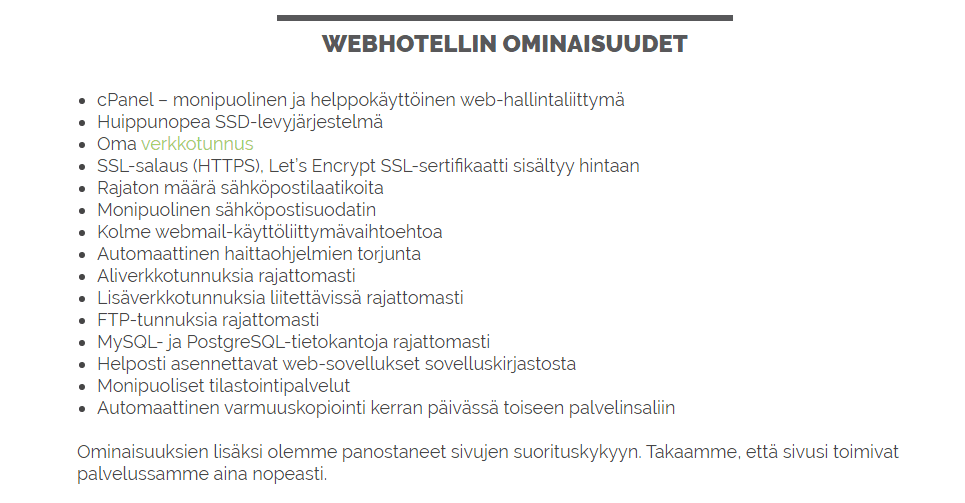 Capnova is defined with four qualities: 99% customer satisfaction, 100% Finnish owned company, 19+ years of hosting experience, and a client base of over 4,174 customers. Currently, the web hosting company is listed among the top 30 largest web hosting companies in Finland with a market share of 1.74% and a user rating of 8.8/10.
Its offerings include shared web hosting, dedicated servers, VPS, and domain name registration services. The Capnova website is only available in Finnish.
Features and Ease of Use
Capnova web hosting solutions incorporate the following standard features:
WHM/cPanel panel
MySQL and PostgreSQL databases available
HTTPS/SSL automatically enabled (Let's Encrypt)
Automatic anti-spyware
DNS management
Cron jobs for scheduled tasks
Choosing the PHP version to use
SSH access
Capnova data center services provide the safest and most secure location for its users' IT equipment. With this vendor, customers get to host their hardware components in a state-of-the-art hardware hall with routers, switches, and a cost-effective production environment for servers. Its data centers are located in Tampere, Finland.
Capnova provides its clients with technical expertise in the areas of installation, maintenance, and upgrades of their server infrastructure. By letting the hosting firm handle the dashboard for you, businesses can solely focus on their core day-to-day activities without having to worry about the status of their servers.
IPv4 and IPv6 addresses are standard with this vendor's dedicated servers, and the servers also come with high-speed network connectivity of between 10 Mbit/s to 1000 Mbit/s.
Moreover, its hosting services include optional operating systems: either Linux or Windows OS. The OS distributions incorporate a great list of selectable features, such as PHP selection, MySQL databases, and support for HTML web pages.
It's a delight for customers to know that Capnova performs daily automatic backups to help protect and secure its clients' website data. The backups are performed from a different server room providing even greater reliability.
Pricing and Support
Capnova web hosting solutions are not the cheapest in the Finnish market. However, the prices of the hosting plans include renewal fees as well as a domain name. The hosting packages only include two billing intervals: three-month and 12-month payment options. Prices are listed in euros.
Some of Capnova's website services come with a 100% uptime guarantee, while others promise an uptime guarantee ranging from 99.9% to 99.99%. All the same, the hosting firm does not provide a free trial period or any refund policy.
Capnova boasts of rapid customer service that comes across as fast and knowledgeable. It insists that it has a high response to customers' inquiries, solving up to 92.6% of the problems faced by its customers.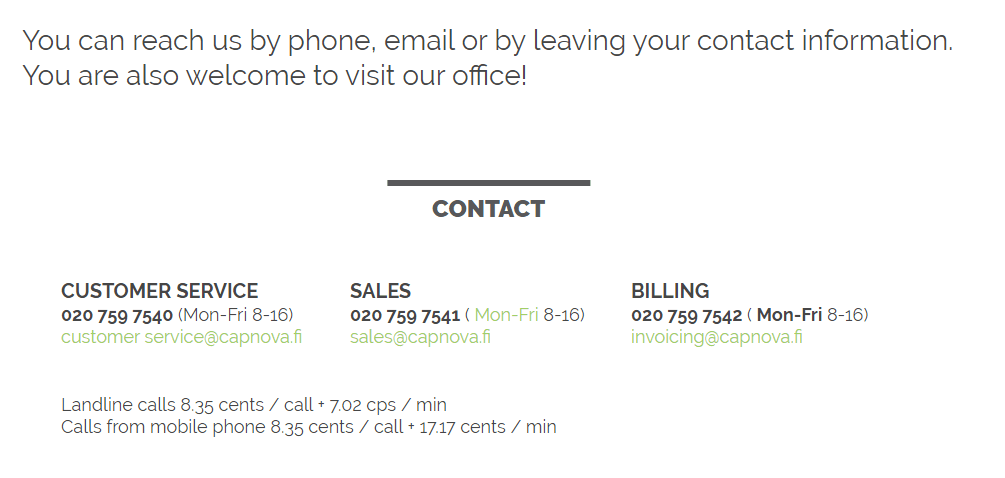 The support team welcomes potential clients to get in touch through telephone, email, or a contact form. Regrettably, a live chat or ticketing system is not available with this hosting company.
My email query to this vendor's support team went unanswered, and the vendor has yet to put up a knowledge base section.