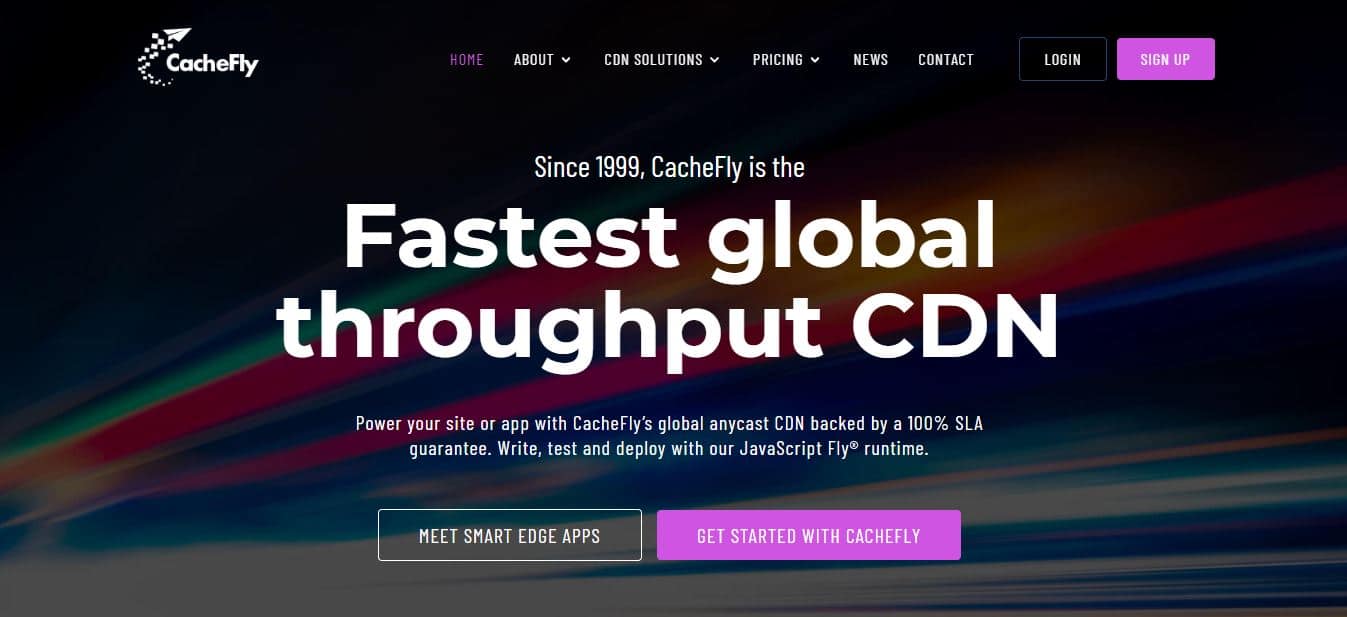 CacheFly is a U.S. content delivery network (CDN) provider headquartered in Chicago, Illinois. The company was founded in 2002 as CacheNetworks but was later relaunched as CacheFly in 2005. Today, the company provides private, hybrid, and multi-CDN solutions to companies in the U.S. and several other countries including Spain, Bosnia, Croatia, and Canada.
Features and Ease of Use
CacheFly CDN is not primarily a hosting provider and therefore does not offer typical hosting solutions like shared hosting, VPS, and dedicated servers. The company owns more than 40 servers strategically located in all continents around the globe except Antarctica. Rather than relying on DNS-based global load balancing, CacheFly CDN services rely on TCP Anycast for all network routing.
This vendor offers a 100% availability SLA and features infinite scalability, easy-to-use portal, and simplified third-party integration. Businesses that use this company's services are typically big corporations that cannot afford to run websites with slow load times.
As currently designed, CacheFly CDN does not work for websites with dynamic content like social media websites. It is primarily designed for largely static content websites that receive lots of traffic. CacheFly CDN supports all major video formats and is particularly ideal for websites that want to provide video streaming to their users.
This CDN company has a simple-to-use control panel that makes it possible for users to modify website files with ease and without navigating complex API commands. The whole setup process is extremely simple and quick. CacheFly CDN gives users the ability to limit access to certain areas of their website using an MD5 shared secret system. While the user interface is easy to use, it is not as advanced as you would expect given the cost of this company's CDN solutions are.
Pricing and Support
While CacheFly is a sought-after company in the CDN space, it is very expensive, which is perhaps why the vendor does not list pricing on its website. If you're interested in their CDN solutions, you'll need to reach out to the company to inquire about their pricing. Keep in mind that the prices may be higher than expected, so you should only consider this CDN provider if your business prioritizes performance over cost.
CacheFly offers a flexible pay-as-you-go payment model instead of annual or biennial contracts, with a 14-day free trial limited to 2 TB for new users. Customers also get free SSL certificates, so you don't have to buy them from your hosting vendor.
The technical support team can be contacted by telephone, ticket, or email at anytime, or live chat during business hours (Central Time). The 24/7 ticketing system is a big boon since most CDN companies don't offer this, and it is complemented by a blog and knowledge base for those of you who prefer to help yourselves (except that this is not as comprehensive on CDN matters as I would like).