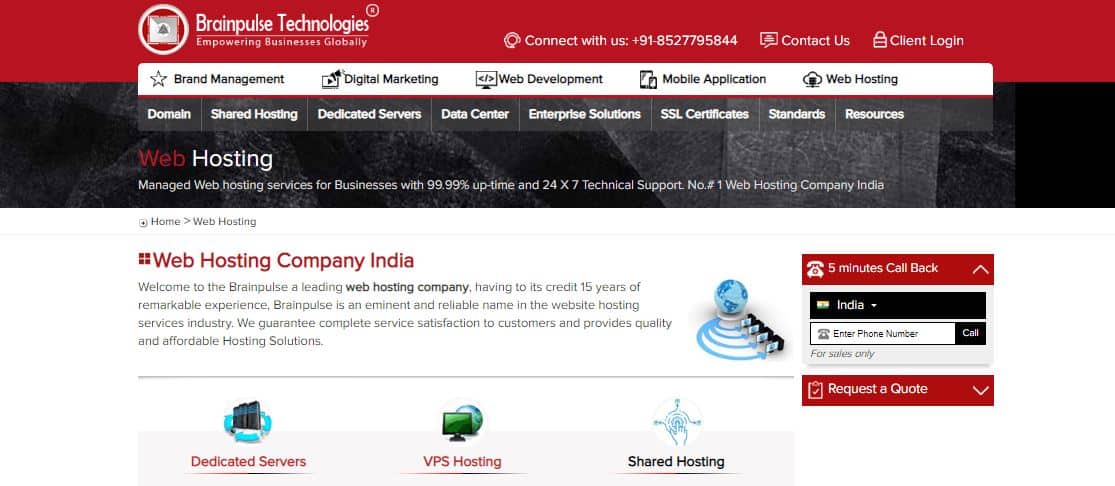 Brainpulse Technologies is a hosting provider based in India. The company was started in 1999 and has since been growing steadily as a hosting vendor providing solutions like shared hosting, reseller hosting, dedicated servers, VPS, and cloud hosting. In addition to India, the company has a significant presence in other countries like the U.S., Brazil, Vietnam, and Australia.
Features and Ease of Use
Brainpulse Technologies web hosting solutions include the following standard features:
Microsoft SQL Server
SSL certificates
FTP Backup
Firewalls
Robust Control Panel
Secured MySQL Database
Redundant Power Systems
This hosting company operates in multiple data centers in the U.S., the U.K., and India. These data centers are Tier III Cisco certified and are supported by several internet bandwidth backbones ensuring high network availability. While they claim to have invested heavily in hosting infrastructure, many customers report incessant downtimes when using their VPS solutions.
Sometimes, the vendor's virtual private servers can remain down for several days. Their servers are painstakingly slow and the service is not satisfactory. Perhaps their worst service offering is their email service. With a disastrous bounce rate of more than 75%, businesses looking to use this vendor's email service must keep in mind the possibility that their IPs might be banned by Gmail and other email platforms.
Brainpulse Technologies offers 24/7 data backup and restore services. However, this disaster recovery solution does not cover complex file restorations while transferring data from websites with sophisticated databases. The website backup copies are stored for one month back. In fact, this is better than what most other vendors with backup services offer. Usually, they only store up to 14 days worth of website backups. But with this hosting provider, you get an easy-to-use control panel that ensures an impressive hosting experience. It's not only easy to understand but also tailored to meet your requirements. Their hosting services utilize both cPanel and Plesk control panels.
Pricing and Support
Brainpulse Technologies is quite expensive for the features and quality of solutions they provide. Although all of their services are offered in several currencies, prices for web hosting solutions are only listed in Indian rupees. The vendor offers a 30-day money-back guarantee to their clients who might not be satisfied with their services. Brainpulse Technologies provides a 99.9% uptime network guarantee with a compensation plan in the event of network downtime. While Brainpulse Technologies is big on written guarantees, the vendor is reported to breaks these promises with reckless abandon.
Clients can reach Brainpulse Technologies' customer care via their telephone number, email, live chat available via Google Talk, Skype, and MSN chat. You can also contact them by submitting a support ticket. While this vendor claims to offer excellent 24/7/365 customer support, the reality is entirely different. Not only is their support team unprofessional, it also comes across as incompetent, rude, and unnecessarily confrontational. To somewhat alleviate that pain, their knowledge base is detailed with a blogging section that has quite a number of informative articles.