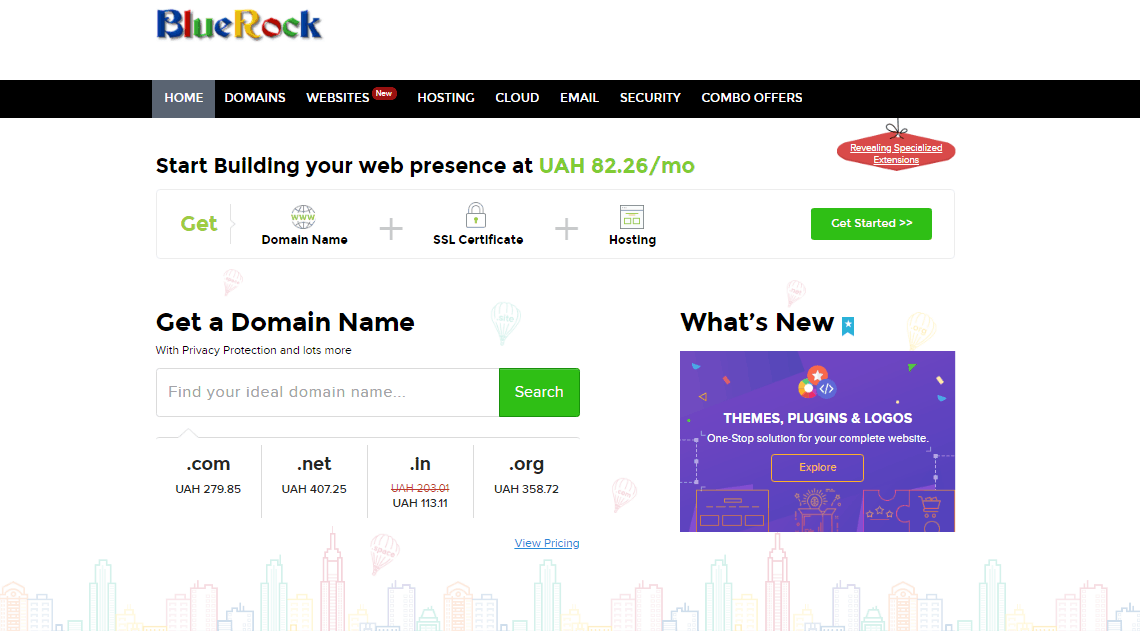 BlueRock is a company based in India that offers shared Linux and Windows hosting, Virtual Private Servers (VPS), dedicated servers, cloud hosting, and reseller hosting. Its website is available in English only. The company serves customers through servers that are located in the U.S., the U.K., India, and Hong Kong.
Features and Ease of Use
BlueRock offers numerous shared hosting plans and you can choose depending on the location in which you want to host your website. The closer your server is to your target audience, the better. Each of its four locations offers four hosting plans on Linux and Windows division. Though, if you choose Hong Kong, you can't get unmetered bandwidth, unlike the U.S. or U.K. plans.
These are some of the other features that customers will enjoy:
99% uptime
Automatic backups every five days
Anywhere from one to unlimited domains per plan
Up to unmetered storage space
BlueRock offers Solid State Disks on RAID 1 to add in a bit of reliability in case any hardware fails in order to ensure that your data is not lost in such a situation.
BlueRock enhances website speed with varnish cache, but if you want more acceleration and you want to use WordPress, you can take any of its WordPress plans. They are built on cloud servers that allow you to scale resources up or down. It also comes with cache and a globally distributed CDN.
The company provides an anti-virus engine through ClamAV that detects viruses, trojans, malware, and other threats in your files and executables. There's also hotlink and leech protection. Hotlink protection prevents other websites from directly linking to certain file types which might help you with copyright, while leech protection is for secured log-in and to prevent too many log-in trials within a short time. Both will have to be activated by you in your control panel.
BlueRock provides cPanel to those on Linux hosting and Plesk for Windows hosting users. Through the control panels, customers can install more than 300 web applications, including WordPress and Joomla! in one click. It doesn't provide a free website builder but there are website builder plans. One of the features of the website builder plans is hosting. For programming, BlueRock support PHP, Perl, Python, Ruby on Rails, CGI, ASP.NET, ASP, and more. For databases, it provides MySQL on Linux hosting and MsSQL for Windows hosting users.
Pricing and Support
BlueRock offers the lowest level of resources and prices on the base India plan, which is very affordable. The other plans are cheap, as well, though the pricing is not so clear cut. When you look at the prices, the rates for all of the base plans are quoted for one year but those for the other three plans are quoted for ten years. Nevertheless, the one year rate isn't much of a difference and remains low-cost.
You can't pay monthly as BlueRock only offers annual subscription options. It uses PayPay Express and CCAvenue as payment gateways, so you have a lot of options to choose from to pay. There's also a 30-day money-back guarantee.
For customer support, you can access a comprehensive knowledge base with numerous guides to help you. If you prefer to communicate with a representative, you can contact the technical team via email and phone. I sent an email outside of work hours and received a response during the first business hour of the next day.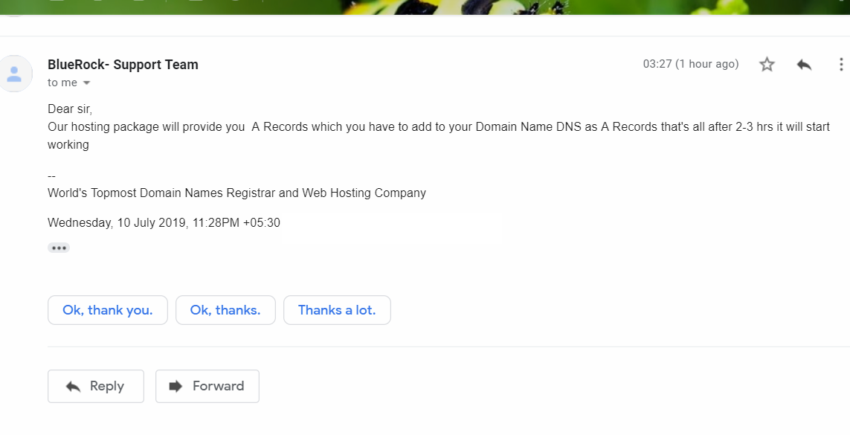 How much does BlueRock cost?
BlueRock offers plans from $2 to $25. The price depends on which type of hosting plan you choose. You can see the updated pricing table (updated weekly) below.

Which BlueRock plan should I get?
My recommendation is to start with a cheaper plan. You can always upgrade later on. BlueRock can help you with the migration to a more expensive plan. The increase in visitors many times takes longer than expected and you shouldn't pay a lot of money until the need arises. Of course, your needs may vary, and you can consult with a hosting expert from BlueRock here.

How good is BlueRock's customer support?
BlueRock is not ranked as one of our top web hosts. But that can also be a result of BlueRock being a small, under the radar, hosting provider. There are advantages to a small hosting company – as a customer, you are more important to them. You can also check out our comparison of the most popular web hosting services here.