Established as early as 1999, BigNet has been around since the beginnings of the hosting industry and has a proven track record of delivering high-quality hosting.
BigNet is an Israeli-based company who makes use of Internet Gold high-end servers to house its shared web hosting products with both Windows and Linux machines. They provide their service and support in Hebrew.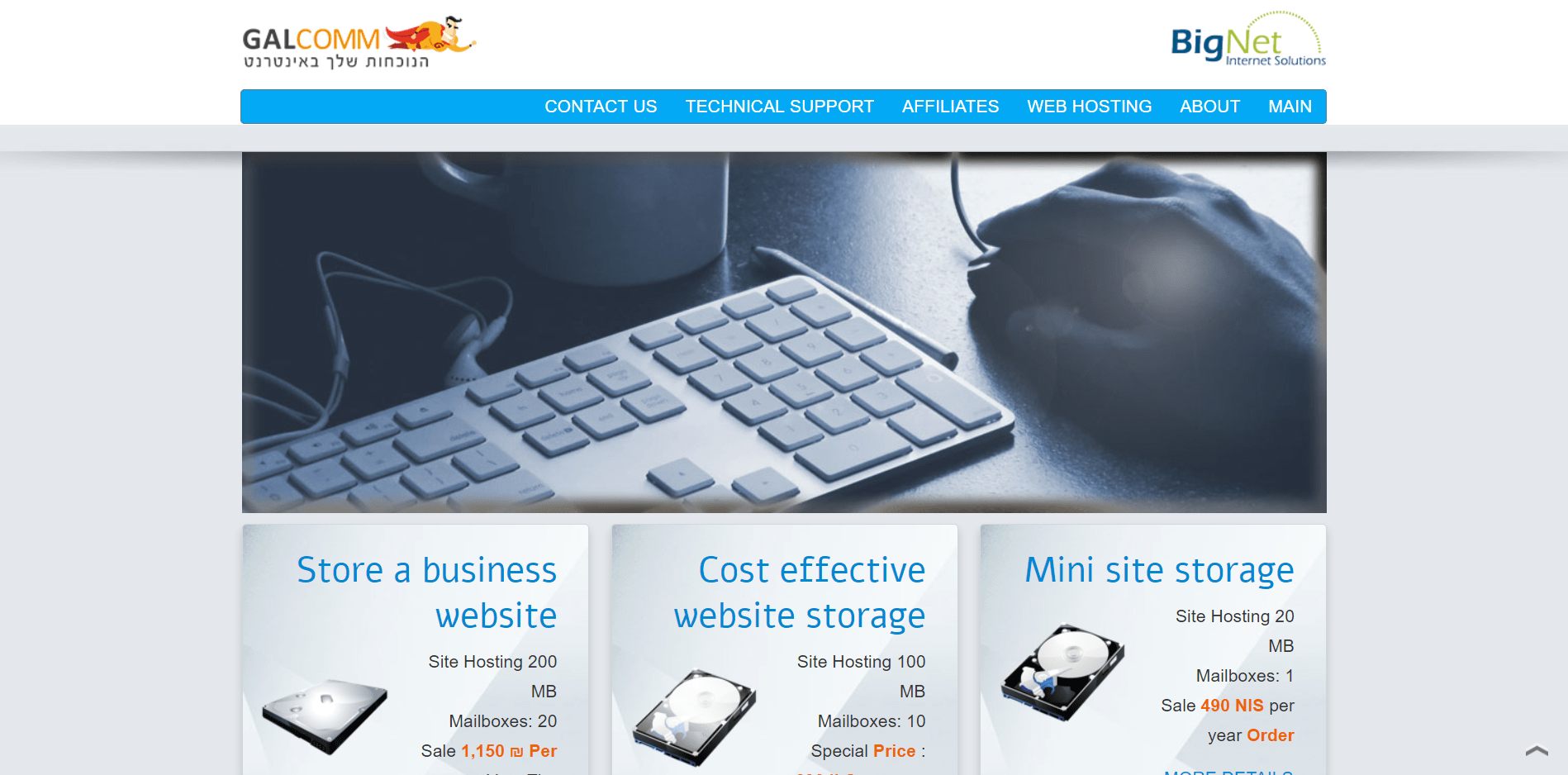 Features and Ease of Use
BigNet provides all the basic features and services that you'll need to put together your web hosting solution:
Domain registration (free with all plans)
SSL certificates (free with most plans)
Email hosting
Backups
BigNet also offers hosting options for customers at both ends of the Window vs Linux spectrum:
Windows ASP.NET Hosting: Most products come with Windows and ASP.NET along with tailored support which is great for those who prefer this OS for hosting.
Linux Plesk Hosting: Linux and Plesk is a popular and powerful hosting combination and is offered as a product by BigNet.
BigNet's hosting products aren't the most feature or software-rich, which is preferred by some as it gives them a blank slate from which to build up their hosting solution. However, it does mean that you will need to do more of the legwork yourself. Fortunately, they do offer both Windows/ASP as well as Linux/Plesk hosting to cater to fans of both.
Pricing and Support
BigNet provides a range of shared hosting options that are suited for different types of customers and their needs. Every product comes with a no-questions-asked 30-day money back guarantee. However, you won't be refunded for any additional purchases and they only offer yearly contracts.
All products come with free installation, setup, and phone support as well as basic services like a free domain, anti-virus scans for malware or emails, daily backups, and updates. Their plans look as follows:
Mini Site: 2 GB of traffic, 20 MB of website storage and 1 email address.
Cost Effective Site: 10 GB of traffic,100 MB of website storage and 10 email addresses. It also comes with additional support for ASP.NET and related software and website statistics from here onwards.
Business Website: Free SSL certificate included from here onwards. 20 GB of traffic, 200 MB of storage, and 20 email addresses.
Extended Site Hosting: 30 GB of traffic, 300 MB of storage, and 30 email addresses.
Hosting Gold Site: 50 GB of traffic, 1 GB of storage, and 50 email addresses.
Custome Site: You can also contact them to configure a custom solution.
As you can see, the biggest drawback of their packages is the extremely limited storage space. This limitation restricts the amount of media you can use, even on the Gold package. Consequently, most users will either need to purchase additional storage or opt for a custom solution.
Unfortunately, the support offered by BigNet is very limited with technical support only available via phone lines during Israeli office hours (09:00 to 18:00). The actual support is great though with helpful and skilled staff and very low waiting times. On the website itself, there is a decent amount of self-help material, although this could also be expanded on.