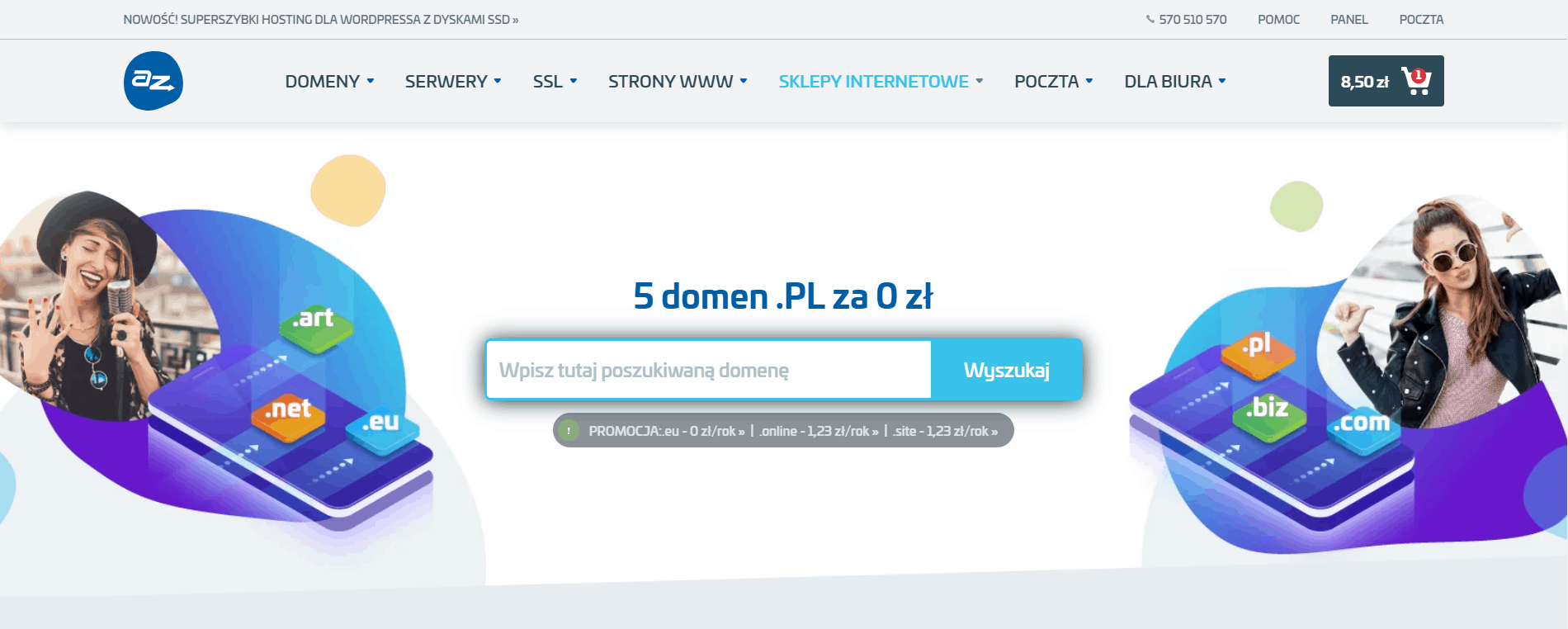 Poland-based AZ.pl is an experienced hosting provider as well as a trusted name locally. Their data centers are based in Poland and they've registered over three million domains since coming into existence in 1996. They provide a number of services with website hosting being one of them, catering especially to the needs of bloggers and online store owners.
Features and Ease of Use
There are quite a lot of features to talk about at AZ.pl but let's get some of the basic ones out of the way first. They offer:
99% uptime guarantee
Backups with three days retention only
Domain registration and transfer possible. Multiple domain extensions available with free domains as well as cheap offers.
Unlimited add-on domains
SSL certificates available
Limited storage and unlimited bandwidth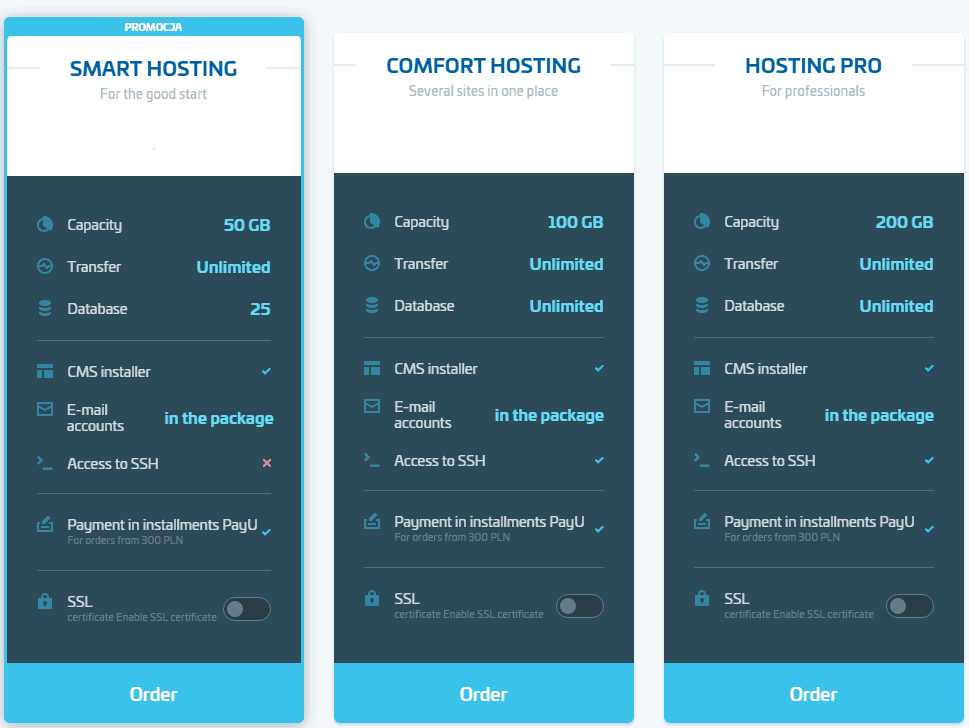 In addition to the above, the two most attractive features on offer are their website builder and online store builder. Both are added products and need to be purchased separately. The website builder contains numerous ready-made templates, depending on the package you buy. Using the website builder, you can easily add forms, maps, slides, and social media to your website. Those with some technical knowledge can also utilize the WordPress dedicated package.
The online store feature offers pretty much the same things that the website builder offers, but for an online shop. Helping you create an online store is one thing, but they go a step further and help you integrate your online store with famous services like Facebook, PayPal, Allegro, Google, etc. They also help you with invoices, advertising (including free AdWords credit), and website rankings to gain more visitors and customers. You can check out the details of the online store builder on their website, but you can also go ahead and try it out for yourself as they allow 14 days of free use.
Premium SSL certificates are also available at AZ.pl to help you secure your website for your own benefit as well as that of your visitors.
Pricing and Support
The hosting plans come in three different sizes, offering varying disk storage from 50GB up to 200GB. This may not be unlimited storage, but it's still high enough for you to host multiple websites with ease. The plans offer massive value for their price, especially when you consider the fact that you can have unlimited databases and domains. It's hard to find hosting providers that will beat these packages, so you won't need to look for discount coupons when buying this one. The 14-day trial account gives you enough time to check out their features before committing long term. You don't have to pay for the year upfront and can choose an installment plan.
They only offer customer support during office hours from Monday to Saturday, and you can reach them by phone and online support form. However, they maintain a very good collection of articles in the FAQ and Knowledge base section, and they can be a good source of information related to your hosting account. Live chat does exist but it's not mentioned on the contact page and you have to navigate through the hosting packages to get there. I tried to get in touch through the live chat but it wasn't online.