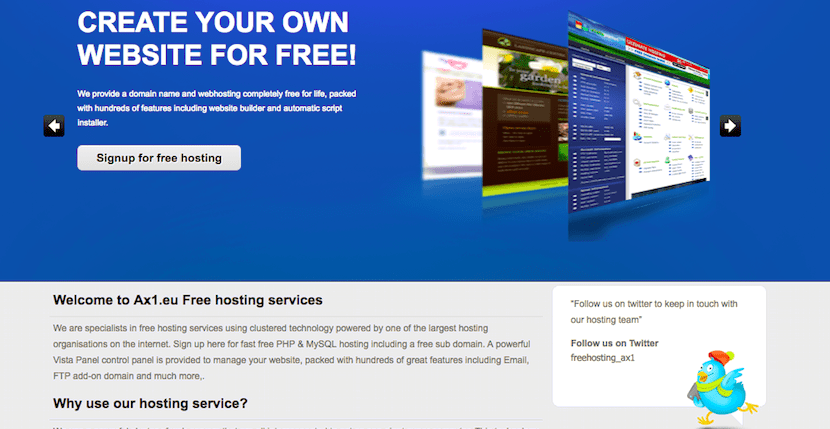 Ax1.eu is a discount website hosting provider which, despite the .eu domain suffix, has servers based in the United Kingdom. It's somewhat ironic given Britain's decision to leave the European Union. Their website doesn't say how many websites they host.
Features and Ease of Use
Ax1.eu offers a discount website hosting service, with its services ranging from free plans to unlimited website hosting plans.
As standard, their website hosting plans include:
9% uptime guarantee
File backup and restore
Free domains with certain packages
From 20 to unlimited domains, dependent on the package
Unlimited disk space
From 250 GB to unlimited bandwidth limits
What's unique about Ax1.eu is their free plan that gives you 100 GB bandwidth and 10 GB disk space for no monthly cost. You also get ten add-on domains, ten parked domains, and ten subdomains thrown in for free. But beware that this too-good-to-be-true deal is not such a good deal if you're not happy to have a web address sitting underneath their domain; i.e. yourdomain.ax1.eu.
They also offer paid plans that range from a basic plan to an unlimited plan. The highest priced plan offers unlimited bandwidth, disk space, add-on domains, subdomains, email accounts, MySQL databases, FTP accounts, and email accounts. Keep in mind that the term 'unlimited' may have some limitations under a "fair use" policy, although the vendor's terms and conditions do not provide any specific details (mainly because they are absent from their website).
What is really good about Ax1.eu is their set of features for expert users. All of their premium hosting plans include support for many advanced scripting languages such as Ruby on Rails, Javascript, Python, and PHP. They provide FTP access, lots of security features, website traffic statistics, and various e-commerce systems such as Cube Cart and Zen Cart.
Pricing and Support
Unlike most companies, Ax1.eu offers a truly free plan. Just fill out the online form and your hosting will be ready immediately. At the other end of the spectrum, their unlimited package is priced in line with local and international competitors, which is somewhat surprising since I presumed it would be cheaper. It's also a little unclear how you actually purchase the paid plan(s).
The premium hosting is priced in U.S. dollars on monthly or yearly terms, but you don't get any discount for annual commitments. They offer a five-day money back guarantee, a price freeze guarantee, and no hidden costs.
Customer service is very, very limited. They have a single email address, with no indication of when they will actually reply. That said, I did get a satisfactory (if somewhat abrupt) response to an email query within a few hours. Their sparse website does not contain anything as luxurious as a knowledge base.