Astral Internet has one a mission: to provide world-class SSD hosting and VPS with 99.9% network uptime guarantee. The company operates data centers with redundant infrastructure in a secure location in Montreal, Canada.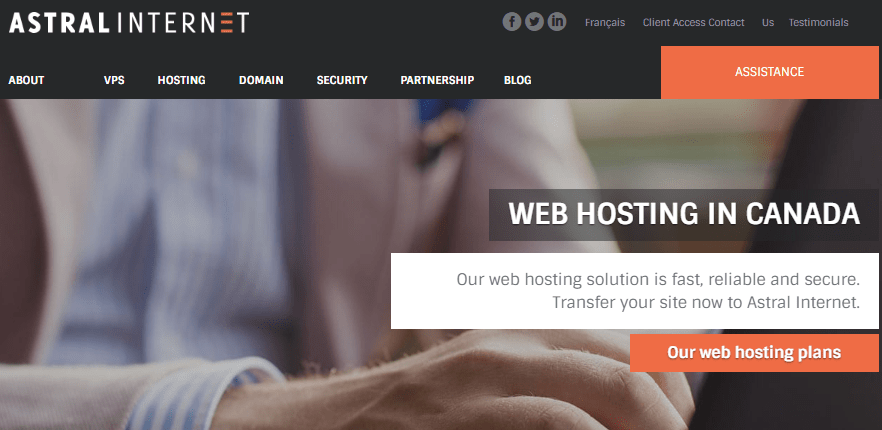 Features and Ease of Use
With Astral Internet's plans, you get secure, fast, and reliable SSD hosting with a good number of features. You can build and deploy your website or apps within minutes on their secure and high-performance servers that run on Dell processors. Constantly updated to meet your resource needs, their servers guarantee good uptime and availability.
Four Linux hosting plans are available. Eco plan is their basic SSD hosting package. With 100GB storage, it supports one website, ten mailboxes, and ten MySQL databases. With two processors and 2 GB Ram, their More plan is their most popular hosting package. It can host multiple domains, 25 databases, and 250 mailboxes.
Next is the Pro plan, a powerful SSD package which comes with 3 processors and 3 GB RAM. Powered by SSD RAID storage; this package supports unlimited websites, unlimited databases, and 500 mailboxes. You also get a free SSL with this plan.
In case you want to host your ASP.NET apps, you should consider their Windows hosting plans. Three plans are available: Eco, Plus, and Pro. Eco supports one website, Plus supports multiple websites, and Pro can host unlimited websites. All run on Plesk and include the same features as their Linux counterparts.
If you're a developer who needs dedicated resources, you should choose the Dev plan. This package comes with a semi-private server that supports six processors and 4GB RAM. With unlimited SSD storage, it allows you to host unlimited domains, databases, and email boxes all secured by a Free SSL for life.
VPS SSD is the other option on the table. It's suitable for customers who need resources that will scale with their businesses. You can choose from unmanaged, managed, or fully managed. With no contract, you pay for the CPUs, RAM, and storage space that you use. The last two have more features including SSL, backups, and advanced monitoring.
What I like about Astral Internet is that they give you cPanel with all the tools you need to manage your website whether it's built on WordPress, Joomla, or any of the open source CMS or framework. From your dashboard, you can create websites using the free app installer with 300+ apps, create and configure personal emails, or setup databases. But that's not all. You can also upload files using FTP or web-based file manager, manage domain names, measure traffic, and allocate resources to tasks.
Pricing and Support
Astral Internet is quite affordable when compared to most hosting services. It's hard to find another company that offers such excellent SSD hosting with a 1GBPS multi-directional network speed at a similar price. Additionally, with any of their four SSD hosting plans, you can enjoy up to a 30% discount when signing up for one year or more. The setup is instant, and there are no activation fees involved.
Customers enjoy 24/7 support on a range of hosting products. Support is available in French and English. Live operators are available on phone from Monday to Friday, 9.00 am-5.00 pm. Alternatively, you can send a message to billing or support via the client area.  On-site technicians and engineers will help you configure your website or resolve server issues that could affect performance or availability.