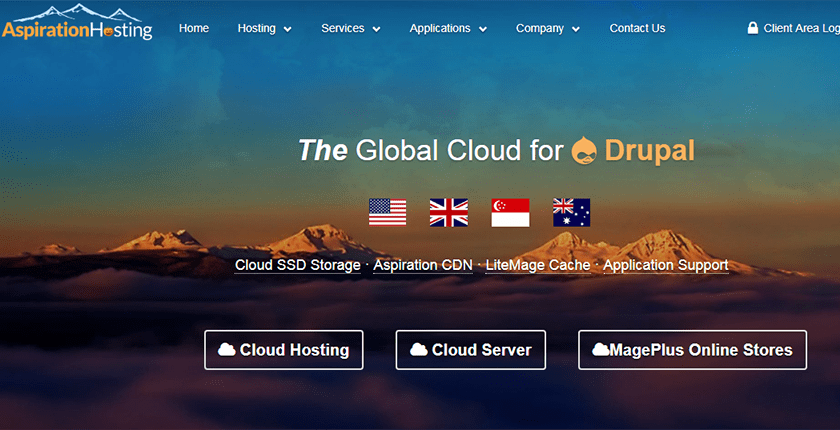 Aspiration Hosting is a U.S.-based company that specializes in Magento hosting solutions and other popular PHP applications such as Simple Machines Forum, WordPress, Drupal, and Joomla!. Although they are based in U.S., they have presence in 30 countries across the globe.  Founded in 2008, Aspiration Hosting uses innovative technology to support companies with their web hosting needs. They deploy LiteMage Cache on their servers, known widely in the industry for being the fastest full-page cache for Magento.
Features and Ease of Use
As previously mentioned, Aspiration Hosting uses LiteMage Cache on their servers. This is widely known in the industry as the fastest full-page cache for Magento, which ensures that your e-commerce website will load quickly and effectively for your customers. Not only does this impact user experience, but it also affects your search engine rankings — Google recently adopted it as one of the primary ranking measures for the websites they crawl.
On top of that, Aspiration Hosting includes a free installation of their proprietary Aspiration Content Delivery Network (CDN) with most hosting accounts and promises a 99.9% uptime SLA, making sure that your website is readily available around the clock.
While the Magento e-commerce platform is their primary specialization, they also offer hosting solutions for most popular PHP applications such as WordPress, Drupal, and Joomla!. This makes Aspiration Hosting a versatile choice for the most of their customer base. Of course, given their specialization, Aspiration Hosting includes free Magento auto-installers with all their hosting subscriptions.
Aspiration Hosting has servers located all around the world, including in Asia-Pacific and Oceania. Clients can select their preferred servers depending on where their primary customer base is located; for instance, their Singapore servers offer excellent connectivity to Thailand and the rest of Asia-Pacific.
Aspiration Hosting has three broad categories of hosting services: cloud hosting, fully redundant cloud servers, and their MagePlus plans, a no-limits e-commerce solution unique to them. Their entry-level cloud hosting plan starts users out with 5GB of cloud SSD storage, unmetered bandwidth, unlimited hosted websites and domains, SSL certification, a free website migration service, and 24/7 live chat and Help Desk support. This is sufficient for small e-commerce websites. Note, however, that this entry-level plan does not come with their proprietary Aspiration CDN, web developer support for application-level issues, and phone support; you'll have to opt for their Pro cloud hosting plan for all of those.
Pricing and Support
Aspiration Hosting's pricing schemes are fair and affordable. They have many different packages that will satisfy most customers, from pre-made cloud hosting plans to customizable cloud servers; prices will vary depending on what you require.
Their packages primarily differ in the level of customer support they offer, the available software optimizations, storage capacity, and bandwidth. In all categories, you'll benefit from a free Global CDN, Magento auto-installers, and Litemage Cache. These features are included to enhance your website's performance and provide you with convenient tools for optimizing your online presence.
The number of available support channels will vary depending on the packages you purchase, but every hosting customer will have access to their 24/7 tech support service. If you run into any technical issues, you can reach them via a support ticket or live chat — round-the-clock phone support and web developer support is only available for select plans.
How much does Aspiration Hosting cost?
Aspiration Hosting offers plans from $10 to $65. The price depends on which type of hosting plan you choose. You can see the updated pricing table (updated weekly) below.

Which Aspiration Hosting plan should I get?
My recommendation is to start with a cheaper plan. You can always upgrade later on. Aspiration Hosting can help you with the migration to a more expensive plan. The increase in visitors many times takes longer than expected and you shouldn't pay a lot of money until the need arises. Of course, your needs may vary, and you can consult with a hosting expert from Aspiration Hosting here.

How good is Aspiration Hosting's customer support?
Aspiration Hosting is not ranked as one of our top web hosts. But that can also be a result of Aspiration Hosting being a small, under the radar, hosting provider. There are advantages to a small hosting company – as a customer, you are more important to them. You can also check out our comparison of the most popular web hosting services here.