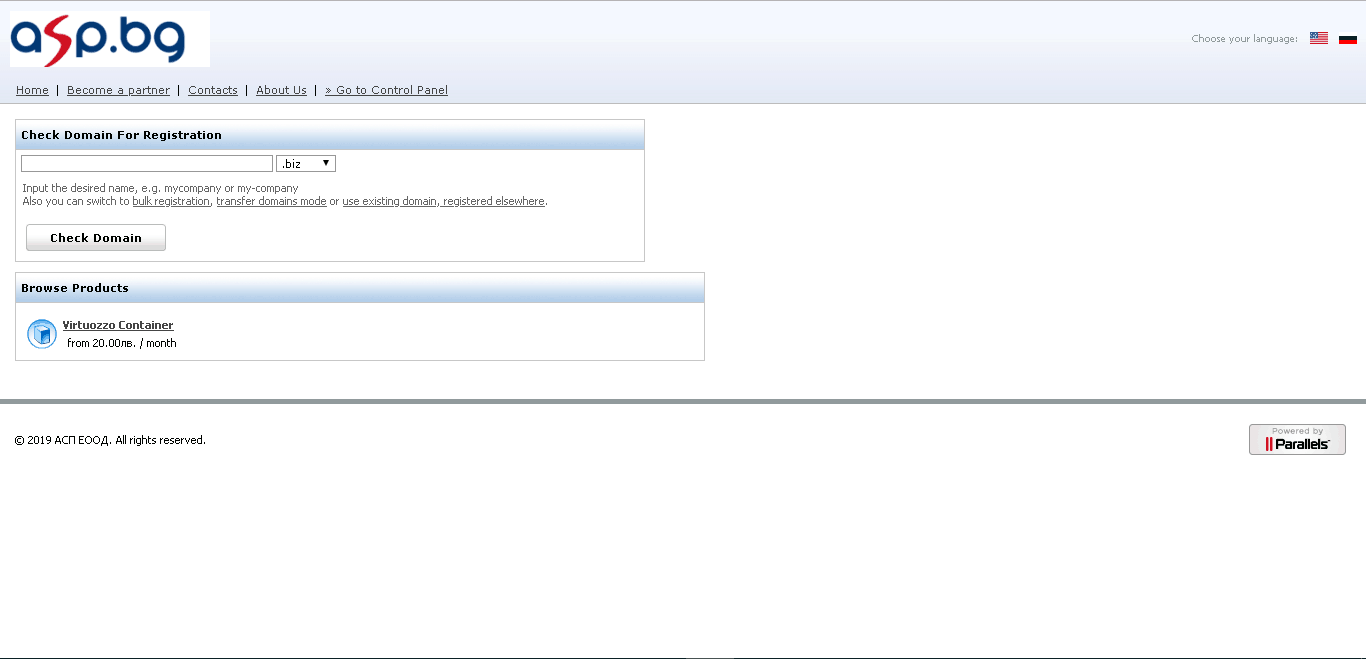 Asp.bg is a Bulgarian web hosting company. Their website doesn't provide much information about them at all. However, since they focus solely on Debian Linux hosting on Virtuozzo Hyper-V servers, their straightforward range of products is all you need to know. They provide their services in Bulgarian and English, and their website can be switched between the two languages.
Features and Ease of Use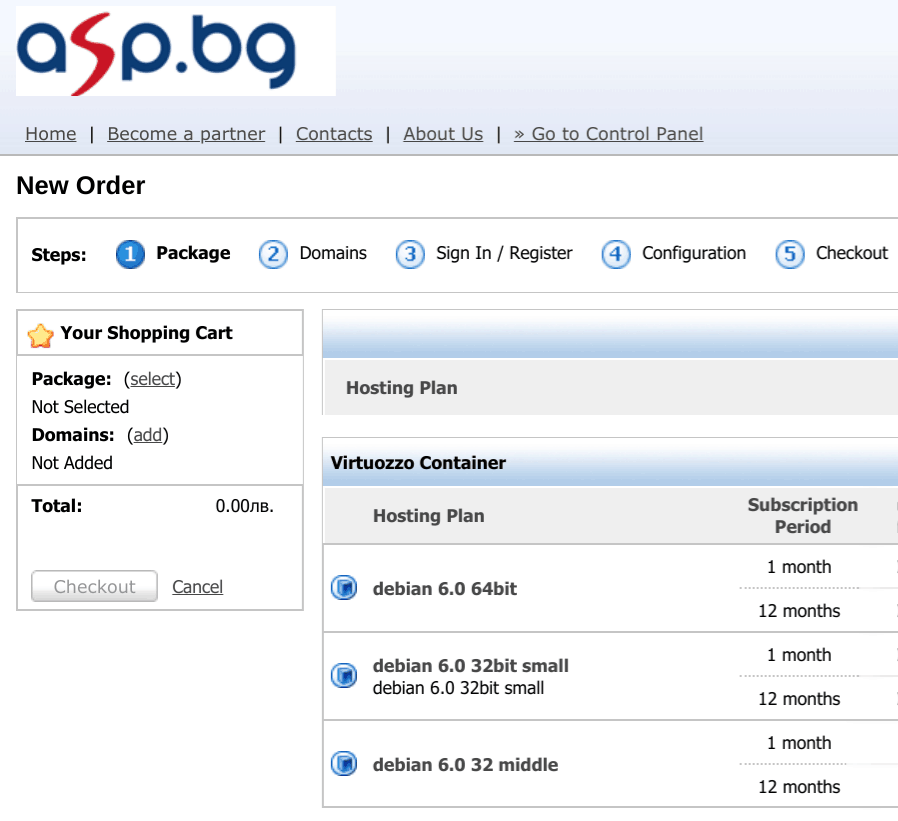 Asp.bg doesn't offer any application-specific hosting nor any other services, therefore domain registration and three Virtuozzo packages complete their product offerings that feature:
Domain registration
Customizable automatic backups
Ability to add external SSL certificates
Configurable storage up to 419 GB
Asp.bg focuses solely on providing Virtuozzo container hosting with Debian Linux. These products are bare except for your control panel and the operating system, so you can set up your own solution exactly as you wish. The straightforward product options allow you to choose between a 64-bit Debian distribution and a small or medium 32-bit Debian distribution.
Machines can be configured to your heart's content. You can choose up to 1024 CPU cores, up to 419GB of storage, up to 1TB of backup storage as well as up to virtually unlimited backups, domains, email accounts, and databases, plus a huge number of static IPv4 and IPv6 addresses. Since you get the Parallels Plesk control panel and you can host multiple websites on multiple domains, these solutions are suitable for resellers. You can also choose the number of domains to be provided with DNS hosting.
Pricing and Support
As already stated, Asp.bg only provides a straightforward selection of three Virtuozzo Linux Debian machines, and all three packages can be bought on monthly or annual billing cycles (with the annual option effectively giving you two months for free). Although the limited range of plans seems really restrictive, all three plans can be extensively configured.
Unfortunately, online payments are not accepted. You have to fill out a form, make payment separately, and then send them your proof of payment. Only then will your order be processed and your machine set up.
Prices don't include the cost of a domain or SSL certificate, but a Virtuozzo and Plesk license is included in the package. They don't provide any really cheap hosting plans, although their prices are reasonable considering the type of hosting and the resource quotas you can choose.
Support is available via the email, telephone or a ticket system from your control panel. Asp.bg doesn't offer any kind of guarantees or SLA for their technical support services, and it's not even clear if they actually attend to requests 24/7. However, it is certainly true that responses to your requests will take longer outside of business hours. The only documentation they provide is the Parallels Business Automation and Plesk user manual.