AsanHost is a subsidiary of Easy Host Group that started its operations in 2003 and was formally launched in 2004. The hosting firm is based in Iran and boasts of employing highly specialized and skilled staff as a way of making sure it offers satisfactory hosting services to its customers primarily based in the Iranian market.
Some of its web hosting services are dedicated servers, domain registrations, VPS servers, web design, and shared web hosting solutions. The AsanHost website is only available in Persian.
Features and Ease of Use
AsanHost web hosting services incorporate the following standard features:
OS: Windows or Linux operating systems

cPanel/Plesk/WHM control panel

SQL servers

Dedicated IP addresses
All AsanHost VPS and rented servers are housed in a powerful data center located in Iran. The fact that the data center is hosted locally in Iran enables the vendor to primarily focus on providing high-end services with hardly any outages to clients in the domestic market.
The hosting company's web hosting servers use CPUs powered by Xeon processors that support up to 32GB RAM. Xeon processors allow the use of ECC (Error-correcting code) memory that is crucial in servers today since, in most instances, it allows the memory to self-correct data corruption.
Depending on the user's needs, AsanHost provides a choice of either Windows or Linux hosting solutions. On the Windows solutions, customers get to host their website using the Plesk control panel, while Linux hosting solutions are powered by the cPanel control panel.
All plans come with weekly and monthly backup options to help prevent data loss in case of a crisis.
All the same, the AsanHost website can be quite disappointing, especially to web visitors who do not speak or understand Persian. Certain aspects of its website do not fully translate into English, even with the help of Google Translate.
Pricing and Support
At first glance, AsanHost's web hosting services might seem cheap, but this can be quite misleading because customers have to incorporate a list of add-ons to get fully-featured packages.
All prices are listed in Tomans as well as U.S. dollars, and plans are offered with monthly and annual billing cycles.
AsanHost boasts of high server availability but does not seem to commit to an uptime guarantee. Also, the hosting firm does not offer a free trial or money-back guarantee.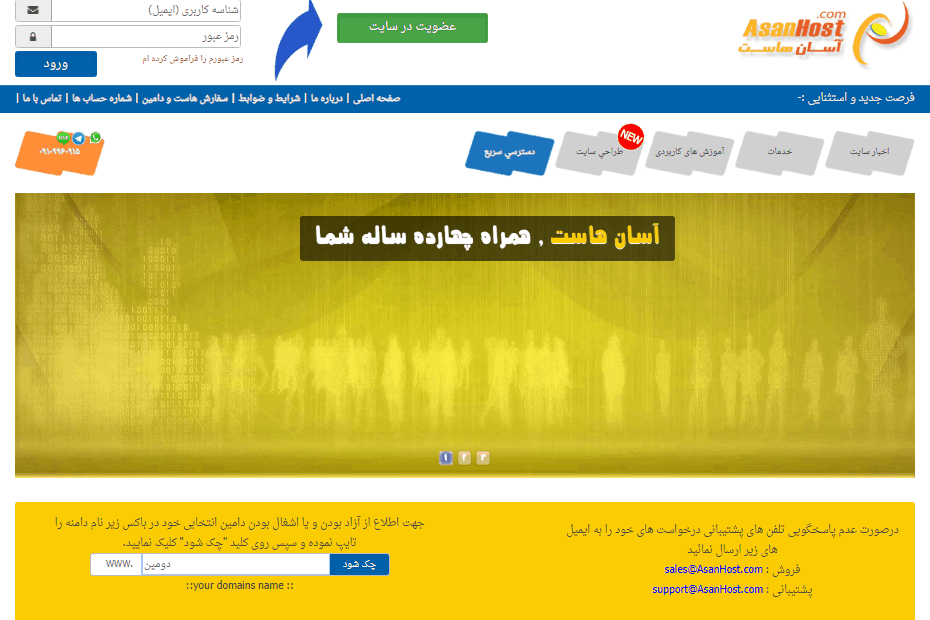 Customers can contact the AsanHost support desk via telephone and email. While the vendor has an online chat link on its website, the link is unresponsive. The hosting company also does not seem to have a ticketing system.
AsanHost has yet to put up a knowledge base section on its website.