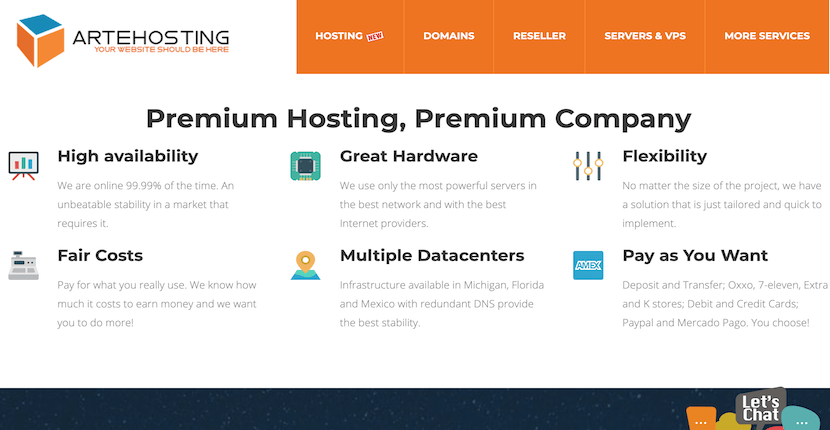 Founded in 2001, Mexican provider Artehosting offers regular and cloud-based shared hosting, cloud VPS, dedicated servers, and reseller hosting packages. The company began as a bootstrapped startup but now operates out of four data centers in the United States and Mexico. It currently has customers in 16 countries around the world (and growing!). Artehosting's services are available in Spanish.
Features and Ease of Use
Artehosting offers several different types of web hosting, including shared, SSD, WordPress, cloud-based VPS, and dedicated server plans.
The regular shared hosting plans come with either 100GB, 500GB, or 1TB of HDD storage space. All of them also include unlimited data transfer, unlimited email accounts, and unlimited MySQL databases/FTP accounts. You'll also have a pretty decent amount of server resources with one CPU core and 1GB of RAM, though unfortunately, this doesn't seem to go any higher even if you get a better plan.
SSD hosting plans come in Basic, Premium, and Business levels. These range from 30-100GB of disk space and include unlimited data transfer, email accounts, and databases.
If you anticipate needing to scale rapidly in the future, there's a "Power Pack" add-on that'll upgrade your shared hosting plan to a cloud-based platform. This allows users to quickly add RAM or vCPUs as needed. The process requires just two clicks and takes less than two minutes. Customers can add between one to six vCPUs and 2-32GB of RAM.
Hosting plan features include:
Free domain with yearly contracts or longer
99.9% uptime guarantee
Website builder included
LiteSpeed Web Server and NGINX
Artehosting's Security Shield, which comes with 24/7 anti-hacker monitoring, malware protection, two-factor authentication, and monthly security audits
Hosting customers also have the ability to access Artehosting's website builder for a small monthly fee. This is a drag-and-drop editor that includes the ability to add common features like  image galleries, a blog, and an e-commerce shopping cart. The website templates are fully-responsive as well. To top it all off, the service comes with a full builder demo, video tutorial, and 24/7 technical support.
Pricing and Support
Pricing for Artehosting is comparable to plans from other international hosting providers. SSD plans cost roughly twice as much per month as the regular shared hosting plans, which compared to international providers is in the average range.
Compared to other Mexican web hosts, Artehosting's pricing is still competitive. While not the cheapest available, the company does offer a more premium level of web hosting with included features that many customers will appreciate, such as SSD storage, 24/7 customer support, on-demand service upgrades, free domain, an auto-installer, and so on.
Shared hosting plans are available in monthly, annual, biennial, and triennial billing terms. There are discounts for longer-term plans versus month-to-month: you'll get 17% off for an annual contract, 38% for biennial, and 43% off for the triennial plan.
Customer support is available round-the-clock and is provided via telephone, live chat, and tickets. You can also find resources (such as video tutorials) in Artehosting's knowledge center. I reached out to sales support via live chat after working hours and received a response during the morning local Mexico time.