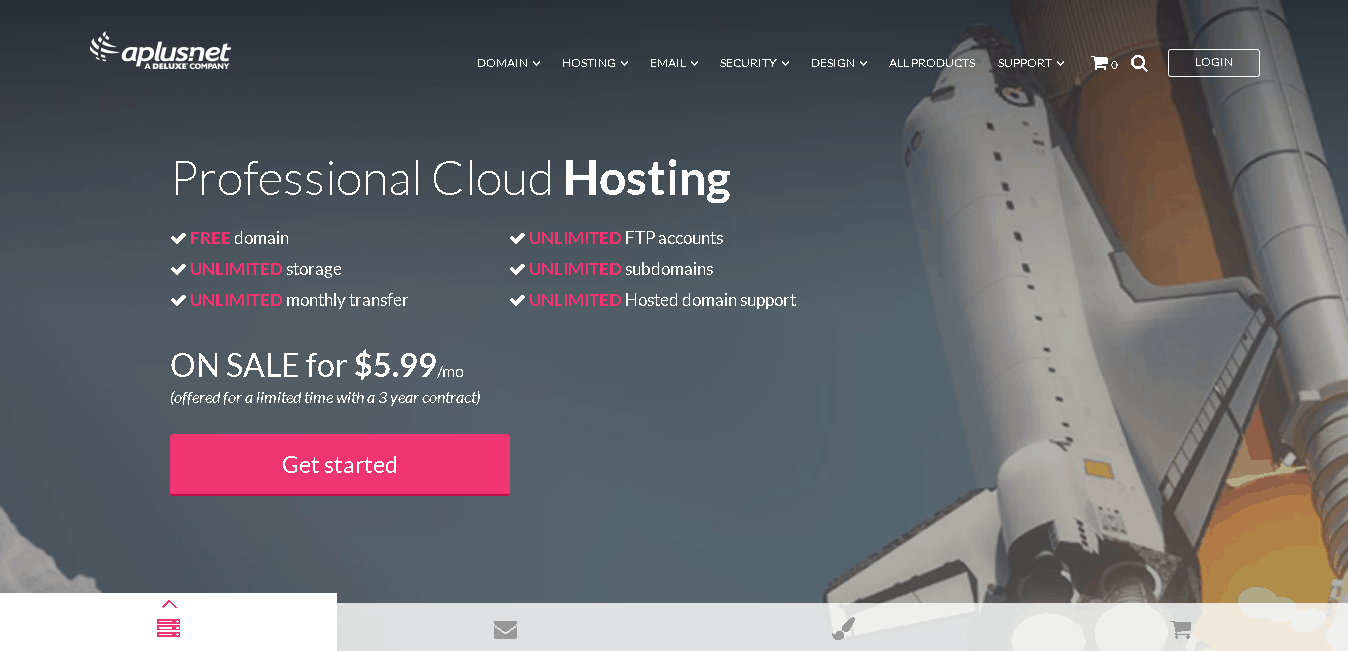 In business since 1992, Aplus.net helps small businesses build and grow their digital brand. Over the years, it has registered over 800,000 domains, designed over 200,000 websites, and hosted over one million email accounts.
It's a Microsoft Gold Certified Partner with accolades from some companies. It's data centers are located in the United States, Canada, and Ireland. The website is in English only.
Features and Ease of Use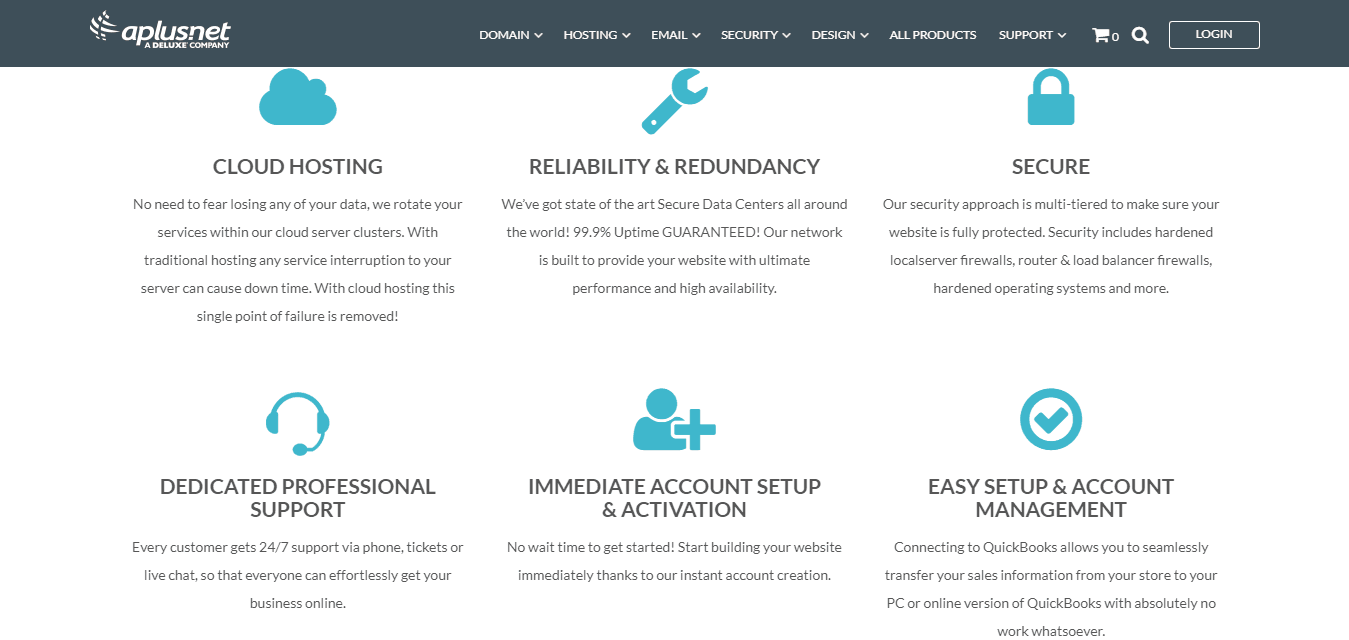 Aplus.net offers cloud hosting and VPS. The cloud hosting comes in three plans – Basic, Business, and Professional. If you take any of them, you'll enjoy the following:
99.9% Uptime
Automatic backups
Two to unlimited websites, depending on your plan
100GB to unlimited storage space
Aplus.net supports PHP, Perl, CGI and SSI, Python, and ASP / ASP.net. However, it doesn't offer cPanel as the management tool for cloud hosting customers. They are given a custom control panel – Portal. It's not as comprehensive as cPanel but it's simple and has the basics of a control panel. My major concern with it, is installing WordPress.
Aplus.net offers an installer, but before you can use it to install a CMS, you'll be prompted to create a database first. That is something that requires technical skills. Fortunately, there are some tutorials and YouTube videos that can help you out.
Fortunately, the VPs plans come with cPanel, for those who are more familiar with this management tool. There's no installer with it, though.
If you want to run an E-commerce business, you'll either have to do manual installation or pay for its StoreCreator. The StoreCreator allows you to sell unlimited products, integrates with QuickBooks, and syncs with your Facebook store.
Its website builder is free, so if you're not selling products online, you can use it to set up your business/personal website. It has drag-and-drop design tools, visual editor, metadata section, and hundreds of templates. You can use it to create gift certificates, appointment scheduler, and daily deals as well.
For security, Aplus.net offers server-side firewalls, load balancer firewalls, and a router.
Pricing and Support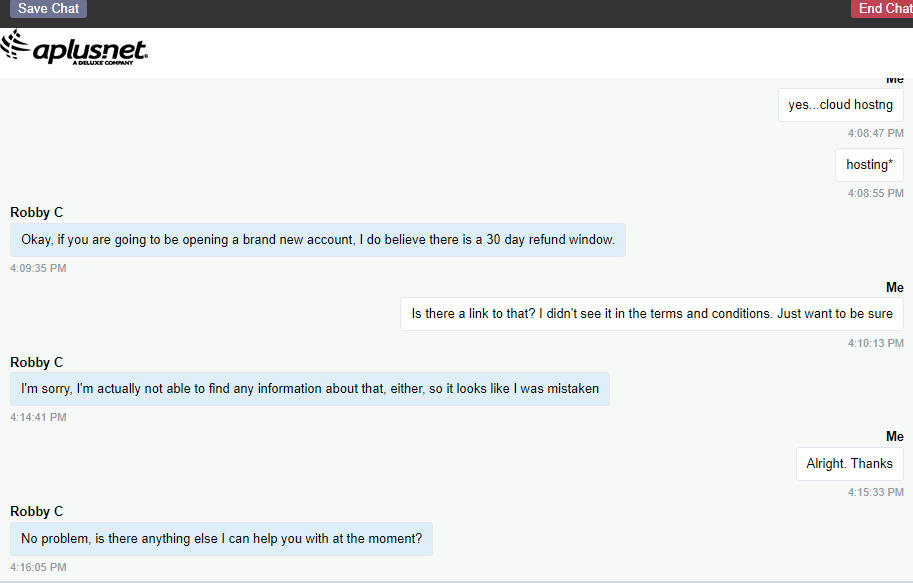 Aplus.net offers cloud hosting at a reasonable cost. It has monthly payment plans, but if you're willing to purchase hosting for a year, you'll get a 20% discount and a free domain registration. Unfortunately, it doesn't offer a free SSL certificate. You can add that to your cart before checkout.
One thing that I don't like about this company is the lack of a money-back guarantee and refunds. Once you pay, your money is theirs even if the service doesn't meet your expectations. If you really want to try out the service, I suggest that you go for a monthly plan to lower your risk.
Additionally, there is no knowledge base available. You'll have to rely on Google search or reach out to customer support for assistance. Their technical customer support is available 24/7, and you can seek help by calling their U.S. toll-free phone number, submitting a ticket, or engaging in a live chat. I personally tried the live chat option and connected with two agents. I found their support to be satisfactory.
How much does Aplus cost?
Aplus offers multiple plans priced highest to lowest. The price depends on which type of hosting plan you choose. You can see the updated pricing table (updated weekly) below.

Which Aplus plan should I get?
My recommendation is to start with a cheaper plan. You can always upgrade later on. Aplus can help you with the migration to a more expensive plan. The increase in visitors many times takes longer than expected and you shouldn't pay a lot of money until the need arises. Of course, your needs may vary, and you can consult with a hosting expert from Aplus here.

How good is Aplus's customer support?
Aplus is not ranked as one of our top web hosts. But that can also be a result of Aplus being a small, under the radar, hosting provider. There are advantages to a small hosting company – as a customer, you are more important to them. You can also check out our comparison of the most popular web hosting services here.