Based in Peru, Apache Peru has been providing web hosting services since 2011. It's not the biggest or most well-known web hosting company in the world, but they do provide
a wide range of web hosting products with some unlimited options and a choice of Linux or Windows solutions
. As a fully-fledged IT company, Apache Peru can also come up with custom solutions to suit your needs. They provide their
services only in Spanish
, but their website can easily be translated into English within your browser.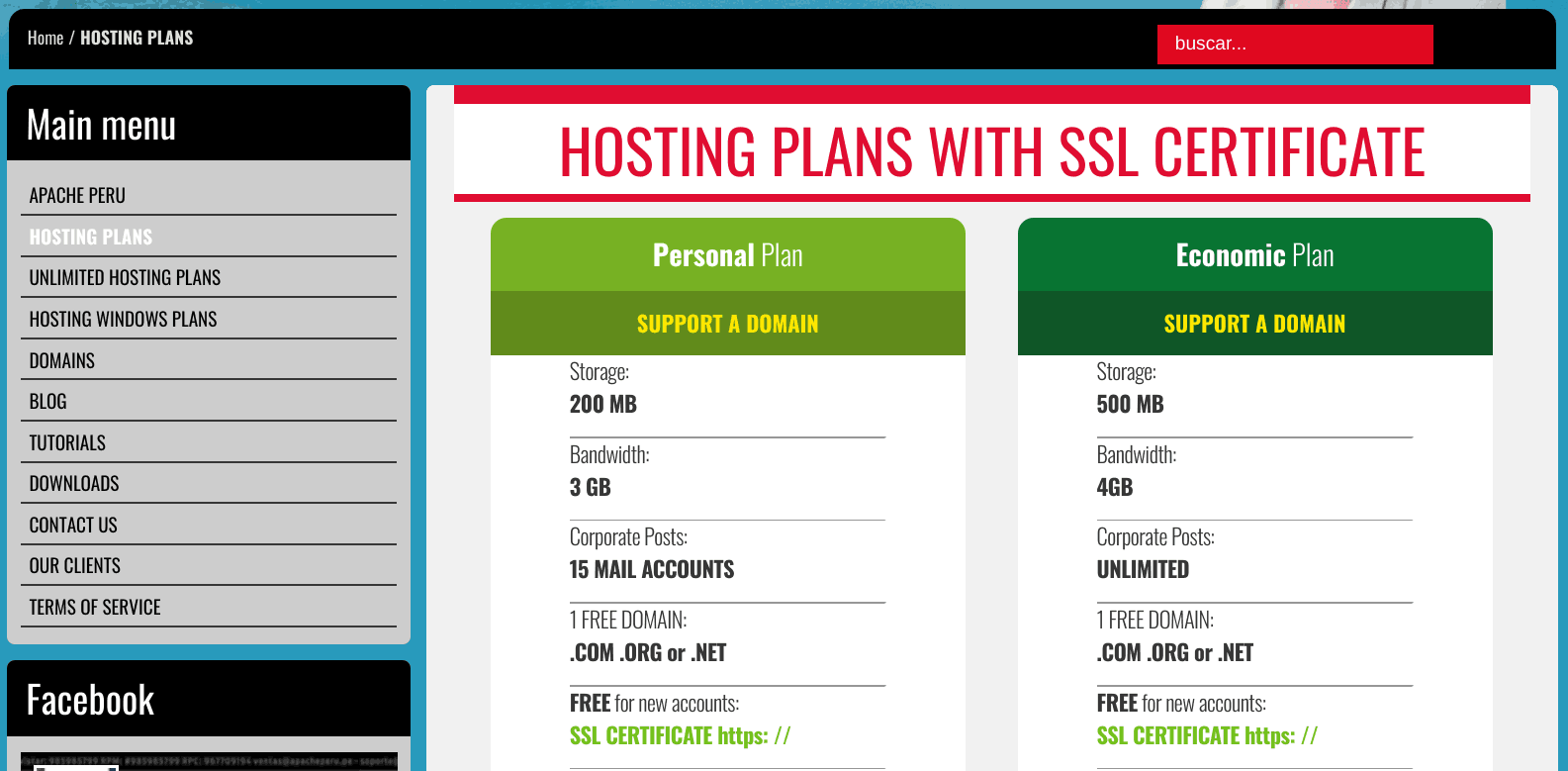 Features and Ease of Use
Apache Peru might not be breaking any new ground technologically, but they provide solid solutions that cover all the hosting essentials including:
Domain registration with .net, .org, and .com domains provided for free
SSL certificates also provided for free with their hosting plans
Email hosting services
Free website migration
Their hosting products come with all the prerequisites, and with cPanel and Softaculous you can install any CMS or web app you want. WordPress, Joomla, and Drupal are preinstalled and can be activated with a few clicks.
Linux machines include PHP, SpamAssassin anti-spam, Perl, Python, and several statistical tools. Windows machines feature ASP.NET and IIS 7, with databases hosted in SQL Server 2008. You'll also have access to the Parallels Plesk control panel, which is widely regarded as the best panel for Windows hosting.
Pricing and Support
While the prices for Apache Peru's web hosting plans are very competitive when calculated on a monthly basis, their annual billing options do not offer any refunds or money-back guarantees. So you're taking a leap of faith when you sign up with them.
Linux web hosting plans come with unlimited email accounts, MySQL databases, FTP accounts, and subdomains. They also include cPanel and Webmail hosting. The limited plans offer between 200 MB and 9 GB of storage and 3 GB to 80 GB of bandwidth. Their two unlimited hosting plans offer good value-for-money for those with higher budgets. The first limited and unlimited plans come with a single domain, and the number of domains goes up with higher tier plans.
Windows plans are unlimited, with the two plans distinguished only by the number of domains (single or multiple, respectively). You also get a Plesk license instead of cPanel with the Windows options.
All plans come with free SSL certificates and a .com, .org, or .net domain.
24/7 technical support via email, live chat, and a dedicated phone line is provided with all plans. I've generally been very impressed by their customer support, which is attentive if not always immediate. The self-help tutorials are hard to navigate and don't cover a lot of topics, so they could do with a touch-up.