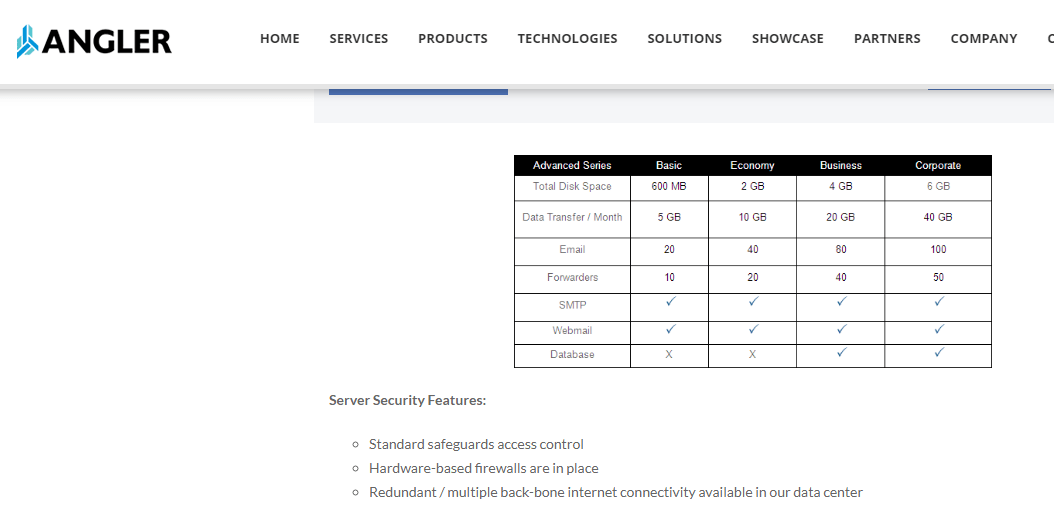 ANGLER is an India-based web hosting company with offices across the globe, including in countries such as the U.S., the U.K., and U.A.E. It offers a full range of hosting solutions to give the best services in the sectors of web hosting, offshore software development, e-business products, and interactive media. It has over 17 years of hosting experience and boasts of a client-base in over 14 countries worldwide.
Features and Ease of Use
ANGLER web hosting solutions come with the following standard features: 
FreeBSD and Ubuntu operating systems

Pre-installed software

Dedicated IP address

MySQL databases

99.9% uptime guarantee

SSL certificates included
ANGLER's world-class data centers are co-located with one of the leading hosting companies, and the data centers are distributed in the United States. These data centers are equipped with fully redundant, fast, and secure hosting infrastructure, including reliable file storage systems powered by ShadowDrive® Technology for on-server backups.
The vendor uses global Tier I IP networking systems from Cisco and Juniper Networks, in additional to OC3, OC12 fiber optic circuits for routing technology, connectivity, and redundancy. This way, the hosting company is able to provide ultra-fast network connectivity and customers can rest assured that speed is 100% guaranteed.
ANGLER web hosting solutions use either Windows or Linux OS platforms, and all accounts are equipped with several other features such as support for several website applications, including PHP (Apache module), Perl (many modules), Python, Ruby on Rails, and Phusion, among others.
Also, its hosting solutions come with an Account Control Center (ACC) where, with just a click-of-a-mouse, users can easily control every aspect of their servers, including managing and running their server resources without too much of a hassle.
Pricing and Support
ANGLER has not priced its hosting packages and instead, it has provided a "quote button" where interested customers can ask for a quote from the vendor. With that in mind, it is hard to estimate the costs of each hosting plan.
ANGLER boasts of providing systems with very rare server breakdowns. It offers an uptime guarantee of 99.9%. All the same, the hosting company does not have a free trial or money-back guarantee.
Potential customers can reach out to the ANGLER support desk via its dedicated telephone numbers for different countries: India, the U.S., the U.K., and U.A.E. The technical support team is also available through email or Skype. However, the hosting company does not have a ticketing system or live chat support.
Although the hosting company lacks a knowledge base, its website offers several "how-to" articles.