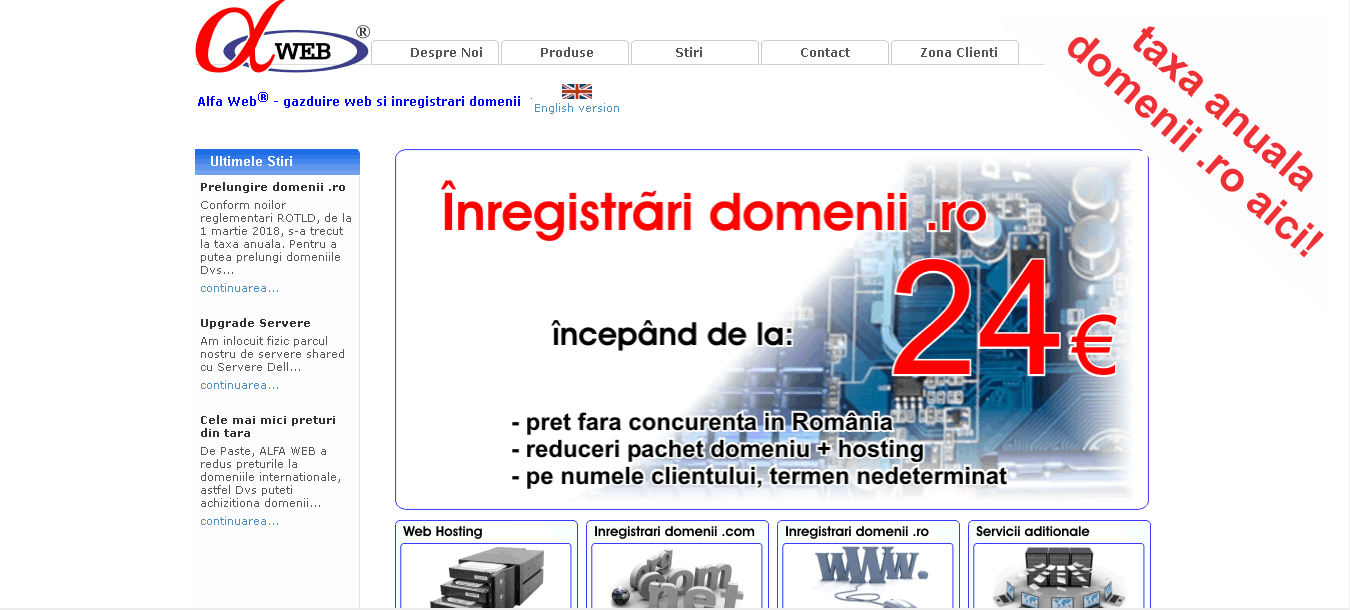 Romanian web host Alfa Web has been providing services since 2005. This company sells I.T. and website development services in addition to the usual hosting services. Their simple website is available in English and Romanian, and their servers are located in the company's own data center in Romania.
Features and Ease of Use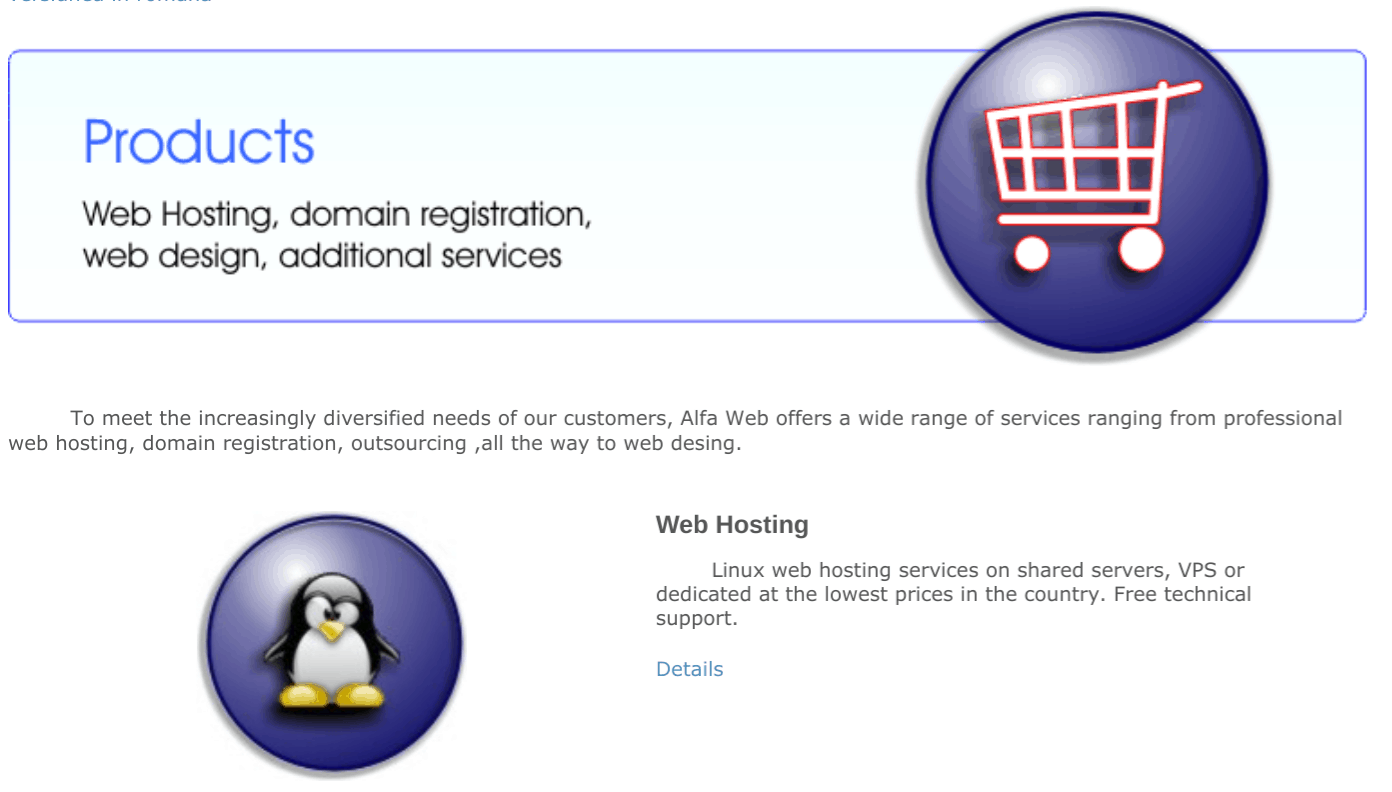 Alfa Web's core shared hosting plans come with the following features:
Weekly automatic backups retained for one week
Domain registration available
From one to unlimited add-on domains
SSL certificates available for purchase
200MB to 30,000MB disk space
20GB to unlimited bandwidth
The shared hosting plans use robust dual-core Intel Xeon Processors with RAID1 HDD (which is quite unusual now that many web hosts are standardizing on SSD storage). They come with the CentOS flavor of Linux and the easy-to-use cPanel control panel.
Alfa Web owns and operates its own Romanian data center, which should mean faster response times to technical issues and less chance of resources being oversold. It's also a bonus for Romanian businesses to host their websites close to their Romanian customers.
Whilst I am impressed with the data center and the infrastructure (HDD aside), the plans provide limited additional value in terms of features. There is support for multiple FTP accounts and for PHP (up to version 5.4.x). However, there is no SSH access, no support for advanced coding languages, and no website building tool.
Pricing and Support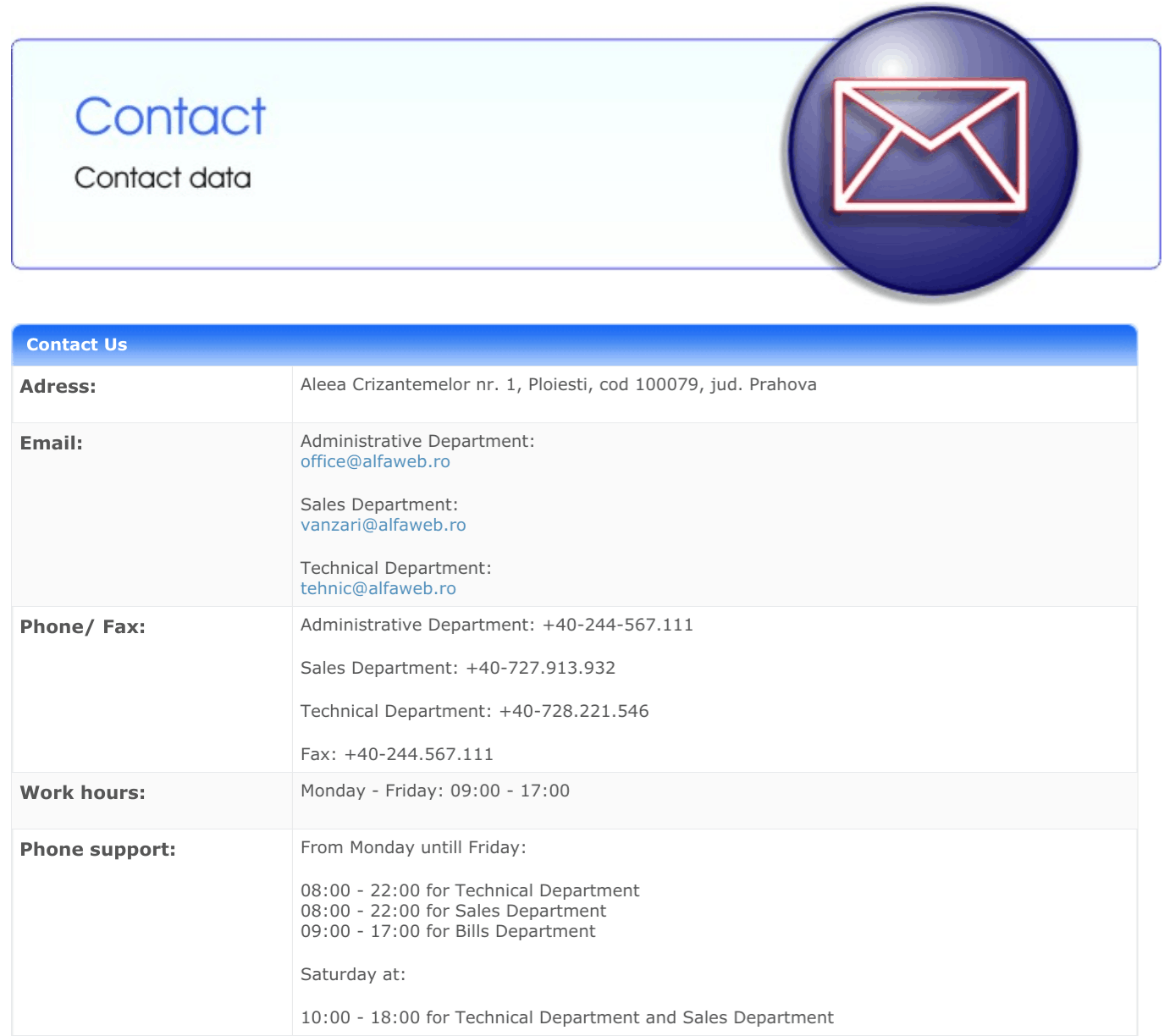 Alfa Web offers seven shared hosting plans ranging from the free Alfa plan (with only 200MB disk space) to an overpriced unlimited package. Somewhere in the middle are the Beta and Gamma plans with 1500MB and 4000MB disk space respectively. The catch is that you have to invest in one of the much higher priced Sigma or Omega plans if you want more than five domains. Domains names cost extra with all but the most expensive plan.
It's a bit confusing that they offer different term options for various packages, including one and two-year terms for some and three and six-month terms for others. However, it's worth noting that the cheaper plans usually require longer-term commitments.
There are lots of ways to customize your plan by adding or reducing resources such as disk space, traffic, and dedicated IP. So you can build a plan that perfectly meets your needs. You can upgrade at any time, and downgrade at the end of your billing cycle.
Although support is only by telephone, email, and fax, I do like the clarity of the contact page that provides different email addresses for different departments (admin, sales, and tech support), along with clear business hours. Though this is not 24/7 support, you can contact the technical team up to 10.00pm on weekdays and up to 6.00pm on Saturdays.