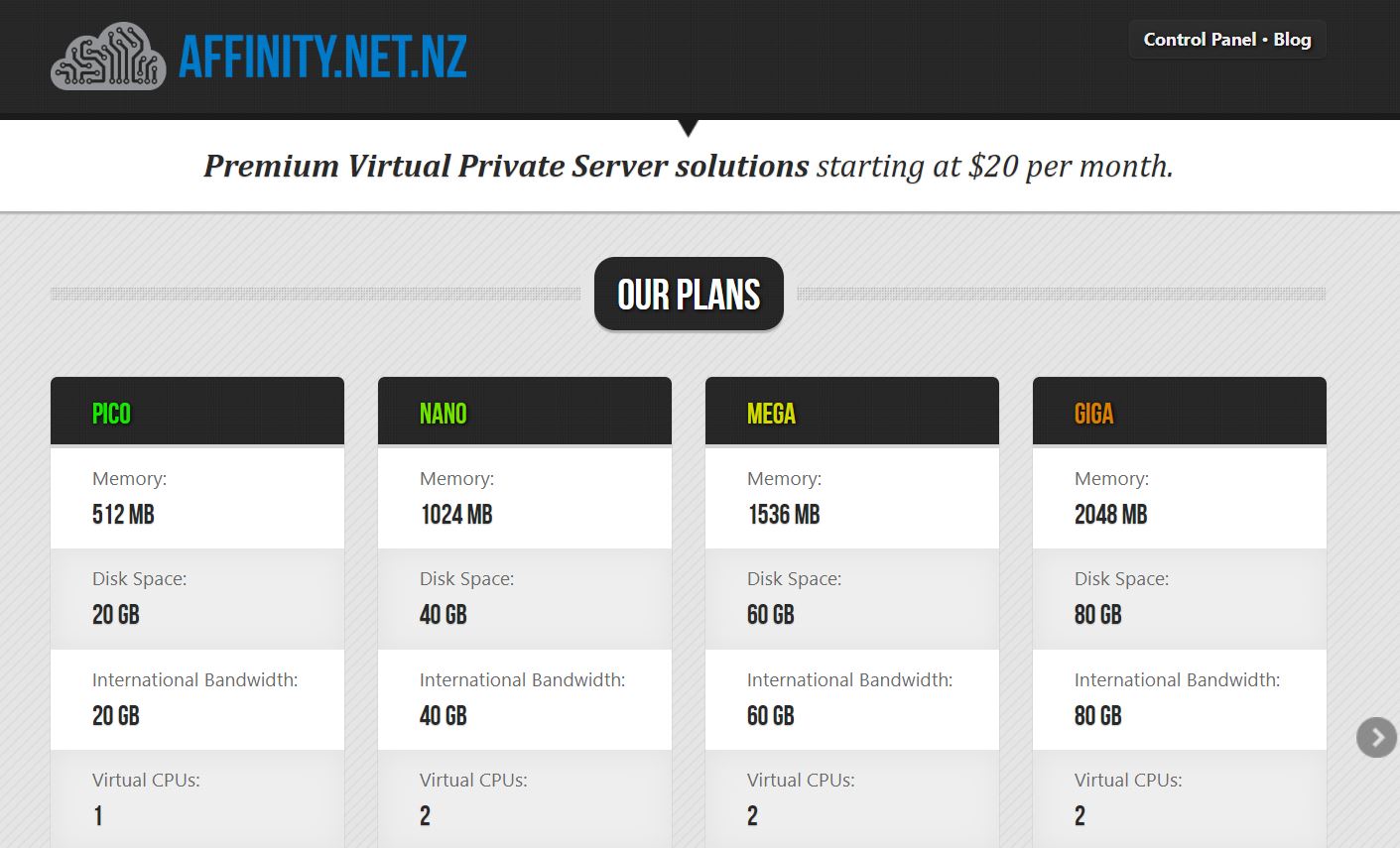 Affinity Dot Net Dot Nz Ltd (which trades as AFFINITY.NET.NZ)
is a 100% New Zealand-based hosting provider that specializes exclusively in premium VPS hosting for Windows or the Ubuntu, Debian, Fedora, CentOS, or Arch Linux distributions.
The company was launched in 2013, and it sells its services via a very minimalist website that displays prices in New Zealand dollars. Servers sit in the Orcon data center in Northcote, Auckland, New Zealand.
Features and Ease of Use
AFFINITY.NET.NZ's hosting solutions are limited to just four VPS plans — PICO, NANO, MEGA, and GIGA — which provide you with:
Full root access

Custom control panel

Unlimited bandwidth
The entry-level PICO plan is suitable for small websites. It comes with 512 MB RAM, 20 GB disk space, 20 GB international bandwidth, and 1 CPU.
The NANO package provides you with 1,024 MB RAM, 40 GB disk space, 40 GB international bandwidth, and 2 CPUs.
For more resources, you can pick the MEGA plan that includes 1,536 MB RAM, 60 GB disk space, 60 GB international bandwidth, and 2 CPUs.
The top-of-the-line GIGA plan affords you 2,048 GB RAM, 80 GB disk space, 80 GB international bandwidth, and 2 CPUs.
For a hosting provider focused on one type of hosting, I expected to find more advanced features (e.g., one of the popular control panels or SSD storage) and bigger resource allocations. And although this host provides backup services at an extra cost, these are not guaranteed to guard against loss in the event of a system failure.
Pricing and Support
This host offers four VPS plans at affordable prices, but the price goes up when you add the cost of the backup service. All VPS plans are priced monthly, are non-refundable, and there is no test period to try before you buy.
While you should be able to contact this company via telephone, ticket, or email, I have to report that my test support ticket submission seems to fall on deaf ears. There is no knowledge base, as far as I know, so for self-support, you're limited to a few frequently asked questions: