Founded in 2006, AdriaHost has provided web hosting services to over 5,800 companies, 590 agencies, and 2,600 individuals. Although they're staffed by a small but expert team, they've already expanded their reach beyond the borders of their country and now have offices in both London and Serbia. Their website and support is available in English and Serbian.
Features and Ease of Use
AdriaHost is a full-service website hosting company providing shared hosting, VPS hosting, dedicated servers, Windows servers, and audio streaming hosting. They also offer domain registration, SSL certificates, website migration, SMS marketing, and more.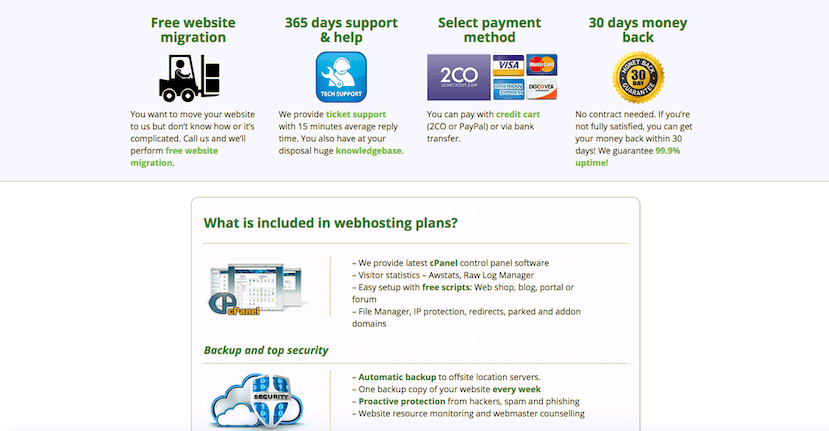 Some of the features that come as standard in their website hosting packages include:
99.9% uptime guaranteed
Weekly automatic backups to off-site servers
Domain registration
Free website migration service
Free SSL certificates for Business plan and above
Packages starting from a single website, 2GB disk space, and 50,000 monthly visits to unlimited disk space, traffic, and add-on domains
Latest version of cPanel
AdriaHost doesn't have a ton of beginner-friendly features, although they do provide users with the Softaculous app installer along with over 400 available scripts. Users wishing to launch an e-commerce website can do so with the help of their Business package or better, which comes with a shared SSL certificate and ready installations of osCommerce, Zen Cart, and CubeCart. Unfortunately, the Basic plan doesn't include free SSL certificates, though it comes with a generous amount of bandwidth.
AdriaHost hosts their customers on servers located in an Amsterdam-based data center. Since the team is based in Serbia and London, this means there may be a bit of a lag time when it comes to diagnosing and resolving hardware issues.
It's really easy to get set up with AdriaHost. The website is provided in English and Serbian and the content is really clear, so you don't need a lot of knowledge to navigate. Purchasing a package and registering a domain is straightforward and can be done online in a few minutes. AdriaHost also has a free website migration service if you'd like to move your website over from another provider.
Pricing and Support
AdriaHost's plans are competitively priced when compared to both local and international providers. All packages, except for the Basic plan, include free SSL certificates. Note that only the highest-tier package includes a free domain registration.
AdriaHost offers a discount if you purchase a plan for more than one year. In fact, if you opt for a three-year contract, the third year is free. However, this does mean paying upfront for three years of hosting, which is quite a commitment.
Unfortunately, there are no monthly contracts and the shortest billing term is one year, payable in advance. Also, there are no free plans or free trial periods, although they do have a 30-day money back guarantee. It's possible to upgrade or downgrade plans once you've signed up, which is a nice degree of flexibility.
Their customer support channels are open 9AM to 5PM Monday to Saturday. You can reach their support staff via email, phone, Facebook, and Twitter. Their support is available in English and Serbian. I do get a little nervous that they close on Sundays and are not available in the evenings, particularly since many customers of e-commerce websites tend to shop more during those hours.
That said, I've had great experiences whenever I've needed to contact them. I usually use Facebook messaging to contact them and they've always gotten back to me within a few minutes of my initial message. For more technical queries, they ask you to email them or submit a support ticket, which is understandable as this allows them to pull all the relevant information pertaining to your hosting account.