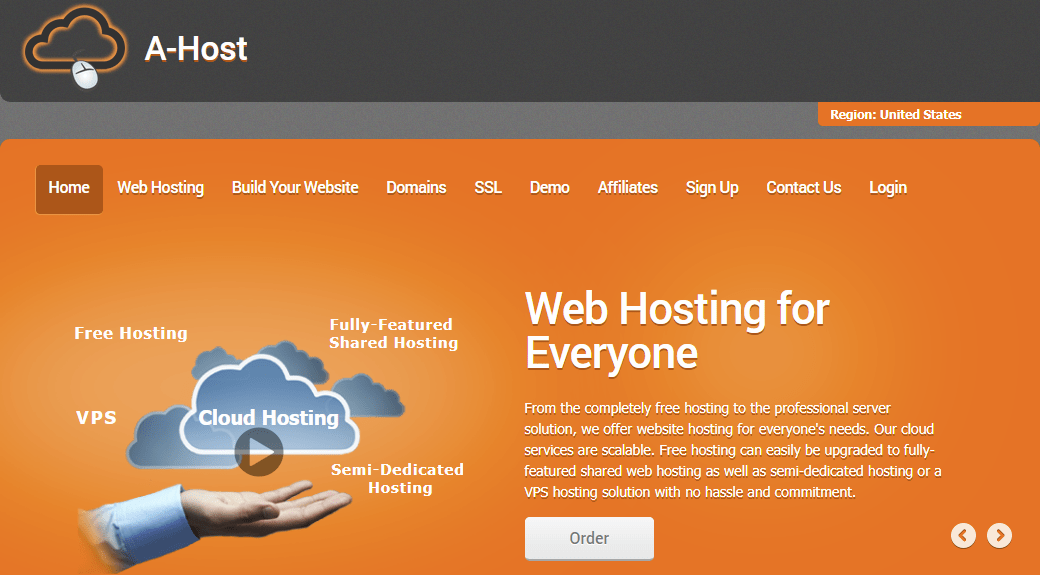 A-Host offers a variety of hosting services, including web hosting, Virtual Private Servers (VPS), domain registration, and SSL certificates. This company doesn't claim to provide the lowest costs, instead, it sells on its flexibility and ability to learn and test hosting solutions and platforms before pushing it to customers.
The company serves thousands of clients and it has support stations in the United States, the United Kingdom, and Germany. Its servers are hosted in a data center in Kiel, Germany and its website is in English only.
Features and Ease of Use
A-Host offers web hosting solutions for just about any website size. It has shared web hosting plans suitable for simple websites for small to medium-sized businesses. Then, there are semi-dedicated servers for businesses whose needs exceed what shared servers can provide. There are also VPS plans for international E-commerce brands and other high-traffic websites.
A-Host Customers get the following:
99.9% uptime
Automatic backups
Free SSL
Free domain registration, for one year or lifetime
Two websites or unlimited websites on one account
Unlimited disk space
A-Host stores backups in redundant areas of independent drives (RAID). Your files and databases are stored simultaneously on two HDDs to ensure that they can be easily restored if one of the drives fail. For the weekly automatic backups, if you use more than 3GB of storage, your files won't be backed-up automatically.
The company provides security against spam and viruses on the server. This protection scans, detects, and removes unwanted programs that can potentially corrupt or affect the normal operation of the server. It also stops spam emails and has firewall protection for any standard web server attack.
A-Host supports a plethora of programming languages, including PHP, ASP.Net, Perl, Python, Ruby, and CGI. It provides MySQL and PostgreSQL databases, and PHPMyAdmin and phpPgAdmin for management.
If you're new to web hosting and development, you're covered with Zacky app installer. You can use it to install content management systems like WordPress and Joomla!. If you don't understand CMSes, you can install BuildingEngine – a website builder – with the application installer or use Zacky Website Builder.
It offers its own custom control panel, which may look a bit cluttered, but it doesn't take much time to get used to it.
Pricing and Support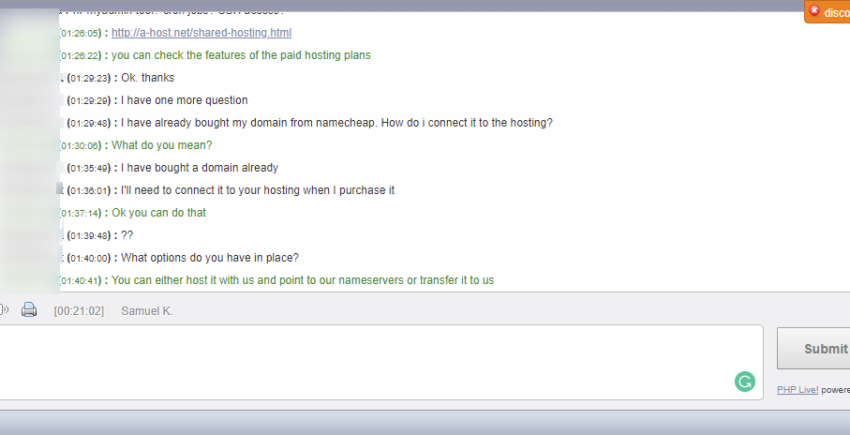 A-Host offers shared hosting in two price levels, VPS and semi-dedicated comes in three plans each. Compared to other web hosts, shared hosting plans are low-cost. It offers a month-to-month subscription, but if you're willing to go for a year, it throws in a free domain, either for a year or for life depending on the plan you take. You also get a free SSL certificate.
It's important to note that there is some inconsistency in pricing. Its introductory rates are lower than the renewal rates, but they are still affordable so it shouldn't be too much cause for concern.
There's a free plan that offers 1GB of space. You can try it out before you commit your money to any of the unlimited plans. You can also try out a paid plan with low risk because of the 30-day money-back guarantee on offer. If you're unsatisfied, request a refund – no questions asked, and you'll get your money back.
A-Host promises that it will respond to you within one hour. You can use its live chat, email, phone, or ticketing system. I used the live chat and got good assistance from their support agent.