If you're looking
for long-term assistance with compliance and accounting along with your Limited Liability Company (LLC) formation plan, ZenBusiness is your go-to
. Its ZenBusiness Money Essential or Pro accounting and Worry-Free Compliance tools make managing your money and obligations a breeze. In comparison, Bizee (formerly Incfile) offers free tax consultations and upcoming filing alerts – but on paid plans only.
ZenBusiness is also ideal for online businesses
. Included in its Premium LLC formation plan are a free domain name, website hosting, business email, and an in-house website builder akin to Elementor and Squarespace – a real bonus. In contrast, Bizee only offers a free domain name and business email address on its similarly priced Platinum package.
Bizee plans do boast a year's worth of its Registered Agent service for free
(even with its free Silver LLC formation package) – a real value-add. Some Bizee services, such as Registered Agent and Employer Identification Number (EIN) registration, are also more affordable than ZenBusiness', making Bizee ideal for small and medium-sized businesses or start-ups with a tight budget. Overall, however, ZenBusiness wins out – partly because of the reasons above – but also due to its customer service and reliability, which you can read more about in my full review below.
Features
Similar Features – But Not Quite the Same Value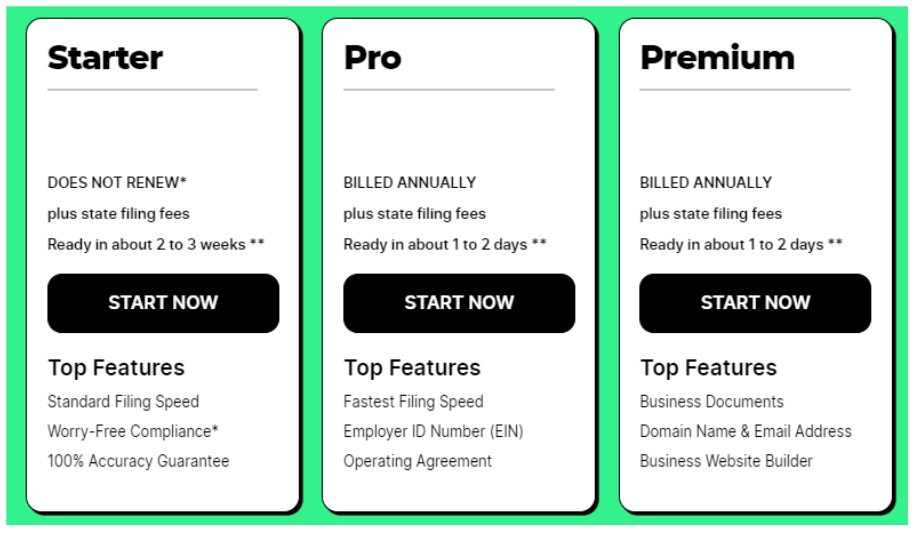 On paper, it appears that Bizee and ZenBusiness offer very much the same service. From pricing to tier features, they definitely do – but with some minor differences. For example, Bizee partners with Mazuma to offer a free 30-minute tax consultation with an accountant and paid accounting and bookkeeping services.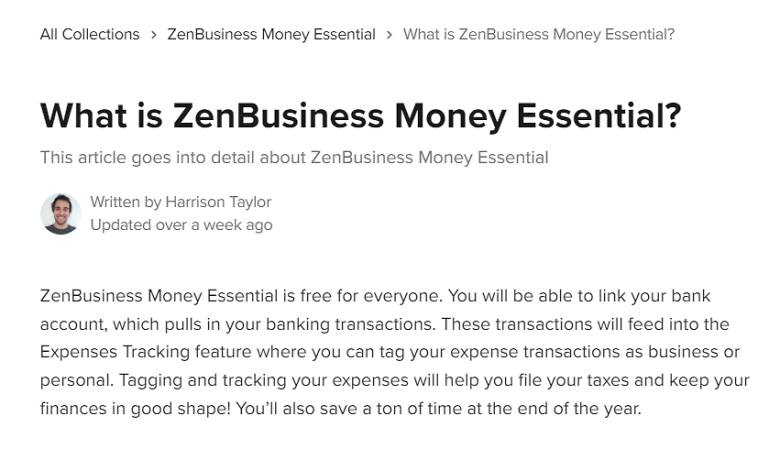 In contrast,
ZenBusiness offers its free proprietary expense tracker tool, ZenBusiness Money Essential, to every single customer
, whether they opt for a
free or paid ZenBusiness LLC formation package
. You can also upgrade to its advanced ZenBusiness Money Pro software on subscription (1-month free trial available), which includes tools to not only track tax and expenses but also invoice, quote, receive payments, and more. Additionally, ZenBusiness offers a free 30-minute tax consultation and optional paid accounting and bookkeeping services from 1-800Accountant. Another key differentiator between the two providers is that
the Better Business Bureau (BBB) has accredited ZenBusiness with an "A" rating.
In contrast, Bizee isn't BBB-accredited at all.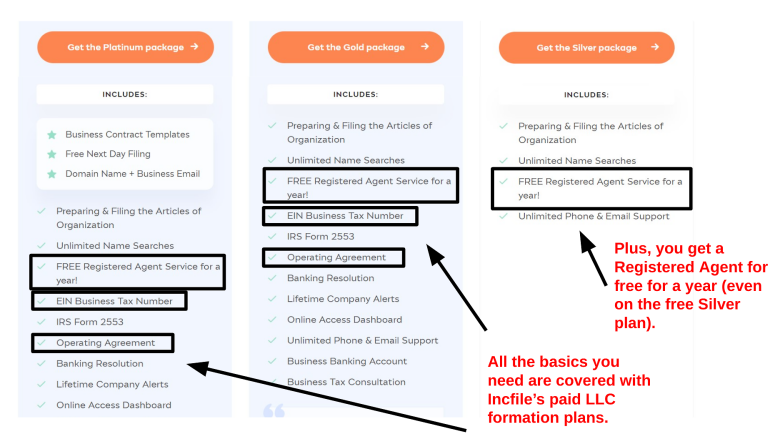 Both Bizee and ZenBusiness include EIN registration and Operating Agreements in their paid plans. That said,
the free one-year Registered Agent service from Bizee is worthwhile.
Besides LLCs, Bizee forms nonprofits while ZenBusiness doesn't but will help you form a Decentralized Autonomous Organization (DAO). Otherwise, both ZenBusiness and Bizee offer C and S corporation formation and Doing Business As (DBA) registration services. All in all, it's a tight race, but we feel ZenBusiness has the better features overall.
Ease of Use
No Major Differences, but Definitely Some Minor Ones
Both
ZenBusiness' and Bizee's websites are modern, simplistic, and stylish, featuring on-brand colors and graphics
. I found Bizee's website menu easier to navigate – mainly because it's categorized into a handful of straightforward service, resource, and company info drop-down menus instead of ZenBusiness' more complex business stage and subsection-style drop-down menus.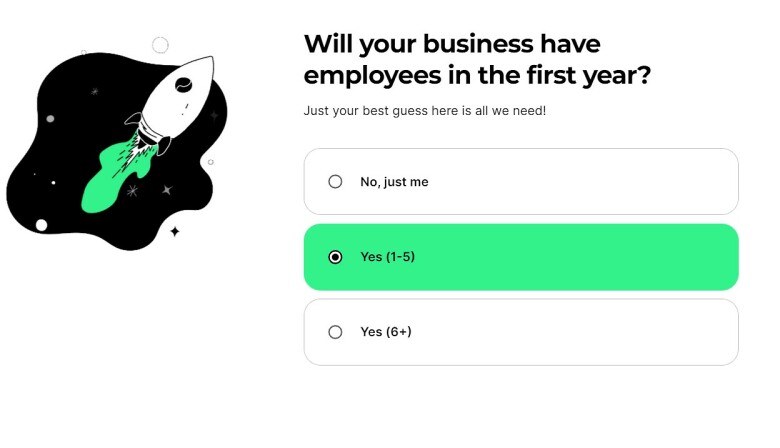 As to applying online to get your LLC formed with either service, expect a similar experience from user experience to turnaround time. The
ZenBusiness LLC formation plan
form asks you general questions about your business first, while Bizee focuses on particulars. Overall,
both ZenBusiness' and Bizee's sign-up processes are very much the same
. They feature the typical business and package setup questions and upsells, of course – most prominently, for Registered Agent (ZenBusiness) and Business Address (Bizee) add-ons.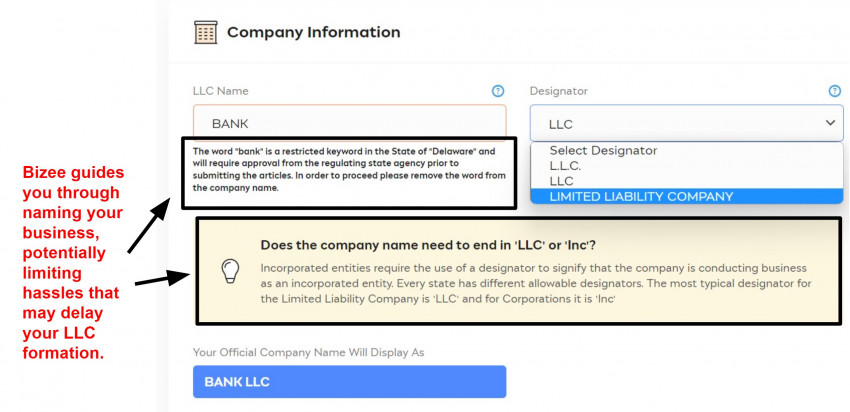 I did notice that
the Bizee LLC formation plan form corrected naming mistakes and gave suggestions according to state naming regulations
. For example, it automatically removed the "Inc" from the preferred business name I inputted, something that didn't happen when I tested the ZenBusiness form. As you may know, there are certain rules regarding company naming which may vary based on your state. If not followed, your company can't be formed until these naming issues are solved, making this Bizee feature a useful one. But one noticeable difference between the two LLC formation services is that
ZenBusiness offers an iOS and Android app, as well as dashboard access to all its customers
. In contrast, Bizee has no app – and dashboard access is only given to customers who purchase one of its paid LLC formation packages.
Pricing
Similar LLC Formation Pricing – But Value Depends on Features
Both ZenBusiness' and Bizee's LLC formation services are priced just about the same.
That said, Bizee does include the mandatory state fees along with its formation fees in the quote early on – unlike ZenBusiness, which only mentions the full amount at the end of your order. So
it may appear that Bizee is the pricier of the two, but this isn't the case.
A quick browse will reveal that both service providers' packages don't vary that drastically
. ZenBusiness adds useful accounting software tools and trials, plus expedited filing to its
paid LLC formation plans
. Bizee focuses on start-up basics such as a free year's worth of its Registered Agent service. Both, however, offer EIN registration, automated compliance reminders, and Operating Agreements. Bizee offers a more exhaustive list of included LLC formation plan features before you start your order. It includes customer support, dashboard access, name searches, and preparing and filing of Articles of Organization in each plan breakdown, which makes it appear it offers a lot of features. However, these basic features are expected with most LLC formation plans and don't provide any additional value to its paid plans.
ZenBusiness mainly lists the top features of each LLC formation package
, such as its Worry-Free Compliance service that sends you compliance and filing notifications, annual reports, and up to two business amendments annually. You can also easily see which plans offer expedited filing (paid plans only) and a free domain and website (Premium plan only). Another notable difference is that ZenBusiness' paid plans renew annually, whereas Bizee's LLC formation fees are once off. Do note that
both services will file your LLC application for free
, too. Overall, which is best for you depends on what's included. If you're looking to take advantage of its bookkeeping software, ZenBusiness is ideal. However,
those looking to save on a Registered Agent service are best going with Bizee
, which offers this service for free in the first year – even with its
free LLC formation plan
. Thereafter, Bizee charges for this service annually at a more affordable rate than ZenBusiness. Here's what to expect when signing up with either ZenBusiness or Bizee:
ZenBusiness
Bizee (Incfile)
Price of the cheapest or most comparable plan (minus state fees)

$

349.00

$

299.00

Stated filing time/range (minus state processing time)
1–2 days
Next Day
Expedited filing

✔

✔

EIN

✔

✔

Operating Agreement

✔

✔

Compliance

✔

✔

Registered Agent
Paid add-on

✔

 (free for first year)
Website & domain name

✔

✔
Support
A Clear Discrepancy Between the Two
When it comes to customer support, the differences between ZenBusiness and Bizee are more prominent. Not only are
ZenBusiness' support channels more accommodating
, but the service is better overall. On weekdays,
you can contact ZenBusiness' live chat and phone support from 8 a.m. until 8 p.m. CST
, while Bizee is only available from 9 a.m. to 6 p.m. CST. Just in case you have an urgent weekend query, you can also contact ZenBusiness on Sundays, from 9 a.m. until 6 p.m. You may even get a response outside of these hours. However,
Bizee failed to respond to our live chat messages at all
.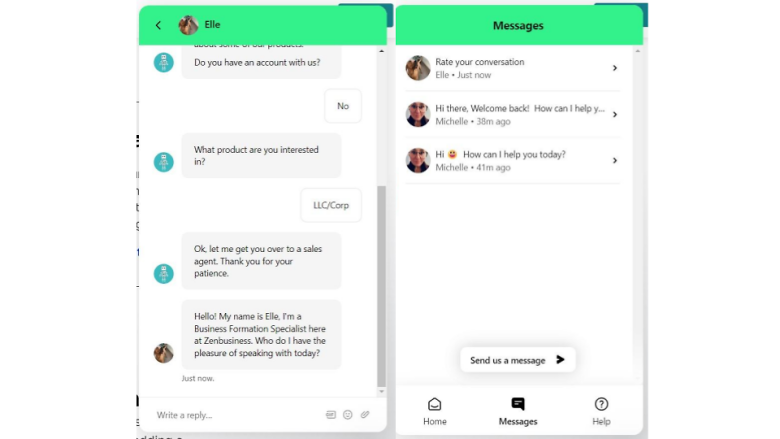 The ZenBusiness live chat box is also a little easier to navigate than Bizee's, featuring multiple tabs for your current and prior cached support queries. Additionally, you can
send an email to ZenBusiness and get an answer within a day or so
. Bizee only offers contact form support, which can be challenging to track or follow up on.
One pro of using Bizee is its Spanish-speaking support team
. ZenBusiness only offers support in English at the moment. Notably, you won't pay for your support call with either, as both ZenBusiness' and Bizee's phone support lines are toll-free 800 numbers. Otherwise, a wealth of assistance awaits in ZenBusiness' Learn section and Bizee's Resource Center, as well as on each provider's blog. However,
ZenBusiness does require you to sign up for a few newsletters
to take full advantage of some of its research and business insights.
One Wins Out – But Only by a Slight Margin
Our favorite LLC formation service is definitely ZenBusiness. It offers a wider range of services with which to upgrade your
ZenBusiness LLC formation plan
, and its service delivery is superior – which matters. Not only does
ZenBusiness provide stellar customer support, but it's also reputable
, being BBB-accredited with an "A" rating. That said, Bizee is still worth considering if you want to cut costs, as the free year's worth of Registered Agent service is a bargain.
ZenBusiness
Bizee (Incfile)
Features
BBB-accredited, Worry-Free Compliance, ZenBusiness Money Essential (on all plans), Operating Agreement, expedited filing, 1-year domain name registration, and in-house website builder
1-year Registered Agent service (free on all plans), Operating Agreement, EIN, and Business Banking Account (on paid plans)
Ease of Use
10-minute sign-up form, easy-to-navigate website, online dashboard, and iOS and Android app (on all plans)
10-minute sign-up form, easy-to-navigate website, and online dashboard access (paid plans only)
Pricing
Paid and free (minus state fees) LLC formation subscriptions, plus optional add-ons
One-time paid and free (minus state fees) LLC formation services, plus optional add-ons
Support
Phone and live chat (extended business hours and Sundays), email support, and learning and help center
Phone, live chat, contact form support, and business formation resource center
FAQ
Which is the better LLC formation service: ZenBusiness or Bizee?
As far as reputation and customer support go, ZenBusiness is the better of the two LLC formation services. The additional add-ons and subscriptions you can purchase, such as its ZenBusiness Money Pro bookkeeping software and Online Tools (website, domain name, and website builder), are helpful for beginners and time- or cash-strapped entrepreneurs. However, Bizee does offer a free year's worth of its Registered Agent service with both free and paid plans that make it worth considering.
Is filing with an LLC formation service like ZenBusiness or Bizee worthwhile?
LLC formation services such as ZenBusiness and Bizee handle all the paperwork for you, saving you time and keeping your application compliant. To complement your LLC formation features, you can also add on some useful extras to help you manage your business and taxes, such as a Registered Agent service and compliance and bookkeeping tools.
Is ZenBusiness good for forming an LLC?
ZenBusiness is considered one of the best LLC formation services in the US. Its pricing and included features make its plans great value. However, ZenBusiness goes one step further, offering superior customer support and follow-through. Accredited by the BBB with an "A" rating, it takes customer satisfaction seriously. Plus, its wide range of in-house accounting, website builder, and compliance tools complement your LLC formation plan.
Do ZenBusiness LLC formation plans include a free website and domain name?
Access to ZenBusiness' in-house website builder, featuring an Elementor and WordPress-style layout, templates, and elements, is only available on the ZenBusiness Premium LLC formation package. But you can also purchase access to it, as well as register a matching domain name (with hosting) and business email separately with the ZenBusiness Online Tools add-on.
Are ZenBusiness and Bizee a scam?
ZenBusiness and Bizee are both legitimate LLC formation services registered within the US. You can trust both of these companies to handle your LLC formation filing lawfully and safely. However, when doing business online, always ensure the LLC formation service you're paying for is reputable, as some may be a scam website. For reference, all of the top LLC formation services on our list are vetted and legitimate.