When a new builder like Wix Editor X claims to make responsive site design easier for professional web developers, most people are curious whether it can live up to its promise.
And if you're like me, you're probably wondering: is Editor X actually better than the original Wix builder? And is it worth the extra cash?
To find out, I gave Editor X a test drive and compared it to the more beginner-friendly Wix. I have to admit: I was surprised with the results. Editor X is a powerful new builder that's great for web designers and agencies, although it did take me some time to master the additional features.
Plus, Editor X is new, so there are a couple of minor bugs you should know about before you sign up. For beginners – and anyone who wants a smooth site-building experience with not much of a learning curve – Wix is still my first choice.
Templates
Wix Has Way More Templates, But You Can Customize More with Editor X
Wix has over 900 templates in this gallery, broken down into 6 major categories and around 80 subcategories so you can easily zero in on your niche. If none of them feels quite right, you can always choose a blank template and build your site from scratch.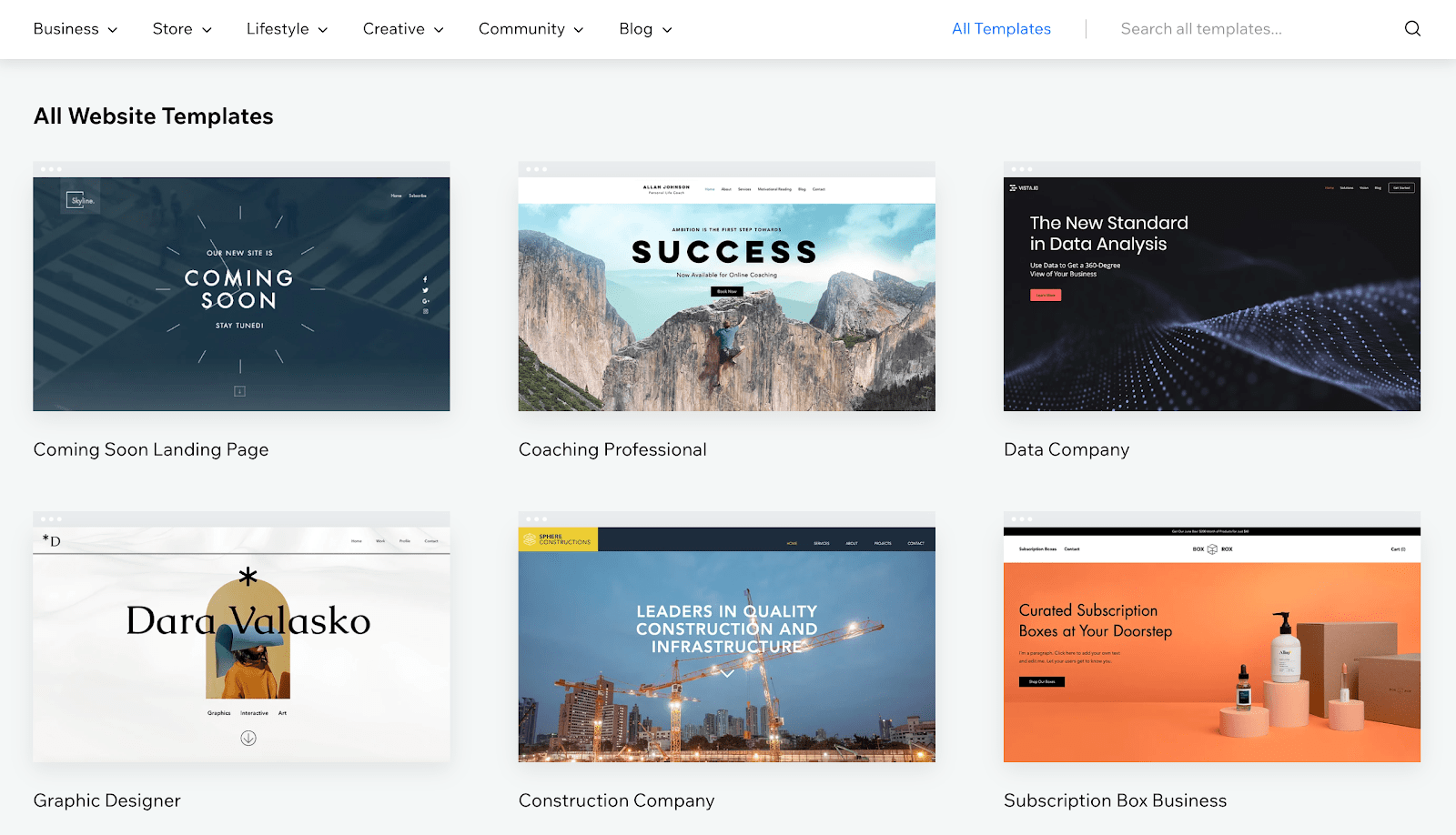 One thing I've always liked about Wix is that even though there are so many templates, there's a real variety of design. It doesn't feel like the same concept is recycled over and over again – something that I've seen with other builders. And that goes for functionality, too – a lot of templates come with specific apps pre-installed.
For example, if you choose a template for consultants, there's a solid chance it comes with a booking system already built in. Blogger? Your template will already have Wix Blog installed and ready to go.
Editor X, on the other hand, has just 27+ templates. Yes, you heard right – from 900 down to 27. But that's not a bad thing, per se.
Wix is built for beginners, meaning that all its templates need to be able to work as-is in every niche. Editor X puts more power in the hands of the designer. The templates are meant for developers and agencies, and they're more of a rough starting point. So, it stands to reason that you wouldn't need as many.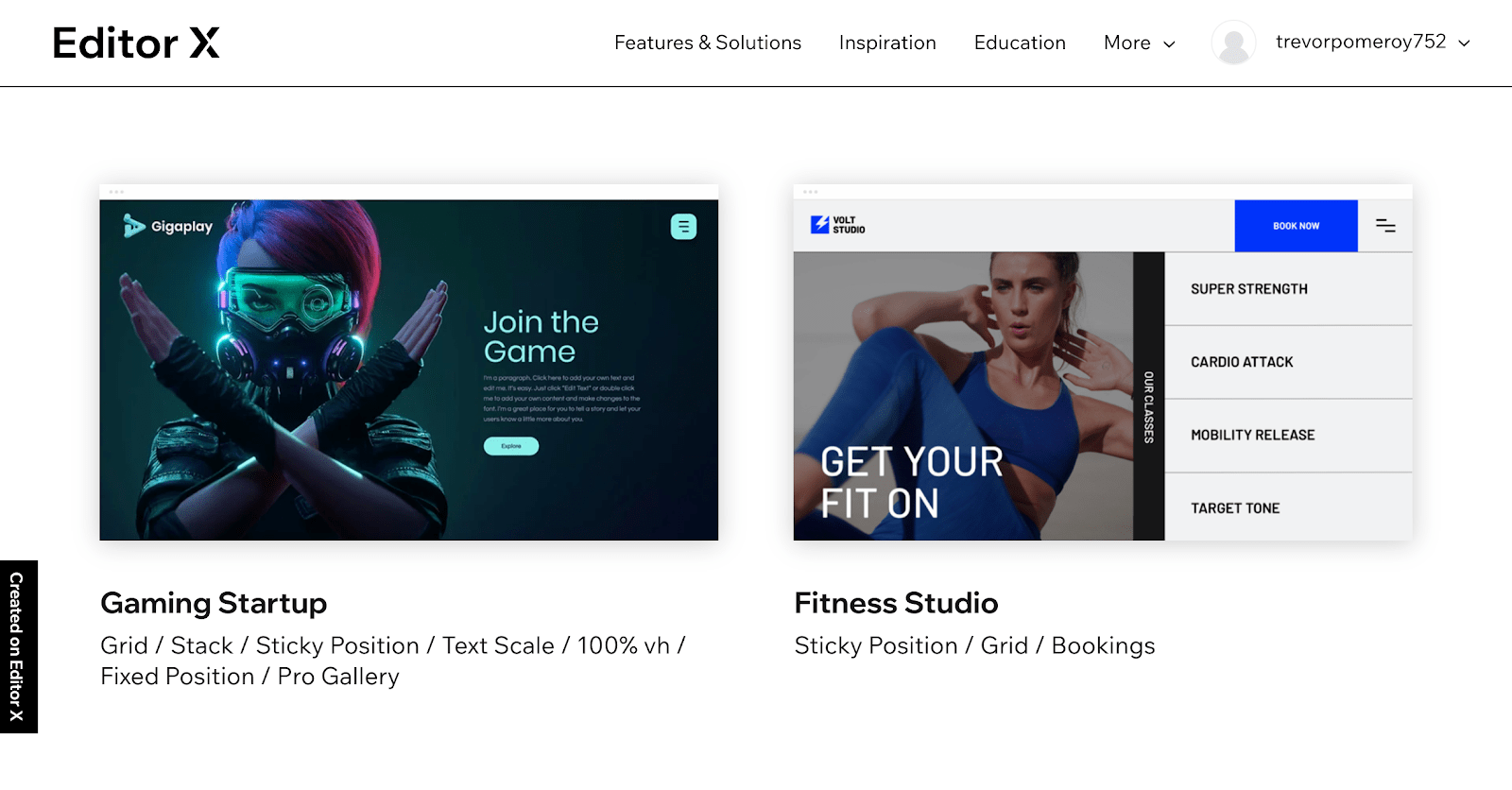 One thing Wix and Editor X have in common is that they don't let you change templates. That is, once you start playing around with a template, you can't just switch to another one and keep all your changes. You'll have to start over with a new template.
Also, neither platform's templates are mobile responsive by default, which means that significant edits will require tweaking in the editor for other devices and screen sizes. That said, it's now easier to make your templates fully responsive with Editor X (see below).
Features
Wix Has Tons of Features, But Editor X Has All That and More
Editor X is the clear winner when it comes to features, but only if you're a developer who needs advanced tools in the first place. Despite being beginner-friendly, Wix is a fully functional site builder, offering complete blogging tools, e-commerce functionality, and much more.
For example, the Wix Stores app, which lets you sell both digital and physical products from your site (as well as on Amazon and Facebook), can be installed on any Wix template. If you're interested in building an online store, you can read more about it in our expert Wix e-commerce review.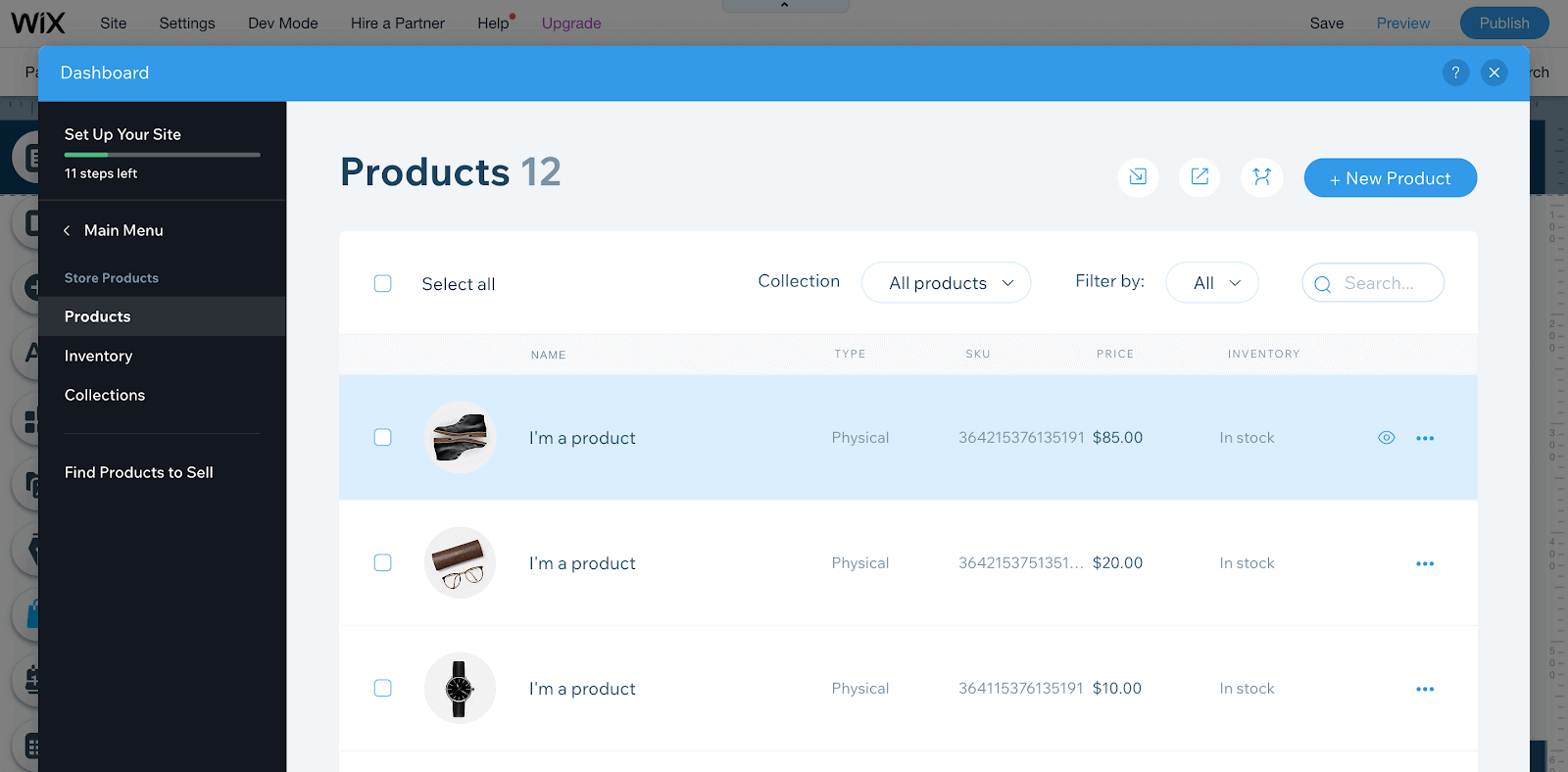 Wix also has a built-in SEO Wiz and a whole suite of business tools… plus blogging tools, a video maker, a stock image and video library, vector graphics, tools to manage bookings and events, and apps for almost every functionality you can think of.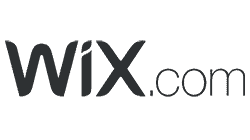 Get 33 % Off Wix's Combo Plan
Sign up for two years with Wix and get 33 % off the total cost!
3901 users used this coupon!
But here's the thing: Editor X comes with everything that Wix has – and more. Editor X is basically a more advanced version of Wix. So the good news is, if you're already comfortable using Wix, there will be a lot about Editor X that feels familiar – and the better news is, it's got some new shiny tools.
For example, Editor X gives you more control over how your site looks and functions across devices – so you can easily build mobile-responsive sites. The editor comes with handles on either side of the canvas that you can click and drag to see how your site will look on different size screens.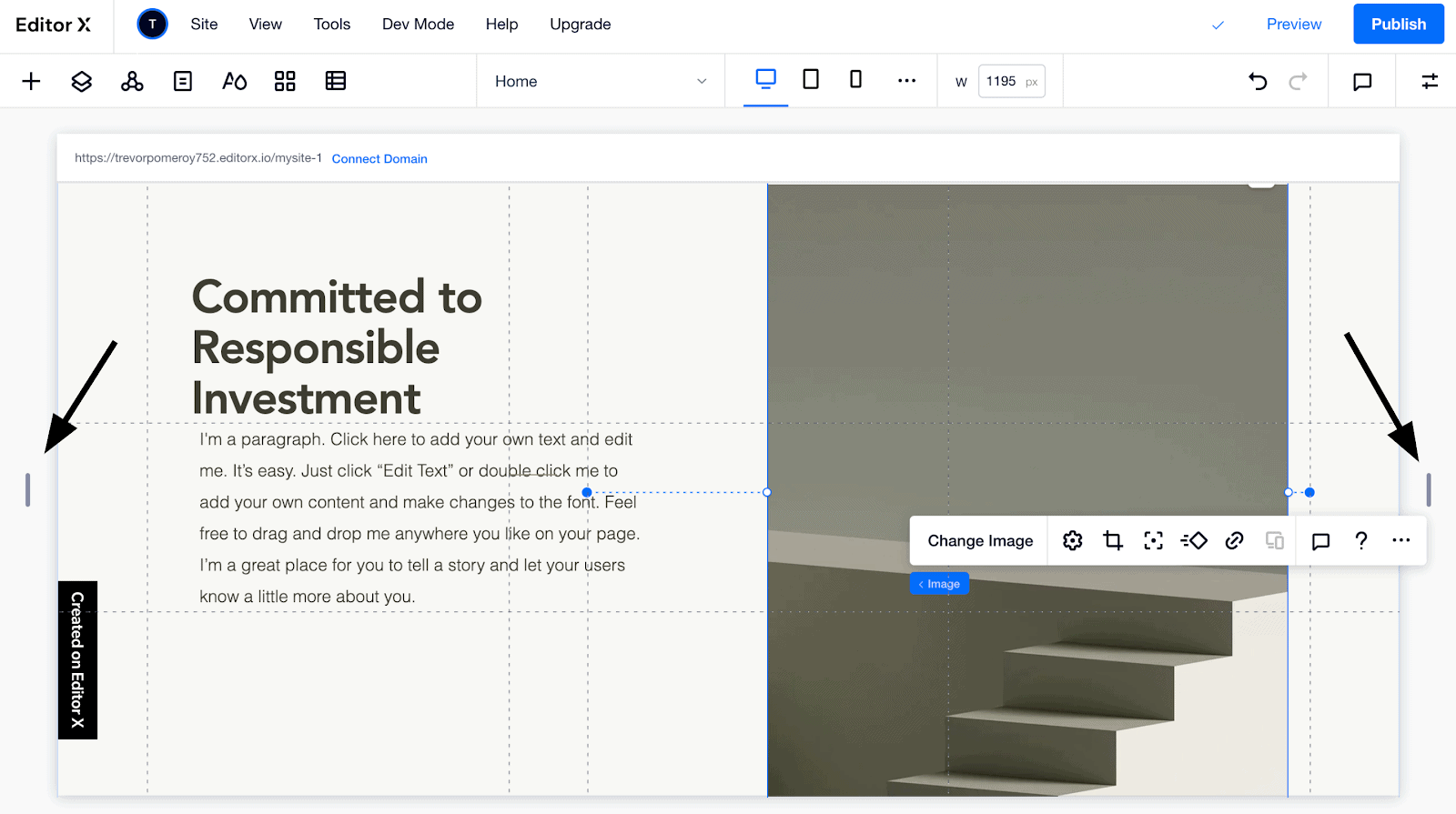 One of Editor X's core features is that it lets you set breakpoints, or the points at which your elements change style or layout for different screen sizes. There are three default breakpoints (for desktop, tablet, and mobile) but you can add as many as you need.
It also lets you add animations (like fade in, bounce in, flip in, or spin in) to virtually any site element to make your site more dynamic. You can even make your header fade or change color when visitors scroll down a page.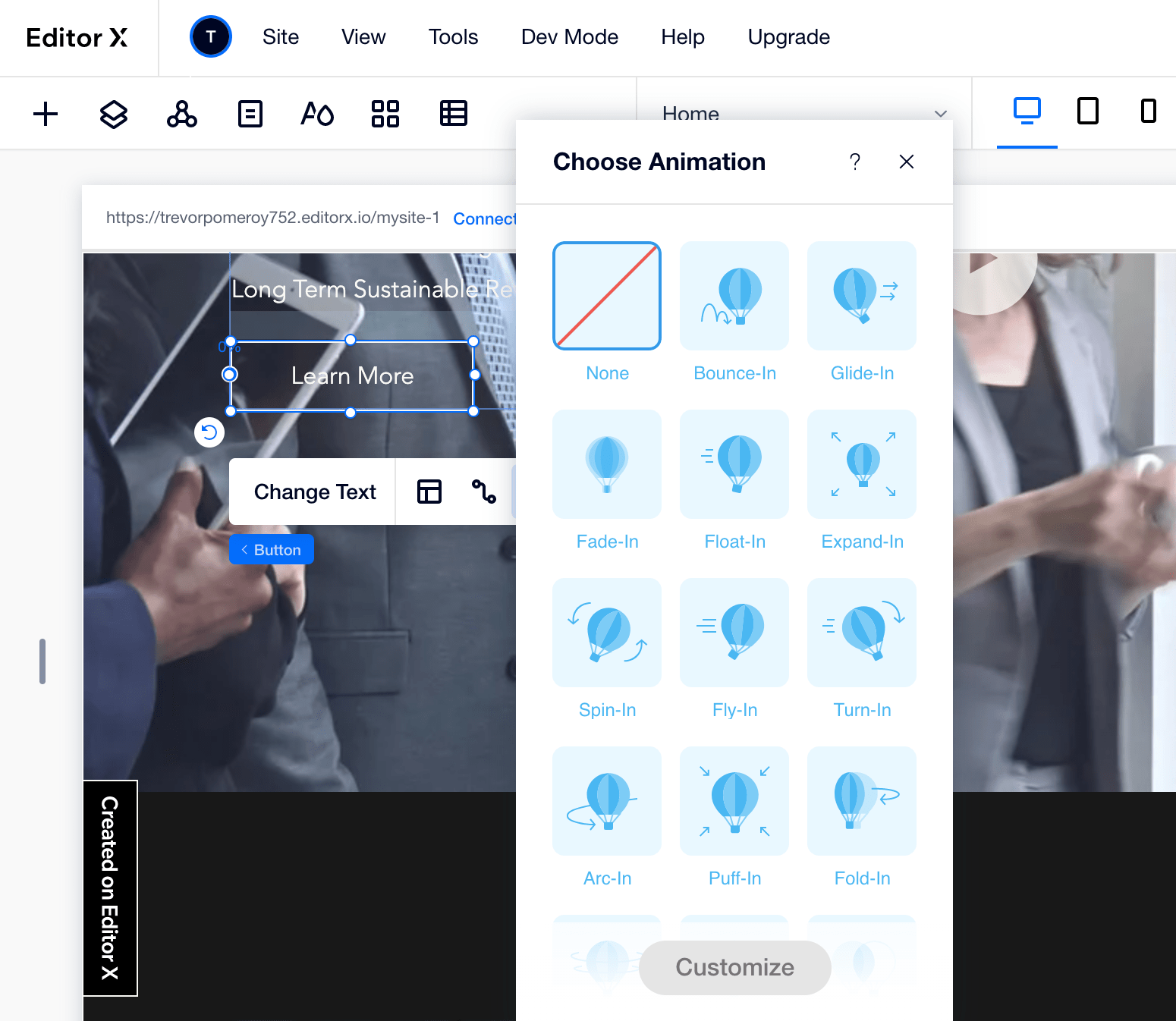 Plus, if you work in a team, you can create separate accounts for each team member and set specific permissions for each role. And (I love this) you can add comments in the editor about specific site elements for other team members, who can respond in real time. This makes it much easier for a team of designers to all work on the same site.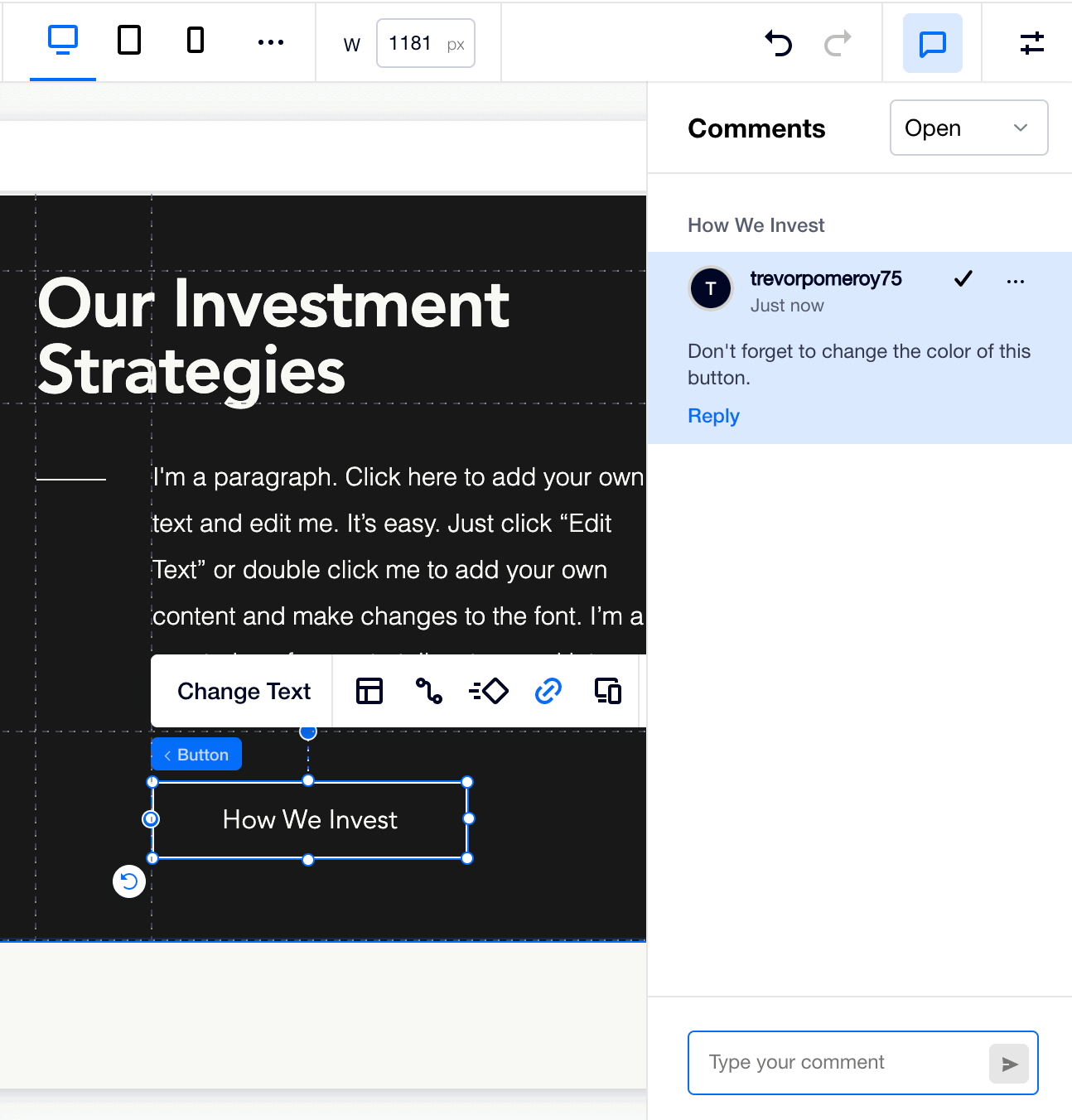 Editor X comes with a lot of other great designer-friendly features, such as controlling how elements are docked and managing overflow content between breakpoints. This is stuff that Wix just doesn't have.
As a developer, I would happily work with Editor X. Its extra features make it ideal for designers that like drag-and-drop builders, although if you want to mess around with code, you can always add your own custom code with Dev Mode.
That said, if you're just looking to build a single site for yourself, or if you're new to site building, Wix's features will be more than enough for you.
Ease Of Use
Wix Is the More Beginner-Friendly Choice
Yes. We know this. But… that's not necessarily a win here. Editor X is harder to use, but that's because it's capable of much more. As I said in the Features section, Editor X is basically a more advanced version of Wix.
Wix's drag-and-drop editor is very intuitive, especially when you consider how much you can do with it. It's based on adding strips, which are stacked to form web pages. You can then drag and drop other elements like text boxes, buttons, images, and contact forms into these strips and customize them as you like.
Editor X works pretty much the same way, with just a few wording differences (instead of "strips," it has "sections"). But at the same time, it lets you do more at every level. While this does make Editor X harder to use, it is worth learning how to use it – if you're a developer, anyway.
Especially because Editor X has really gone the extra mile by publishing an entirely free series of slick documentation, called Academy X. Not only does Academy X visually take you through each of the editor's new features. It also gives you multiple exercises so you can put your newfound abilities to the test.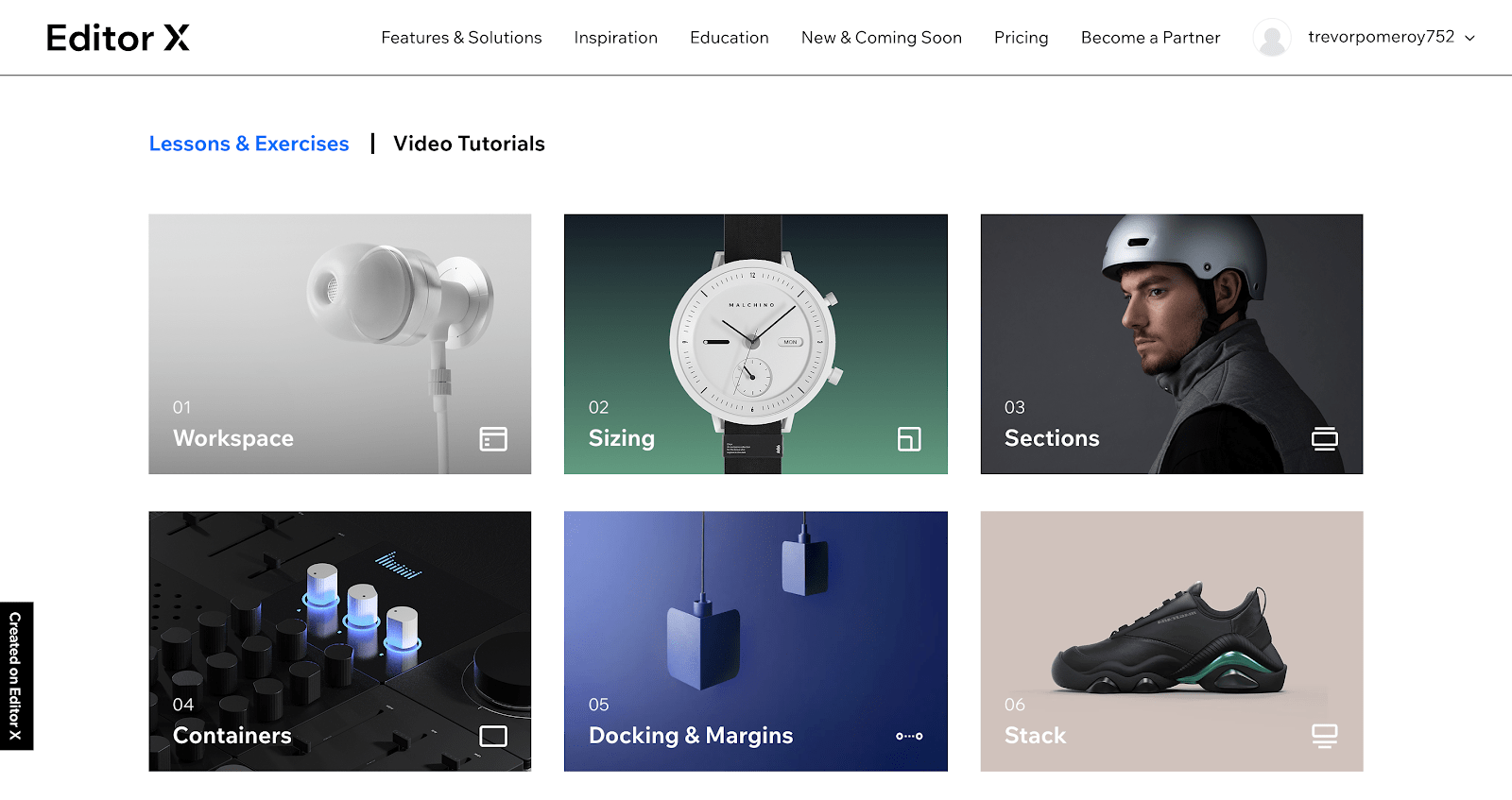 There are currently 24+ lessons included in Academy X, complete with exercises and video tutorials. It's actually kind of fun to go through them, and it doesn't take a ton of time. If you're a relatively new web designer or developer, here's your opportunity to master a powerful site builder while it's still new to the market.
The upshot: Academy X does a lot to smooth out the learning curve with Editor X. But if you're already working hard to learn Wix's classic editor, this is one class you should skip.
Apps
A Shared App Market, But Not All Apps Work With Editor X… Yet
Wix has 266+ apps in its App Market to add to your site's functionality, from blogging to e-commerce, event management, restaurant orders, running ads, hotel booking, music streaming, social media, and much more. Most are free to install, but some require a paid subscription to access additional features.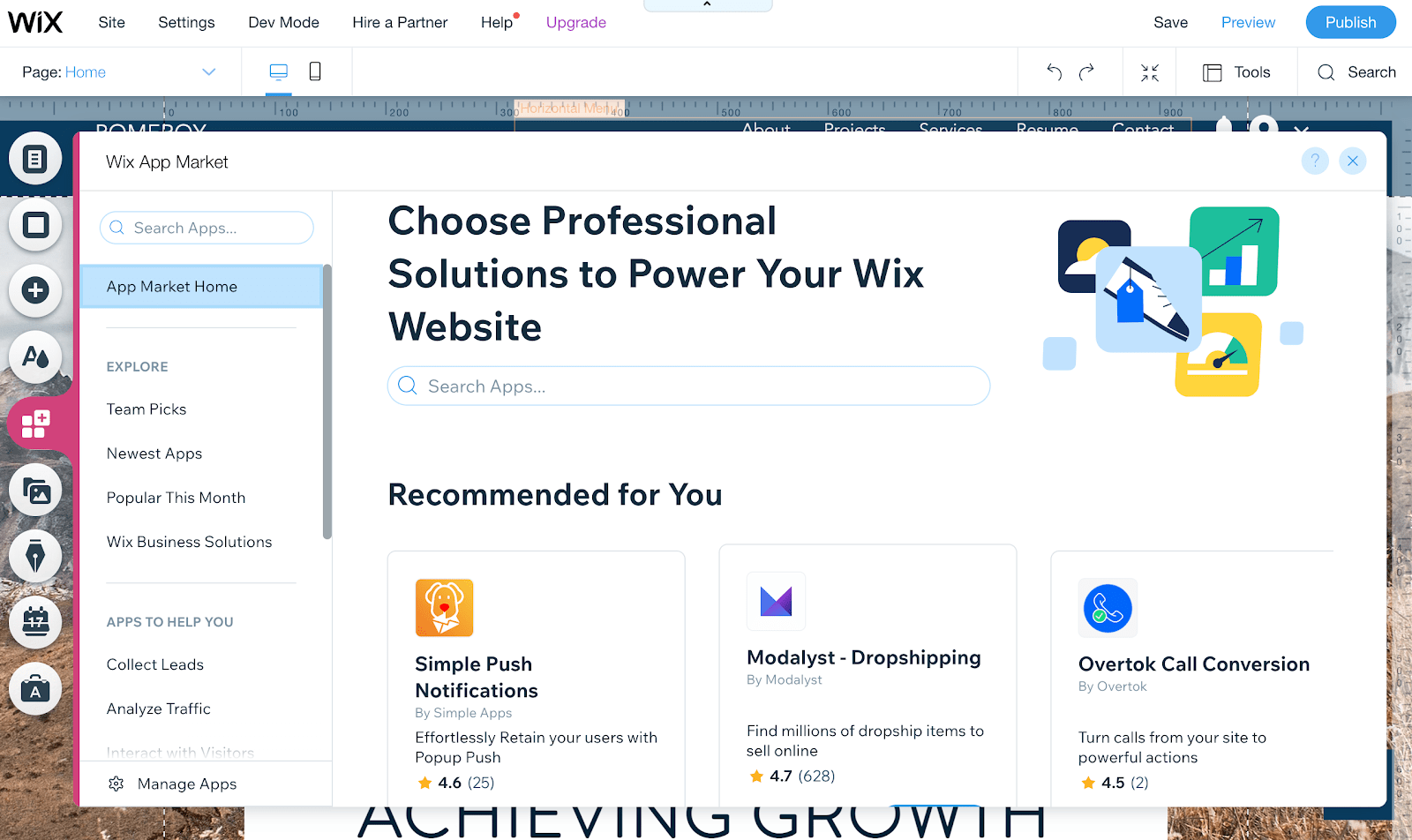 If you open the Wix App Market from Editor X, all 266+ of those apps appear to be available to install. However, Wix customer support informed me that many Wix apps are still not compatible with Editor X.
For example, the support agent that I spoke to on the phone said that he consistently has trouble with the restaurant apps in Editor X. He also explained that the goal is to make all of the Wix apps compatible with Editor X… eventually.
For now, it seems like the only way to know for sure if apps will work with Editor X is to test them out for yourself. Ugh.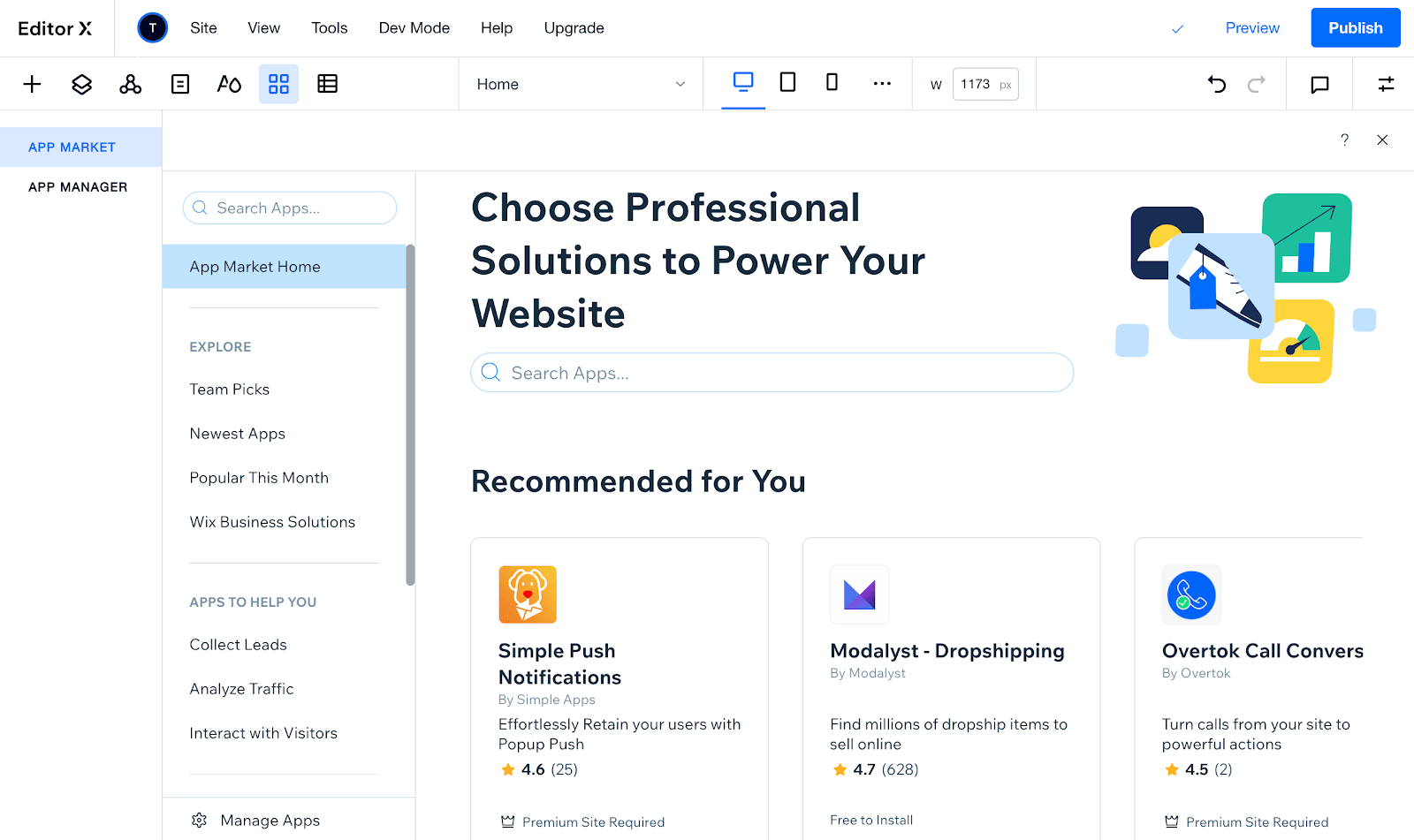 However, I'm happy to report that I was able to add Wix Stores and Wix Blog to my Editor X sites without any obvious issues.
Pricing
Wix Is Cheaper, But Cheaper Doesn't Mean Better
Wix is definitely the cheaper option all the way across the board. But this is understandable, given the additional functionality and customization options you get with Editor X.
Wix comes with a free plan, which includes 500MB of storage, a free Wix domain, and 24/7 customer support. But in order to remove advertising, connect a custom domain, or sell on your site you'll need to upgrade to a premium plan.
Editor X also has a free plan, but as a developer, you'll probably only use this to test what the builder can do. If you want to build websites for clients, you're going to have to upgrade – if not for the extra storage space, then at least in order to connect custom domains and get rid of Wix's branding.
Both builders include a 14-day money back guarantee with their paid plans. To help you out, I've compared two personal plans and two business plans from Wix and Editor X in the chart below. As you can see, the basic functionality is pretty comparable, but Editor X is a bit more expensive due to its additional design capabilities.
| | | | | |
| --- | --- | --- | --- | --- |
| | Wix Unlimited | Editor X Essential | Wix Business Basic | Editor X Launch |
| Custom Domain and Free Domain for a year | Yes | Yes | Yes | Yes |
| Storage | 10GB | 10GB | 20GB | 20GB |
| Video Hours | 1 Hour | 1 Hour | 5 Hours | 5 Hours |
| Customer Care | 24/7 Customer Care | 24/7 Customer Care | 24/7 Customer Care | 24/7 Customer Care |
| Unlimited Products | – | – | Yes | Yes |
| Abandoned Cart Recovery | – | – | Yes | Yes |
| Sell on social channels | – | – | Yes | Yes |
The main question here is whether you want to pay a little more in return for a lot more control over your site design. If you just want to build a simple site for yourself or your business, then it doesn't really make sense to pay extra for Editor X.
Support
Wix and Editor X Share the Same Customer Support… For Now
I contacted Customer Care through Editor X to ask how many apps are available for the new builder, and I was taken to the normal Wix support page. This confirmed what I expected: Editor X support and Wix support are the same, at least so far. However, Wix is in the process of creating a dedicated Editor X support team.
For now, to contact support, you need to use the chatbot on the Wix Customer Care page. The chatbot informed me that it was best to arrange a callback, as email could take up to 24 hours.
So, I requested a callback at almost 10pm on a weekday and my phone rang within one minute. The agent provided a satisfactory answer to my question (and did so quickly).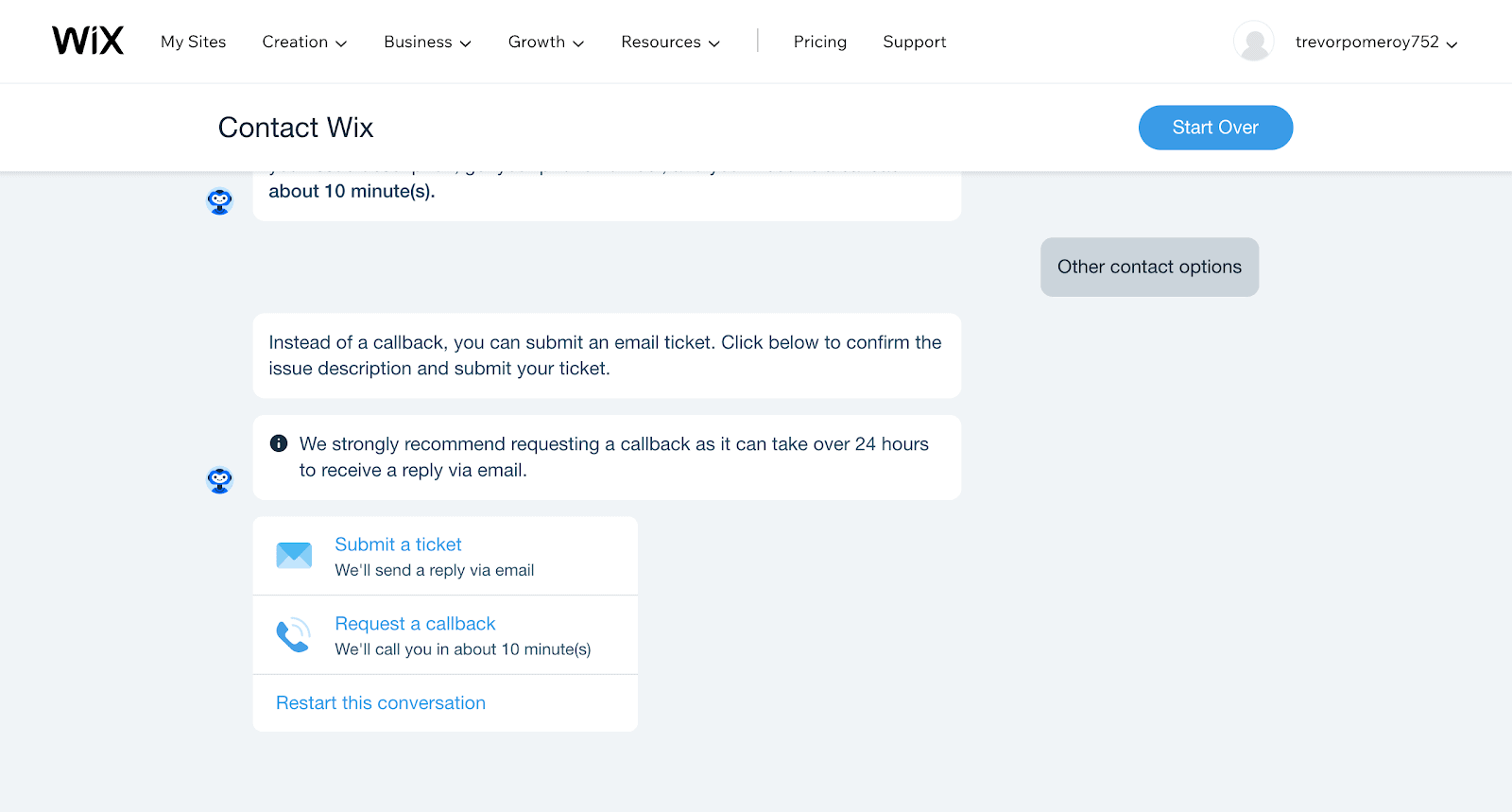 Days later, I contacted support again to find out if I could transfer my site's content to another platform (like WordPress). The chatbot had told me that it could take up to 24 hours to get a response through email. So, I was pleasantly surprised when I received an email response within 20 minutes of submitting my ticket.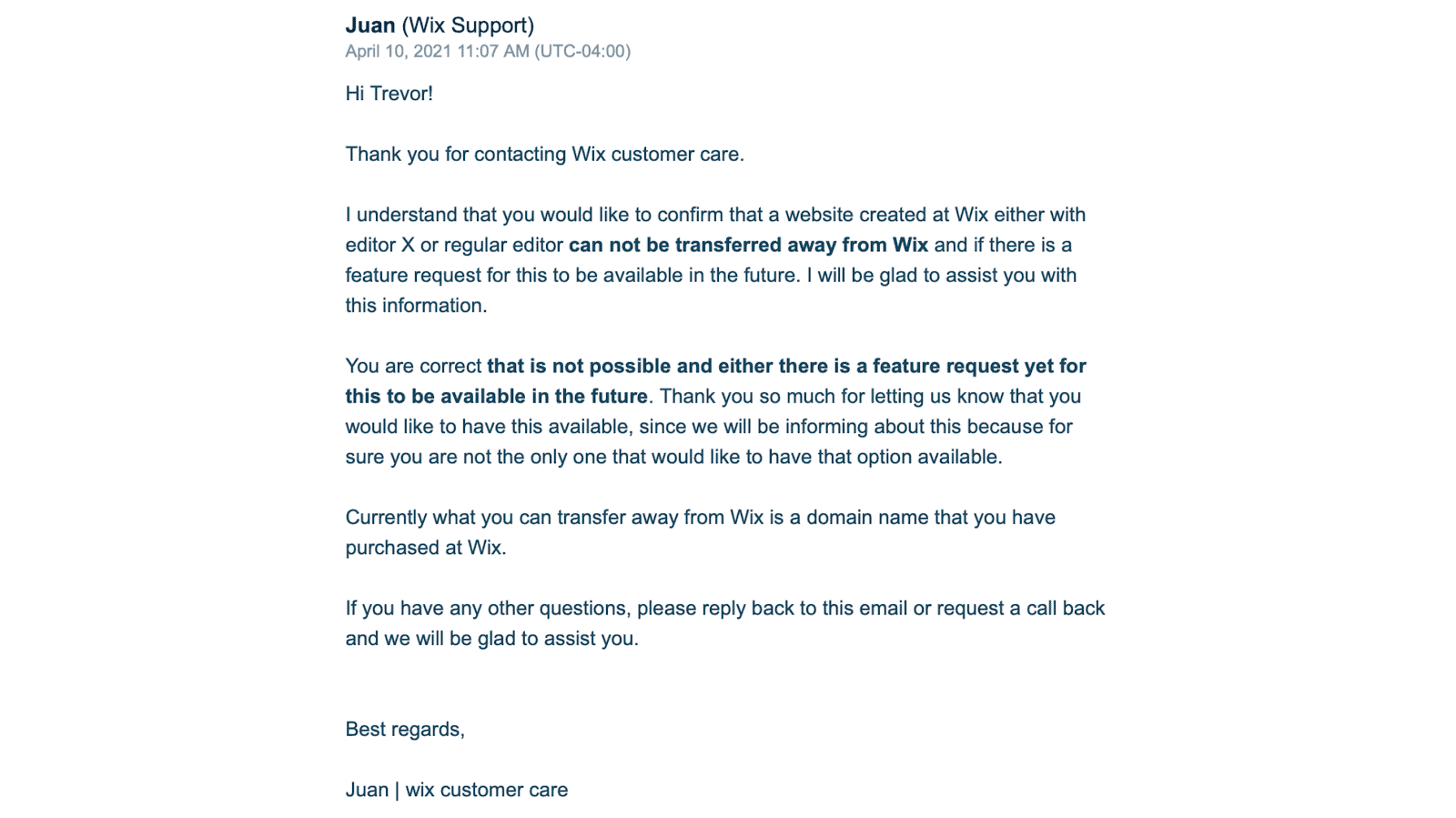 As I expected, neither Wix nor Editor X allow you to transfer your site content to another platform. I was later informed by phone that Wix is considering adding this feature for both Wix and Editor X.
Another support option specifically for Editor X is Community X, which is an active forum for Editor X users to share notes, tips, and advice with each other. Members of the Editor X Product Team often reply directly to posts made in the forum, which is nice to see.
Editor X Is Great for Site Designers and Agencies, But Wix Is Better for Everyone Else
If you're a developer and you're looking for a website builder that will give you powerful design flexibility without the hassle of dealing with a lot of code, Editor X may be exactly what you're looking for.
Personally, I found that the more advanced features that come with Editor X were fairly easy to get the hang of – especially with the Academy X tutorials.
On the other hand, if you prefer a more direct, simpler approach to getting a site, blog, or online store up and running, Wix will be a better choice for you. Unless you're a developer, you probably won't use the additional features that come with Editor X anyway. 
At the end of the day, it comes down to the level of convenience that you're looking for. If you want a flexible yet easy-to-use site builder for a single site, Wix is the better, cheaper option. And if you're going to be developing lots of websites with a team, Editor X is your go-to-choice.
FAQ
What is Wix Editor X?Wix Editor X is the advanced website builder platform recently released by Wix. It was created for web developers and agencies who don't want to use code, but want more control over their site design. To find out more about Wix Editor X, read our in-depth review.Is Editor X better than Wix?That depends. If you're a designer, agency, or someone with site-building experience, you'll likely appreciate the extra level of design flexibility and customization that comes with Editor X. But if you're a beginner, or prefer convenience over power, then you'll probably gravitate toward Wix's intuitive drag-and-drop editor. That said, you're not limited to these two builders. If you're not sold on either Wix or Editor X yet, check out our list of the best site builders in 2021 to see more great options.Does Editor X have a free plan?Like Wix, Editor X does have a free plan, meaning that you can build and publish a website for free. That said, to remove advertising, connect a custom domain, or sell via your website, you'll need to upgrade to a premium plan. If you're thinking of signing up for a paid plan, visit our coupon page to check out our great discounts.Which is better for developers, Editor X or Webflow?It depends. Both are good for developers who want to stay away from code. But Editor X is easier to use than Webflow and has a live commenting feature that allows teams to work together on sites in real time – something that Webflow currently lacks. On the other hand, Webflow has way more template options and lets you create more engaging animations through its interactions panel. It ultimately comes down to your preference, but if you need more info to decide, be sure to check out our expert Webflow review.