Both Udacity and Coursera boast expertly designed classes and industry-recognized certifications. However,
there are some distinct differences you should take into account. 
For example, Coursera and Udacity vary in terms of types of classes offered, the degrees/certifications available, and the price. Depending on your goals, this can be the difference between a rewarding learning experience and a complete waste of time. We know you don't want to spend your free time and extra cash on a disappointing course or a less-than-ideal platform. That's why we took a close look at the two MOOC (Mass Open Online Course) platforms and compared them on five factors that really matter:
So, before you sign up for a class, see who comes out on top in the battle: Udacity vs. Coursera.
1. Certification
Udacity's Like a Trade School, Coursera's a University
While Coursera covers most of the programs a normal university would, the Udacity catalog is fairly small, offering a few hundred, highly specialized courses.
This isn't necessarily a bad thing, it all just depends on what you want to accomplish. In fact, many of these courses are recognized by top tech companies in Silicon Valley and elsewhere.
If you're looking to brush up your skills in something like C++, AI programming, or web development, then Udacity is a good choice.
The courses are developed by industry and education experts, and taught through exercises, videos, projects, and mentoring. You can earn a certification or Nanodegree in just a few weeks.

Udacity's Nanodegree Programs 
However, if you're looking for a little more – like an actual university degree – check the Coursera catalog. Many of the 3,000+ courses have been created by major universities, such as Stanford, Johns Hopkins, and Duke. Some of the classes are identical to those offered by the universities themselves.
The courses are taught through videos, quizzes, discussion forums, peer-graded assignments, weekly exercises, and final projects or exams. Through these classes, you can earn a bachelor's or master's degree without leaving your home.
And the Winner Is…
There's no clear winner here, as it all depends on what you're trying to get out of your education.
If you want courses that are more targeted toward developing or advancing a skill, Udacity may be perfect (as long as you find a course that covers the subject you need).
But if you're looking for a well-rounded education, go with Coursera
.
2. Pace of Learning
Coursera's Self-Paced, Udacity Has Options
There's no doubt online courses are convenient. You can watch lectures as you please, do your coursework when you want, and take your tests as it suits you. Fortunately,
both these platforms offer flexible learning options. 
On Udacity, you're given a choice between subscription courses or term-based Nanodegree programs. While subscription courses are self-paced, term-based programs have hard deadlines for all of your projects. This could be an issue if you don't have a lot of time to commit to your studies. Assignments on Coursera, for the most part, are free of hard deadlines. While the platform does have
suggested
deadlines to help pace your work, there aren't any grade penalties should you happen to miss one. If you are running late, you can always elect to "reset" your deadlines. However, this doesn't apply to the degree programs, where – just like any university – hard deadlines are the norm.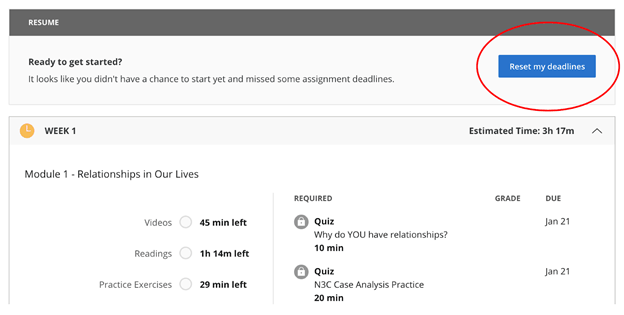 Easily Reset Coursera Deadlines
And the Winner Is…
This one is a close call, as both of these platforms offer self-paced options. But, seeing as pretty much all of
Coursera's thousands of programs let you take as long as you need to turn in your assignments,
we're going to go ahead and say it wins this category.
3. Support
Looking For a Personal Touch? Udacity Provides More Support
One of the biggest drawbacks to pursuing an education online is the lack of an involved professor that can help you out if you run into any problems. Different MOOC platforms deal with this in different ways.
On Coursera, help comes in the form of other learners, peer assessments, and teacher forums.
Here, you can connect with others who may have a better handle on the material than you do. While this can be useful, it's not quite as good as having an
actual
educator that you can directly connect with. If you're lucky, you may get a professor that will address students' questions in a supplementary video – although it depends on the course.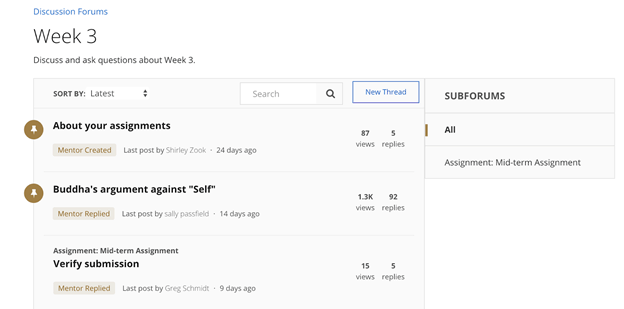 Coursera Discussion Forum
When it comes to direct one-on-one support, Udacity gives you a bit more. As a student, you'll have personal access to technical mentors who offer one-on-one chats, progress tracking, advice, and custom weekly learning plans.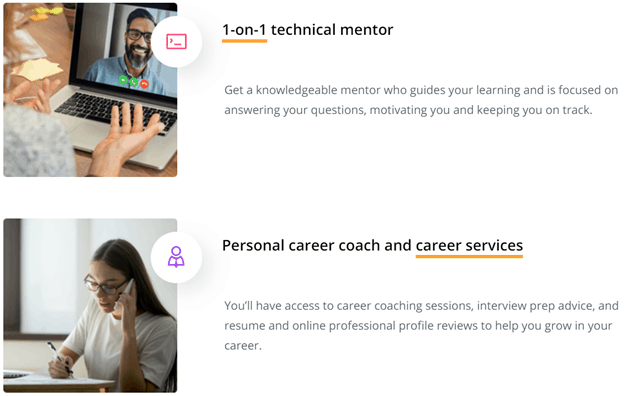 Udacity Student Support Options 
Additionally, the platform has personal career coaching services available to all students and graduates – for free. If you're studying coding, you can even get feedback from developers so you know you're doing things right.
And the Winner Is…
Udacity. Coursera offers you very little when it comes to personalized support. From mentors to career coaches, Udacity has you covered from beginning to end.
4. Free Courses
Coursera Offers More Free Courses, but Udacity's Free Courses Offer More
The good news is that you can find tons of free courses on both Udacity and Coursera. However, you are going to be limited with either option unless you pay.
Coursera has nearly 900 courses that you can take without paying a dime.
You can access the course material, but you're not given graded assignments (although
some
courses offer peer-reviewed assignments and quizzes). You're also not awarded a certificate upon completion of the course. So, while you may learn something, you'll have little to show for it.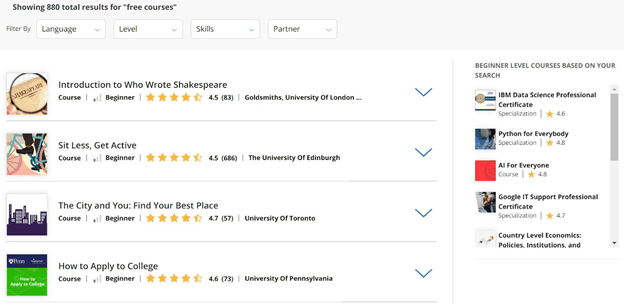 Free Courses on Coursera 
Udacity, on the other hand, offers far fewer free courses – around 200. But with these courses, you'll have access to more. Once again, you won't be getting any certifications for completing them, but you will get interactive quizzes, assignments, and – depending on the course – maybe even a final project. All of these tasks help you better understand the material and motivate you to earn the best possible grade.
And the Winner Is…
Overall, Udacity's free courses offer more value. With Coursera, it really comes down to the individual course – some offer more, others far less. So, when it comes to taking your class for free,
Udacity is the winner.
5. Budget
Both Offer Payments to Fit Most Budgets
Pricing across both Coursera and Udacity vary depending on what you're after.
For example, on Coursera, you can subscribe to most of the courses, specializations, and certifications for less than $100 per month. This price gives you access to all the courses within a given specialization or certification. You'll also get graded assignments and a certificate upon completion. The monthly subscription has the added benefit of motivating you to complete the course as quickly (i.e. as cheaply) as possible.
However, if you're looking to actually earn a master's or bachelor's degree through one of Coursera's programs, you can expect to pay a whole lot more.
These online degree programs – which are fully designed and recognized by major universities – can run into the tens of thousands of dollars. While this may seem pricey, it's still cheaper than a degree through most on-campus programs. Currently, Coursera has around 15 bachelor's and master's programs from schools that include the University of Illinois, University of Michigan, and the Imperial College of London.
On Udacity, a monthly subscription to one of the Nanodegree programs will set you back a bit more.
Most cost a few hundred dollars per month. However, you can get a discounted rate if you pay for the entirety of the program up front (each program generally takes around three to four months to complete). Udacity does offer one master's degree program through Georgia Tech, as well. This program costs hundreds of dollars for each three-credit course. You can set up a monthly payment plan through the payment service Affirm, although the interest rates can get high.
And the Winner Is…
When it comes to getting your education at a reasonable price, Coursera takes the prize.
Not only are the monthly subscription rates for courses cheaper than Udacity, but Coursera also offers financial aid and scholarship options.
So, Which Is the Best for You?
The key consideration is determined by your needs. While Coursera emerged as the victor in numerous categories, it may not align as the optimal choice for you. If you want an industry-recognized Nanodegree in a very specific tech field,
Udacity
is the clear choice. The site may not have as many courses as Coursera, but, due to its level of specialization, the programs it
does
offer are incredibly good. That said, if you want a university degree or a certification outside the tech field,
look into Coursera
. Take a look at the table below for a quick summary of Coursera vs. Udacity.
| | |
| --- | --- |
| Sections | Main Takeaway |
| Certifications | Through Udacity, you can earn highly specialized Nanodegrees. Coursera offers course certificates, specialization certificates, and even bachelor's and master's degree programs. |
| Pace | All of Coursera's classes are self-paced (degree programs are not). Udacity's subscription courses are self-paced, but the term-based programs have hard deadlines. |
| Support | Coursera gives you relatively little in terms of personalized support. Udacity offers one-on-one mentors, career coaches, and coding review from developers. |
| Free Courses | Coursera offers more free courses, but Udacity's free courses give you more in terms of interactive quizzes and full access to study materials. |
| Budget | Coursera's monthly rate is much cheaper than a Udacity subscription. Coursera degrees are competitively priced against on-campus programs. |