When you think of all the people involved in creating product-related content, photographers, videographers, copywriters, translators, marketing teams, order handlers, etc. it's obvious how quickly managing all these pieces of content can get out of hand. We spoke with
Nicola Meneghello, CEO and Founder of THRON
about how their tools centralize and organize all your products and digital assets (images, video, pdfs, documents, web pages); deliver content within your organization and across your online channels, and personalize communication through Artificial Intelligence, profiling users based on the content they have viewed.
This interview was originally published on July 7, 2020.
What is THRON?
THRON is a Software-as-a-Service that efficiently centralizes and manages content while decreasing related costs. It helps:
Centralize both marketing content (banner, promotional video, etc.) and production content (product sketches, technical papers, etc.)
Enrich with both marketing information and product-related data to make it easy to retrieve content
Deliver content to external channels, without needing to leave the platform
Collect data on your audience's behavior and personalize your communication with them.
How does THRON Intelligent DAM help organize and manage digital assets?
With THRON DAM, companies centralize their digital resources and content workflows in a single platform, including distribution on the various company channels so it can be managed from a single point of control. Intelligent DAM is not just an archive in which images, videos, documents, audio, gifs, images, and 360° videos are uniquely classified and available, with the advantage of being easily recoverable. Still, within its platform, it is possible to manage all the phases that interest them, from creation to publication. Compared to traditional DAMs, THRON also natively integrates the capabilities of PIM and can, therefore, even manage product data. With our software, which becomes the single source around which to align the different flows such as marketing, product, external stakeholders, etc. you can have full control over regulating both the outputs on external channels and those that take place internally. This makes it possible to connect the entire supply chain to a common base speeding up the go-to-market by accessing regularly updated information and the setting up of workflows built on specific needs but still integrated and the brand that centrally controls the progress of activities.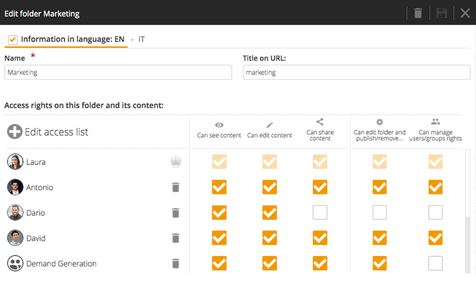 Think about building a product sheet for e-commerce. Photographers are involved with product shots, the marketing team with assets and descriptions, the product team for technical features, translators for localization for different countries, logistics for warehouse availability, etc. Through integration with the various front-end systems such as e-commerce and the website, approved content can be published in a controlled manner, establishing time frames (e.g., copyright compliance) and publication methods. And everything is managed directly from the platform, with the advantage of centrally updating or removing content and product information wherever it is published. THRON also automatically distributes it in the best quality for the channel and the device for which it is intended, without having to prepare multiple copies of the same content. Just imagine how much time you save!
What features help users search and retrieve these assets?
Our native Intelligent Search Engine leverages the tags and metadata (title, description, relevant concept) of content to retrieve the most relevant pieces of content according to your keyword search. The engine searches images, the text of documents, audio of videos or podcasts, and "catches" their relevant content. Our high level of artificial intelligence offers automatic classification engines ranging from recognition of logos, faces, or products to semantic analysis, identification of the dominant color, and many others. You can, in fact, retrieve assets also filtering content by those elements.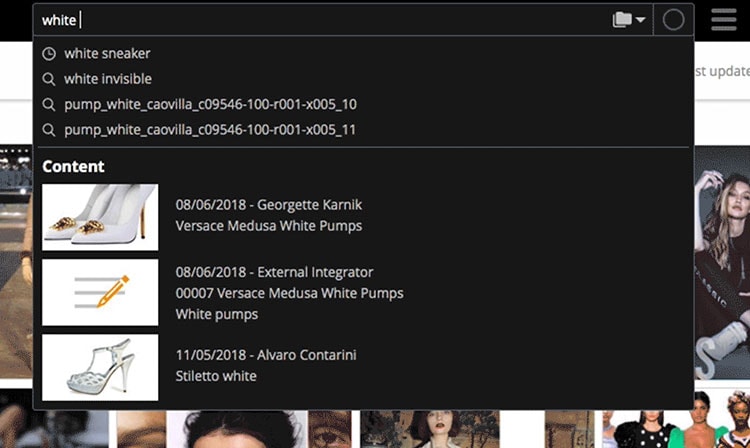 Additionally, the search keywords are not only generic but can be tailored-made to include concepts relevant
to each company
. In THORN's taxonomy, you can create and personalize keywords, product features, collections, and your audience's lifestyle, with terminology specific to your industry and then tag your content with those keywords. Using content classifications from your company's common vocabulary increases the chances that collaborators will find the asset they were looking for.
How does THRON Intelligent DAM facilitate workflow, collaboration, and monitoring of users?
THRON increases productivity because it aligns all the various teams and stakeholders around a common platform that uniquely stores assets and product information. In fact, it allows you to create personalized workflows around the content approval process by identifying the status of all content: "concept – in progress – to be approved – approved – completed/published." Anyone can carry out their tasks and participate in the process according to their assigned rights but without those responsible for approval losing the overview. For example, someone can upload briefs or drafts in the concept, and in progress sections, the digital editor enriches it with metadata and useful information and, then, after the manager has approved them, they are published on the channels. In this way, having knocked down the silos, you avoid wasting the time that was previously spent in daily update operations by sending continuous revisions, and thus creating duplicates. It ties the entire supply chain to a common archive from which to set up and manage processes. Publication can also be automated with significant time savings with updating or removing information since the change is done centrally and extends to the various channels. Let's think about the release of a new version of a product and the advantage of being able to replace the accompanying images and videos and the data associated with them, with a click, without having to modify every page of your eCommerce site and the various other channels. THRON takes care to reproduce the content in such a way as to always offer the best experience to the user, depending on the available bandwidth and the device used, avoiding having to "adapt" it manually by preparing different formats.
What is Integrated Content Delivery Network?
In addition to being software designed on a cloud architecture, which is scalable and therefore can handle hundreds of thousands of requests per second, THRON has the advantage of accelerating content delivery on front end sites thanks to its integrated Content Delivery Network (CDN). A CDN is a network of servers that geographically distributed worldwide to help to minimize the delay in loading web page content. On the one hand, relying on the THRON distribution infrastructure and its integrated CDN simplifies technology considerably and, on the other hand, improves web performance because it frees the servers of the front end systems from overload and ensures consistently high performance in page loading from wherever the user is connecting. Technology simplification is indeed one of the arising trends currently, as companies realized they couldn't afford to keep the old infrastructure in place. We at THRON designed our product to be natively ready to manage traffic peaks while reducing the systems necessary to do it.
In what ways does Elastic Media Delivery make image editing and dynamic streaming more effective?
Elastic Media Delivery is the way THRON can publish content directly from its archive to any front-end system. Thanks to connectors and integrations, they are synchronized with the platform, and we can manage content updates directly from THRON, without having to intervene in the back end of the systems. The original file stored in THRON is automatically adapted to the channel, so there is no need to create multiple copies. THRON eliminates any manual intervention on the original shot; let's think about the time savings related to having to standardize the product shots to the e-commerce showcase. The platform also takes into account the device and the connection used, so that the multimedia files are played with adaptive quality, to always guarantee the best performance. We have, for example, dynamic video streaming, with reduced risk of buffering. The THRON architecture handles peak loads and the sites where the content is published to get optimized performance.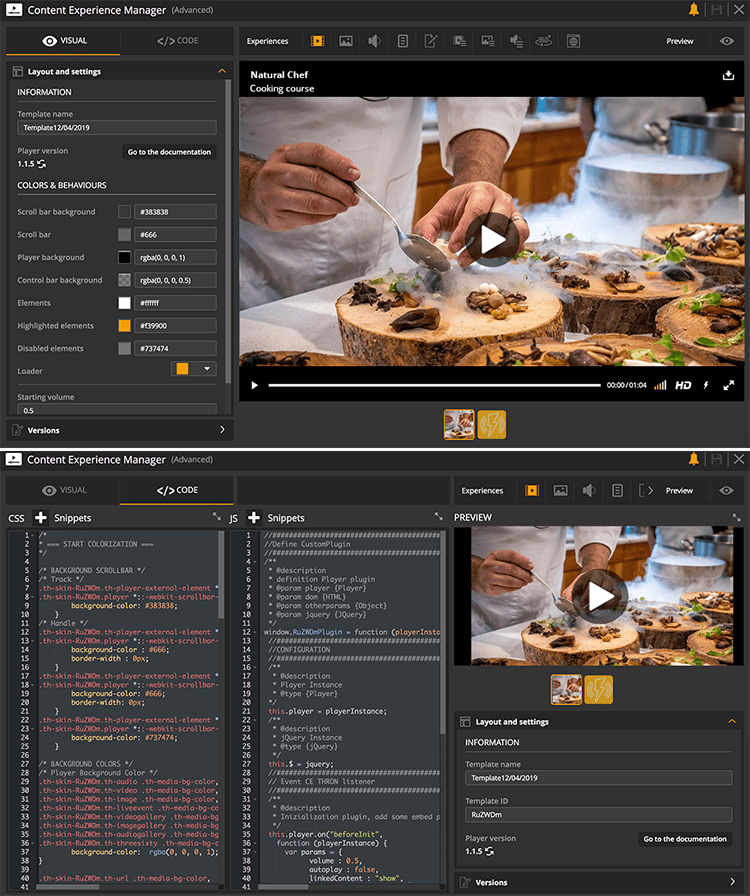 What type of data is in THRON Content Intelligence reports on content performance, and how can it determine how it influences a user's decisions?
Content Performance is an interactive dashboard available on the THRON platform that tells you how a piece of content, or a group of them, is performing in correlation with any Call To Action in any of your external channels: websites, eCommerce, intranets. The performance is recorded even if the users are anonymous! For example, if you create videos and images representing your products such as marketing content and actual product shots, you'll be able to see which content best influenced the actual online purchase, as well as monitoring which content was viewed before and after the CTA was done. You can also see which kind of content format, images, videos, etc., are performing best and determine your audience's favorite topics. In short, it is a tool to evaluate the ROI of your content by understanding the investment spent to produce each of the different types of content and how effective they are in generating revenue by influencing the purchase path of users.
How does THRON Content Intelligence recognize the interests of users to create custom experiences?
Content archived on THRON can be tagged with keywords that reflect your company's products, features, and topics, your audience's characteristics, etc. Now when an internet user views that content, their profile is enriched with those same keywords. For example, if one of a video's tags is "kitchen appliances," and Peter plays that video, Peter's profile will now contain the interest "kitchen appliances." The more content Peter views, the more detailed his profile is, so the brand can send him a tailored-made email with a 20% discount on the product he showed interest in, or can leverage AI to automatically adapt his online experience, presenting him with content he will be interested in. Profiling can also be done anonymously, so if a user has not given their email address, their device would contain their interests. Once a user provides their email address, the profiling will be updated without any loss of data.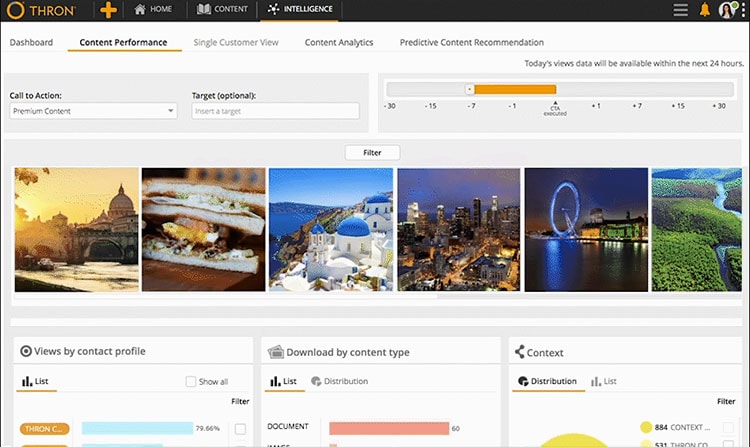 Can the data from Content Intelligence be integrated with a company's CRM?
Absolutely, this is one of the core aspects of THRON Content Intelligence. When collecting qualitative data on users' interests, they have to be actionable, so THRON allows you to import them into your CRM, where, together with the analytics, it gives you a complete overview of every user.
How does your Intelligent PIM help create an effective product database/catalog?
Firstly, Intelligent PIM can receive data from any other corporate system, such as PLM and ERP, even from spreadsheets. You can import data from those different systems without the need to level them out; in fact, THRON allows you to define rules, which automatically makes the data coherent with the classification built inside your PIM. Moreover, Intelligent PIM's data quality process is designed to reveal any possible mistakes or differences among the data allowing you to correct it immediately. For example, it can recognize that you're tagging a product with the keyword "glass" when you had previously tagged a similar one with the keyword "metal"; it, therefore, tells you about this difference and then you can manually choose which is the right tag for that particular product. Another core feature is the native integration with the DAM. This way, any product listed in the PIM can be enriched not only with the technical information or the marketing descriptions but also with the multimedia assets archived in the DAM. Now you have a full list of all your products, complete with any useful detail and content.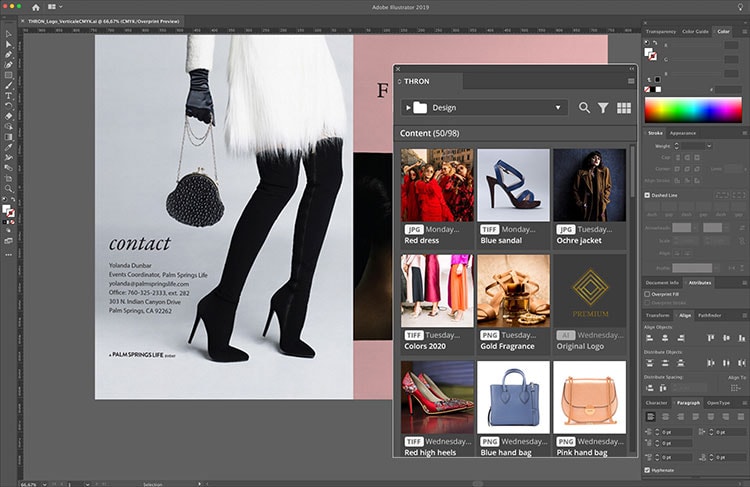 Moreover, since the PIM can be seamlessly integrated with eCommerce, you just choose which product to publish, and all the elements are automatically retrieved to create a product page. If you're working on a printed catalog, all the elements can be opened and styled in InDesign. While the insertion can be done manually, thanks to the common taxonomy between DAM and PIM, you'll retrieve all the elements you need images, product features, etc. in real-time.
Which eCommerce platforms integrate with Intelligent PIM?
THRON is designed to be integrated easily with any system leveraging APIs or specific UI components. In our marketplace, there are some ready-to-use connectors for the leading eCommerce platforms such as Magento and Salesforce Commerce Cloud.