At first, Swyft Filings and ZenBusiness may seem very similar – from the near-identical pricing, turnaround times, review ratings, and features. However,
a deeper dive reveals a few key differences between ZenBusiness and Swyft Filings
that are hard to ignore. For starters,
Swyft Filings bulks up its packages with over-sold features
that are actually mandatory – such as "lifetime customer support" and "instant delivery of state documents upon formation." In contrast, ZenBusiness only advertises the truly valuable features included in each package – no fluff. Both ZenBusiness' and Swyft Filings' most expensive "Premium" LLC formation packages
include a free website and domain name – but Swyft Filings' is from a third-party provider
. They also offer a Registered Agent service for the same annual price. However, while ZenBusiness contracts directly to you for this service, Swyft Filings passes you on to a third-party supplier.
In contrast, ZenBusiness keeps almost everything in-house
– from its accounting and compliance software to its website builder. Now, it's not necessarily a bad thing to partner with third-party suppliers. But when you do, issues may arise, including a reported lack of cohesive customer support, inconsistent customer service, and notable pricing variations. Otherwise,
ZenBusiness only really loses points for its pricier subscription-based model
and not offering nonprofit formation (like Swyft Filings). But little else. To fully compare each provider, though, I've gone into more detail below.
Features
Similar Features, but ZenBusiness' Value-Adds Give It the Edge
Compilance, a Registered Agent service, an Operational Agreement, EIN registration, a business name check, and expedited filing – these are all typical paid LLC formation features. And both Swyft Filings and ZenBusiness offer them – they just structure and price them differently. For example, ZenBusiness includes compliance assistance in all its plans, including the free Starter package.
You'll need to pay extra for Registered Agent services with ZenBusiness, no matter your package.
However, EIN registration compliance assistance, an Operating Agreement, and expedited filing are all included in every paid ZenBusiness LLC formation plan. In contrast,
Swyft Filings' paid plans also include EIN and expedited filing
, but Registered Agent services and an Operating Agreement cost extra. Only Swyft Filings' most expensive "Premium" package provides complete legal document library access and compliance assistance.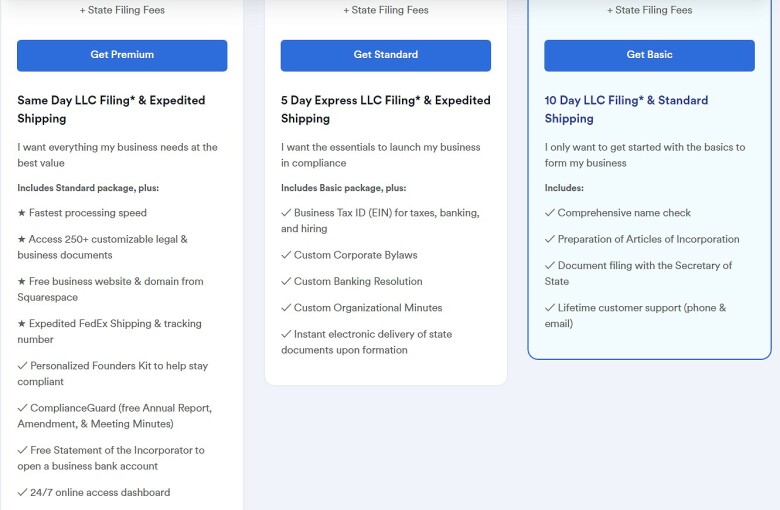 A key differentiator between the two providers' paid add-ons is ZenBusiness' proprietary bookkeeping software.
Money Essential is free with all plans
and includes basic tax, expense, and income tracking tools
. You can also upgrade to a Money Pro subscription if you want full access to all the advanced features of this bookkeeping software.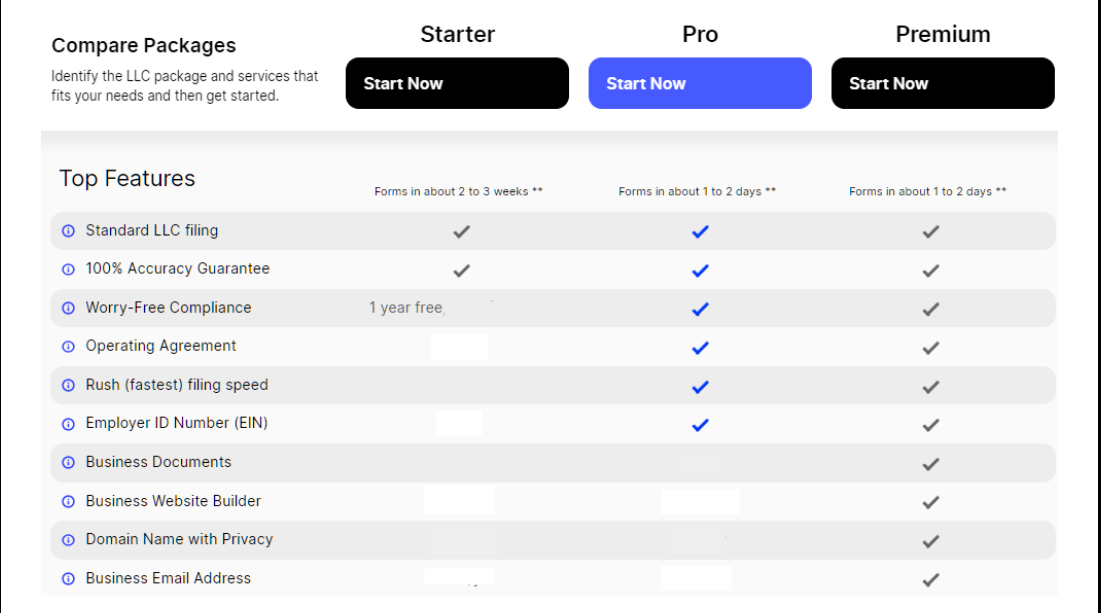 In terms of the Registered Agent service, ZenBusiness wins out. While
your contract is with LegalCorp Solutions (or another third-party provider) for the Swyft Filings Registered Agent
service, it's directly with ZenBusiness should you go with them. So, even though ZenBusiness can technically outsource the work, it's still accountable to you. Another way ZenBusiness beats out Swyft Filings is reputation. Most importantly,
the Better Business Bureau has accredited ZenBusiness with an "A" rating
. In contrast, Swyft Filings isn't accredited by the BBB. It has faced a few issues with customer claims and complaints in the past – though we do acknowledge that customers will often only comment online when they have a complaint.
Ease of Use
Top Marks for Looks and Interface Design
Regarding aesthetics, ZenBusiness and Swyft Filings both score top marks on their websites
. They feature simple designs, attractive color choices, and intuitive layouts.
ZenBusiness' LLC formation plan
sign-up form is the slightly more unique of the two. Its fun animations stand out, in particular. However, both providers' sign-up forms feature a clean, modern design that is easy and pleasant to use and navigate.
In the case of either form, you'll need to share your details and company specifics early on
– including your email, name, preferred company name, industry, and employee status. Doing so does streamline the process, saving time later on, allowing name check, account login details, and relevant services to be sorted out early on.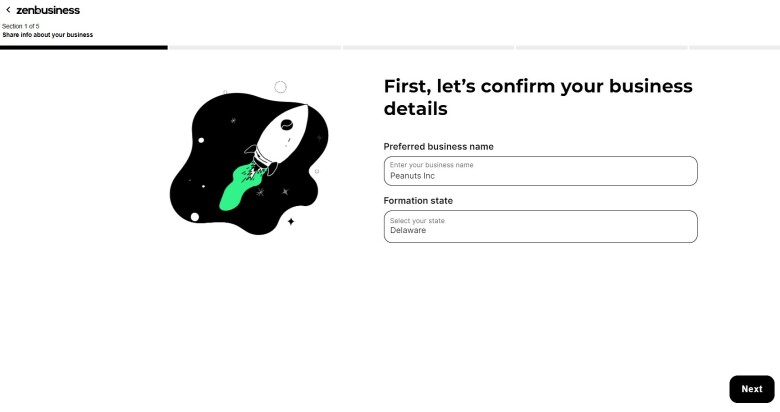 ZenBusiness also offers an iOS and Android app plus an online dashboard to customers
. Swyft Filings does not – not only is there no app, but you must opt for the Swyft Filings Premium LLC formation package to access the website dashboard. That's why ZenBusiness is the overall winner here in terms of user-friendliness.
Pricing
"But Don't They Cost the Same?" – Well, Not Really
At first glance, it may appear that ZenBusiness and Swyft Filings are priced exactly the same. However,
when you compare the included features and quality of service in each plan, a distinct difference becomes clear
. Thanks to the included Money Essential software and Worry-Free Compliance service, ZenBusiness' free LLC formation package stands out as the better option.
ZenBusiness' paid LLC formation subscriptions
(Premium and Pro) are also superior for businesses seeking long-term bookkeeping assistance and support. All users on ZenBusiness receive the help they need with compliance, but the Pro plan features a free website managed through ZenBusiness' modern and user-friendly in-house builder. It offers a variety of stylish templates and drag-and-drop elements. Though
Swyft Filings does offer a free domain name and website with its Premium LLC formation plan
, these are managed by Squarespace instead. In contrast, you can trust ZenBusiness to handle most of its services and customer complaints in-house.
That said, Swyft Filings is still a very good LLC formation service.
Its paid packages are ideally suited to someone looking for the basics, such as an EIN and expedited filing, bundled in
for a one-off fee
. You see, with ZenBusiness, you'll need to pay your annual subscription renewal fees to keep your included package services going. The table below compares the ZenBusiness free Starter plan with Swyft Filings' free plan.
ZenBusiness
Swyft Filings
Price of the cheapest or most comparable plan (minus state fees)

$

0

$

0

Stated filing time/range (minus state processing time)
2-3 weeks
10-15 business days
Registered Agent?
Paid add-on

Paid add-on

EIN?

Paid add-on

Paid add-on

Operating Agreement?

Paid add-on

Paid add-on

Expedited Filing?

Paid add-on

Paid add-on

Compliance?

✔

✘

Legal Document Library?

Paid add-on

✘
Support
The ZenBusiness Customer Support Team is More Reliable
Unlike Swyft Filings,
ZenBusiness offers extended phone support hours and weekend phone support.
ZenBusiness' phone support hours are from 8:00 a.m. to 8:00 p.m. (CT) from Monday to Friday and 9:00 a.m. to 6:00 p.m. on weekends. Swyft Filings only takes support calls from 9:00 a.m. to 6:00 p.m. (CST), Monday through Friday.
Plus, ZenBusiness offers (real) live chat – not just a button that appears to be but isn't
(Swyft Filings
Live Chat
 pop-up is just a contact form in disguise). When we put them to the test, ZenBusiness was also quicker to respond – its live chat agents replied immediately. In contrast,
Swyft Filings phone support agents took almost ten minutes to pick up
. ZenBusiness also sent a response to our email inquiry within 24 hours, while Swyft Filings took a week to respond to a ticket. That said, though both extremely (and equally) friendly and helpful, ZenBusiness' support agents seemed less knowledgeable. At first, they provided incorrect info but did follow up to correct themselves.
The Swyft Filings agent knew more and was more confident
. They even sent a follow-up email detailing the information we requested on the call, which was a helpful touch.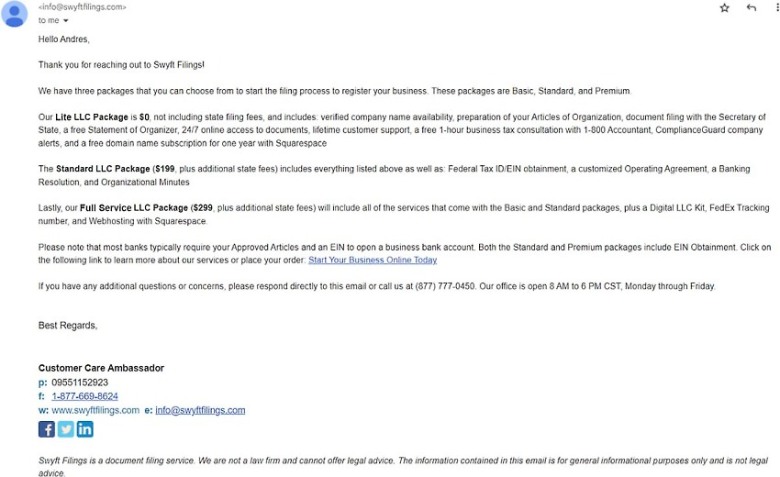 Both websites feature tons of FAQs, helpful articles, and blogs with regular content posted on everything business.
Swyft Filings even publishes case studies, research, and tips that can provide unique insights
to help you in your entrepreneurial journey. ZenBusiness does too via its ZenBusiness Academy and Research Institute email newsletters and mailing list – though you do need to sign up for these.
A Clear-Cut Winner, but Not Without Competition
We highly recommend both ZenBusiness and Swyft Filings for LLC formation and more. That said, ZenBusiness performs better in all categories (ease of use, support, features, and pricing)  and is the more reliable of the two. Accredited by the Better Business Bureau with a very high accountability score, you can expect stellar follow-up should issues arise. You can even
select ZenBusiness' free Starter LLC formation package and bundle in any needed one-off services to avoid paying a subscription
, like an EIN, Operating Agreement, and expedited filing. In comparison, all paid
Swyft Filings LLC formation plans
 cost a once-off fee. Though Swyft Filings' support channels and quality lack, the service and usability of its website and sign-up form are comparable to that of ZenBusiness.
Swyft Filings also packs useful extras like an EIN into LLC formation plans
. Something that you have to pay extra for with all ZenBusiness LLC formation plans – free or paid.
ZenBusiness
Swyft Filings
Features
BBB-accredited, Worry-Free Compliance, Money Essential, and Accuracy Guarantee (on all plans). Operating Agreement, expedited filing, domain name (1 year on paid plans), Website, and in-house website builder (paid plans).
EIN, expedited filing, founder's kit, expedited FedEx shipping (of tangible products), free domain name and Squarespace website with Premium plan. Legal document library access, ComplianceGuard, legal document drafts (paid plans only).
Ease of Use
10-minute sign-up form and modern, easy-to-navigate website, website dashboard, and iOS and Android app (on all plans).
10-minute sign-up form and modern, easy-to-navigate website (all plans). Website dashboard (only with Premium package).
Pricing
Paid and free (minus state fees) LLC formation subscriptions and once-off packages and plans. Optional add-ons and subscriptions.
Paid and free (minus state fees) LLC formation once-off packages. Optional add-ons and subscriptions.
Support
Phone (extended business hours and weekends), live chat (extended hours), and email support. Learning center, including resource articles, a blog, and newsletters.
Phone (business hours and days), email, and contact form support. Learning center, including resource articles, case studies, industry insights, and a blog.
FAQ
Are ZenBusiness LLC formation packages charged annually or once-off?
ZenBusiness' paid LLC formation plans are subscription-based, meaning they auto-renew every year. As such, you'll be charged a recurring fee every year on the anniversary date of your ZenBusiness LLC formation application. You'll need to keep paying these fees to keep your included plan services, such as your ZenBusiness website and Worry-Free Compliance subscriptions.
Swyft Filings vs. ZenBusiness – which is the more affordable LLC formation option?
Swyft Filings and ZenBusiness both offer a free LLC formation plan (minus state fees) and similarly-priced plan tiers. However, their pricing structures and included features differ. For paid plans, Swyft Filings includes the basics – such as EIN and expedited filing – for one-off fees. In contrast, ZenBusiness packs more valuable long-term features and services – but on a subscription.
Do ZenBusiness or Swyft Filings offer free LLC formation services?
Yes, both Swyft Filings and ZenBusiness offer free LLC formation packages. These include basic filing services, online document delivery on formation, and some extras. All you have to do is pay any mandatory state filing fees (which differ per state). In most cases, you'll be quoted the exact fee figure on the ZenBusiness or Swyft Filings sites when you make your order.
Do ZenBusiness' or Swyft Filings' LLC formation plans auto-renew?
All of ZenBusiness' paid LLC formation packages auto-renew each year. Only its free LLC formation package doesn't, with the exception of the Worry-Free Compliance add-on, which is only free for the first year. In contrast, Swyft Filings only charges a one-off fee for its paid LLC formation packages. However, you may be charged annually, bi-annually, quarterly, or monthly for select paid add-ons and subscriptions you add to any Swyft Filings or ZenBusiness LLC formation packages or plans.
Are LLC formation services such as ZenBusiness and Swyft Filings a scam?
No, most online company formation services are legitimate. However, you should only go for top-rated LLC formation services that are well-known and reputable. Both ZenBusiness and Swyft Filings rank in our top ten best LLC formation services. So you can rest assured that they are legitimate.