Website Planet
had the chance to sit down and chat with Madhav Kakani from Success Software. We will uncover their unique solutions to boost Sales, Marketing, and Customer Support, plus their mission for low user intervention, enhanced team performance, and robust data security.
Let's introduce Success Software to our audience. What products do you offer at the moment?
Success Software develops tools and solutions to help improve the productivity of Salesforce CRM and Creatio CRM users
. Our Apps help companies to optimize and automate their business processes, and enable Sales, Marketing, and Customer support professionals to work more effectively. What truly sets our products apart is their exceptional ability to precisely cater to each customer's unique requirements without unnecessary frills. We take immense pride in our products' focus on delivering solutions that hit the mark, leaving out any superfluous features. Furthermore, our commitment to excellence is evident in our proactive approach to customer feedback. We place a high emphasis on actively engaging with our customers to gain insights into their evolving needs. This iterative feedback loop allows us to swiftly and effectively refine our products, ensuring they consistently align with the dynamic demands of our clients. Our customer support extends through traditional communication channels, encompassing email and telephone, to provide you with accessible and responsive assistance. Customer concerns and queries are met with prompt attention, ensuring that their experience with our solutions remains consistently smooth and seamless. Moreover, in our dedication to fostering transparency and keeping our customers well-informed, we regularly publish informative blogs that highlight new features in our Apps as they are introduced. This proactive approach ensures that our customers are always in the loop about enhancements that can further elevate their operations. To serve as a reliable knowledge hub, we maintain an up-to-date FAQ section. This resource is designed to swiftly address common questions and concerns, enabling our customers to access information efficiently and facilitating their journey towards optimal utilization of our offerings. With certifications across the Salesforce and Creatio platforms, we possess excellent mastery in tailoring solutions to impeccably match the specific requirements of our clients. Our proficiency in these platforms enables us to expertly craft customizations that seamlessly integrate with their existing systems and workflows. Our Apps and services are meticulously crafted atop cloud-based CRM platforms, with an emphasis on seamless configuration and no-code development. This approach ensures that our solutions are not only agile but also easily adaptable to customer's evolving needs, empowering them to drive efficiency without grappling with complex coding. In scenarios where specific customizations are necessary to align perfectly with customer's objectives, we harness the power of cutting-edge web-enabled technologies. By leveraging these advancements, we create tailored solutions that resonate with customer's unique requirements, translating their vision into reality. Furthermore, the integrations we offer are implemented using the most current REST API standards. This strategic choice ensures that our solutions not only remain at the forefront of technological advancements but also enable the fluid exchange of data and processes across customer's ecosystems.
How did it all start, and what are your achievements to this day?
The inspiration for our Apps stemmed from my prior professional experience, where I witnessed the challenges faced by Sales, Service, and Marketing teams in tackling seemingly straightforward tasks. It became evident that existing CRM systems were unable to provide the necessary support and solutions, prompting the development of our innovative Apps. We adopted an iterative approach to App development by initially creating basic versions and providing users with the opportunity to test them. Subsequently, we made refinements and enhancements to the Apps based on the feedback and reactions gathered from these users, ensuring that the final product aligns closely with user needs and preferences.
How does your mission differ from the other companies in your niche?
Our mission can be described as three-fold:
Low User Intervention: Once installed and properly configured, our Apps operate with minimal user intervention, allowing teams to focus on their tasks without continuous management or interaction.
Enhanced Team Performance: These Apps serve as valuable aids to Sales, Support, and Marketing teams, significantly improving their effectiveness in carrying out their responsibilities.
Data Security: Our Apps prioritize data security by storing all utilized and stored information within the user's CRM organization. This approach ensures that sensitive data remains protected and under the user's control at all times.
Currently, we are a small company, but we have ambitious long-term goals.
To measure our success, we aim to achieve a tenfold growth in our business, which we consider a significant milestone.
Who are your typical clients and what problems do they have when they come to you?
We serve customers across diverse market segments, yet the majority of our clientele is concentrated within medium-sized and enterprise-level organizations. Our apps are designed to assist CRM users in Sales, Service, and Marketing functions, making them versatile and customizable to individual roles rather than being industry-specific. The aim is to streamline tasks and reduce manual labor, empowering Sales, Service, and Marketing teams to enhance their efficiency and productivity. While our solutions are not essential for their work, they significantly enhance efficiency and effectiveness. Without our solutions, Sales, Service, and Marketing teams can still perform their tasks, but the process would be less efficient and effective. After proper installation and configuration, our Apps operate quietly in the background, requiring minimal user intervention. This unique feature sets our Apps apart, as they seamlessly enhance productivity without demanding constant user attention Even without our solutions, users can access the information they need, but it involves a labor-intensive process. They would need to navigate various websites, utilize different systems, and manually compile data, often resorting to tools like Excel to gain a comprehensive overview.
Can you share one success story from your customers? What was their pain point, and what results did they get thanks to Success Software?
Local Time App
The Local Time App is created for Salesforce users and it enables them to easily find the time zone information of a location. The App supports local time for the standard objects: Accounts, Contacts, Leads, Cases, Opportunities, Tasks, and Events. In addition, our customers can use the App's API to show Local Time on other standard and custom objects.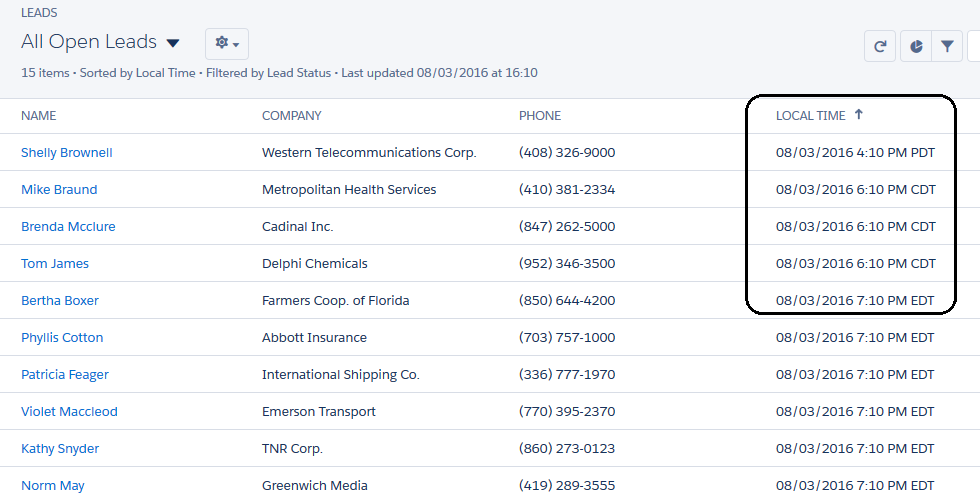 https://www.youtube.com/watch?v=OTQJm2AeKGI&t=2s
The App saves time when calling daily 100's of prospects located all around the world. It helps to prioritize the calling schedule so that one can reach prospects most effectively. Moreover, it supports Daylight Saving Time (DST) to get the most accurate local time when countries change the clocks.
Testimonials
:
Such a great tool when you're managing a global membership
Seems so simple, needing to see a timezone. However, when you're trying to arrange group calls or events, being able to see at a glance an individual's timezone (for interviews) and those in a list is so impactful and saves us time as an organization. I love how the widget also shows the flag and clock too. Helps us realize how global our members are and the gaps we still would like to fill.
Effective, Easy to Use Time Zone App
The Local Time App was easy to set up, and is easy to use. You can set what fields should be used to determine the time zone (Billing Address vs Shipping Address vs Phone vs Custom Field). It is also easy to run a batch update on records if needed.
Using the custom fields from the app, we have been able to automatically filter outbound calls for our call team. This way they only see calls that can be made based on the Contact's local time, and our team does not need to manually check multiple field values.
AdIntel App
The AdIntel App for Salesforce enables our customers to analyze and understand the performance of their online ad campaigns and automatically calculates the Marketing ROI – thus helping them to make informed decisions in optimizing their online marketing budgets. From one centralized location in Salesforce, our customers can visualize and measure the performance of their online marketing initiatives on diverse platforms and take necessary actions to deliver the best possible return on their online investments.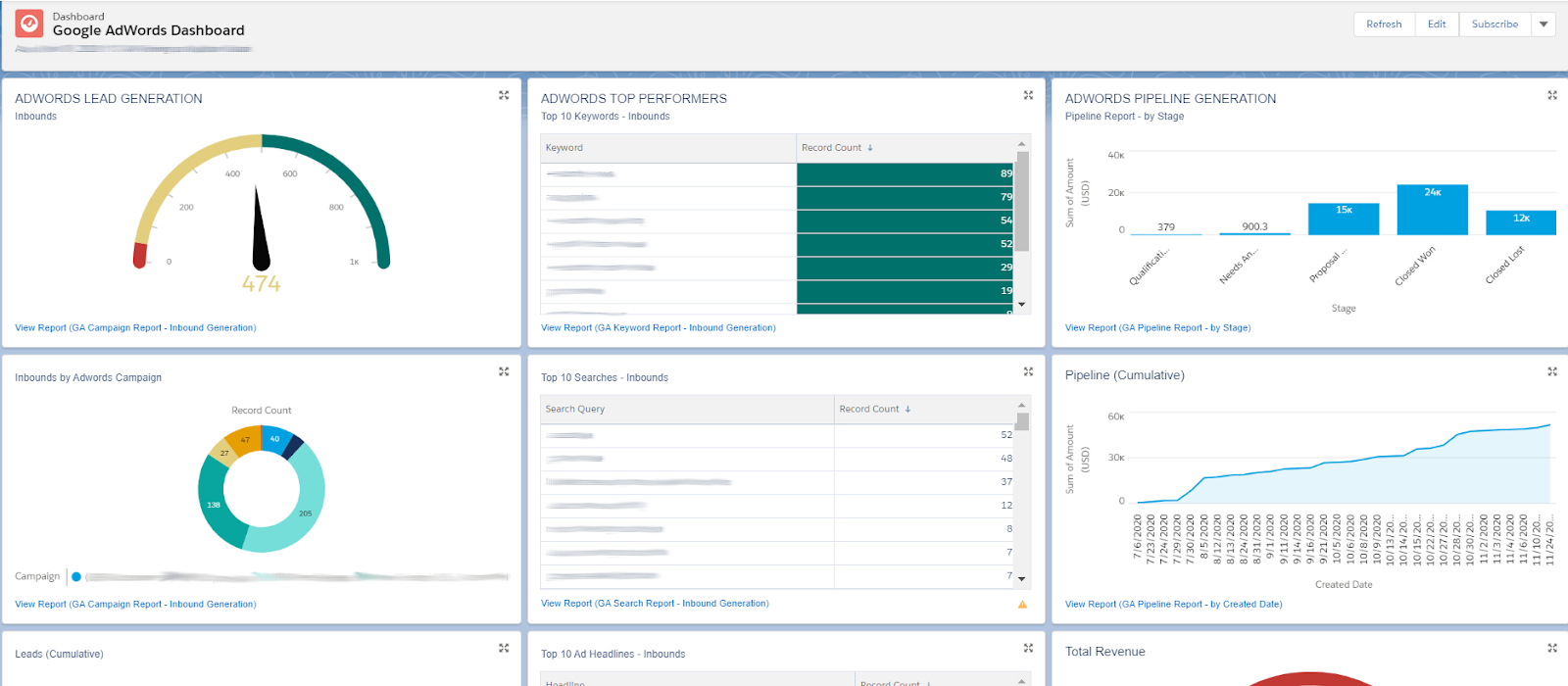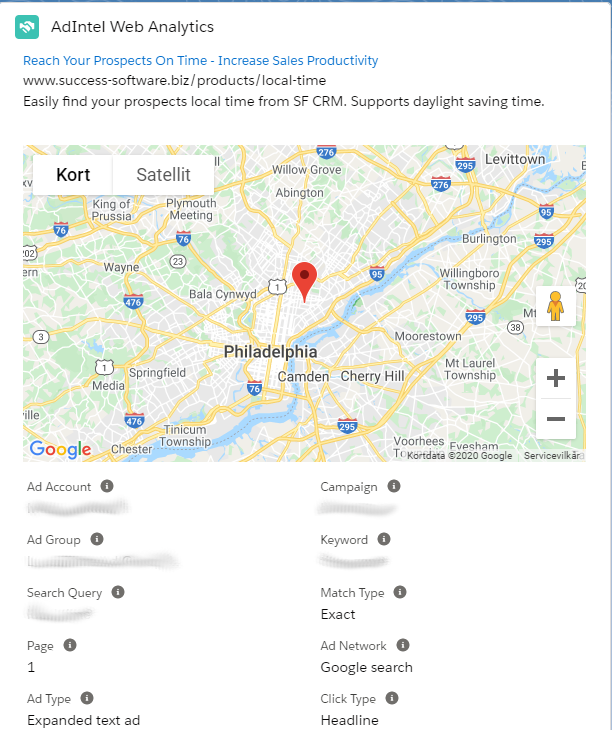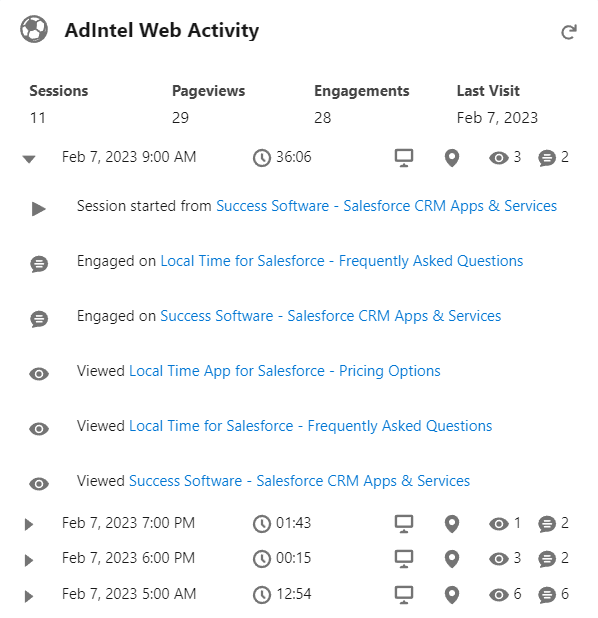 Testimonials
:
Absolutely Essential
AdIntel provides an easy, native salesforce solution to a common attribution problem. With AdIntel, we are able to optimize our ad spend around which ads are performing the best, and which campaigns are driving revenue. It is an absolutely an essential part of our marketing tech stack and I would highly recommend it to any marketing professional.
Their support and development team is wonderful and helped us work through the set up and proper functioning of the app. Personal shoutout to Madhav, who was wonderful to work with and always just an email away. I can't say enough good things about him and about AdIntel. 5 stars!
Amazing ROI
Before Adintel, we used to rely on the reports provided by our marketing agency, we were never able to get a clear picture of which campaigns really worked or not, beyond that they had conversions. With Adintel, we have a clear picture of what's happening. we know exactly where our buyers are from, which ad they clicked on, their browsing behavior, we can quickly reallocate budget to stuff that works. The more you invest in digital marketing, the greater the ROI will be. Also, Adintel data is easy to report on, easy to add to Einstein analytics, easy to configure. This should be the #1 SF package on your list. The value is incredible.
If you had unlimited funds, what improvements would you make?
If presented with unlimited funds, the scope for elevating our company and services becomes truly boundless. Here are some areas of the transformative enhancements we would envision: More funding for research and development, enhance customization capabilities of our Apps, augment customer support, forge strategic partnerships with complementary technology providers, invest in continuous learning and development, and increase our community engagement. In essence, limitless resources would enable us to scale new heights of innovation, customization, global presence, and client satisfaction. The result would be a company that not only meets but anticipates the evolving needs of our clients while making a positive impact on the world around us.