Need WordPress plugins, themes, website maintenance, or development services for a website built on WordPress or Laravel? 
Stylemix probably has something for that.
Website Planet
had the chance to sit down and chat with Igor Ligay, CEO of Stylemix, to learn more about their comprehensive suite of products and services that address the particular pain points often faced by websites built on WordPress or Laravel in various niches.
We will also learn more about their commitment to user experience, the journey from Themeforest to direct annual subscriptions, and their plans for the future.
Let's introduce Stylemix to our audience. What products and services do you offer?
Stylemix was founded in 2007, and our head office is located in Dubai, UAE. As of today we have four main branches with 60+ employees worldwide:
WordPress Plugins
WordPress Themes
WordPress Website maintenance & support
Website development based on WordPress and Laravel
What Pain points do you help people solve?
Our range of products and services is strategically designed to alleviate specific pain points within various niches, offering tailored solutions that drive growth and efficiency. Primarily, we consider our premium WordPress plugins as targeted business solutions. A prime example is MasterStudy, our all-encompassing Learning Management System. We made this robust too specifically for online educators, be it private instructors, tutors, coaches, or educational institutions.
With MasterStudy educators can seamlessly transition into the digital realm, and thanks to that reach a wider audience and capitalize on the growing demand for online learning.
Ignoring such an opportunity leaves educators confined to traditional methods, missing out on the chance to tap into a rapidly expanding market. Just think about the potential of building a marketplace akin to Udemy or Coursera, connecting multiple instructors with students… With MasterStudy you can do that. That's a solution that proved invaluable during the Covid Lockdown, as the shift to online education accelerated. It was a huge boost, because many people started to search for new opportunities in online education. Today MasterStudy has almost 30,000 active users. Customers are often frustrated by the lack of clarity of some websites during their purchasing journey, and this translates in a lot of money left on the table. Our Cost Calculator Builder (CCB) plugin equips websites with interactive calculator forms that provide instant cost estimates for services or products.
By embedding CCB, businesses can prove their transparency and convenience to their customers, leading to improved user experience and, subsequently, increased sales.

As of 2023, CCB has substantially boosted sales for over 40,000 active users, and our survey indicates that around 30,000 CCB users increased their website leads by up to 30% after implementation. For those within the automotive industry, our Motors WordPress theme is a game-changer. With advanced inventory management features tailored for car dealers, this theme offers an intuitive platform for showcasing vehicles and engaging potential buyers. Many car dealers are still stuck paying every month for outdated, time-consuming, methods of inventory management, which make no sense anymore in the digital age.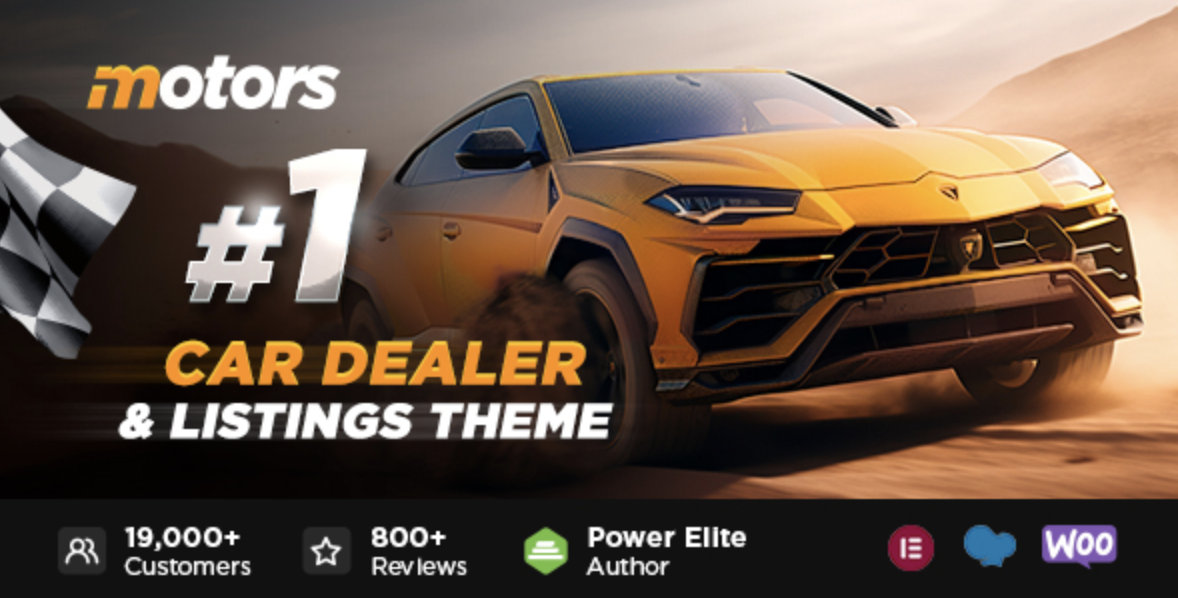 With
more than 19,000 dealers globally benefiting from Motors
, it eliminates the need for costly subscription models for showcasing inventory online with just a one-time purchase of $79. Motors already has integration with Automanager DMS, if you are located in the US. Neglecting the maintenance aspect on websites can lead to compromised security, reduced site performance, and missed opportunities for online visibility and engagement. To fix that, we take care of tasks like updates, security, backups, SEO, and content creation, through our WordPress Website Maintenance & Support services. This is the perfect choice for businesses to dedicate more resources to their core activities. AIBud, our cutting-edge automated content generator powered by OpenAI, revolutionizes content creation by leveraging advanced AI capabilities to craft engaging and insightful content. Whether you're a content creator, marketer, or business owner, AIBud ensures that generating high-quality content is not only efficient but also aligned with the demands of the modern digital landscape. Furthermore, our portfolio includes a standout best-seller: a corporate business WordPress theme tailored to meet the unique needs of consultants, service providers, small companies and solopreneurs. This Consulting WP theme not only delivers a captivating online presence but also equips professionals with the tools needed to showcase their expertise, case-studies, portfolio, services and connect with their target audience effectively. With these new additions, we continue to uphold our commitment to providing useful solutions that elevate your digital presence and propel your business to new heights.
How does your mission differ from the other companies in your niche?
At Stylemix, our mission is crystal clear:
"Smart Solutions for Business"
. This mantra guides everything we do, setting us apart from others in our field. But what exactly sets our mission apart? While many companies focus on creating products, we've honed our approach to address a fundamental question: Why do business owners need a website? This query serves as the cornerstone of our efforts, steering our product creation and development. We recognize that
a website isn't merely an online presence; it should be a powerful tool for businesses to engage with customers, showcase their offerings, and drive growth.
Unlike others, our mission isn't solely about crafting software; it's about crafting solutions that are finely attuned to the needs of businesses. We aim to empower business owners by offering products that transcend mere technology and become essential components of their success stories. Our commitment to "Smart Solutions for Business" signifies that each product we craft is meticulously designed to propel business success. Beyond being mere lines of code, our products serve as catalysts for achievement, elevating a business's scope, effectiveness, and influence. We understand that user experience (UX) and user interface (UI) are paramount in delivering value to our customers. We embark on the journey of crafting a seamless digital experience through rigorous A/B testing, ensuring that the interface we provide isn't just functional, but exceptional. This dedication to refining the interface is woven into our mission, as we recognize that an intuitive, user-friendly design is at the heart of enhancing business outcomes. So, why do business owners need a website? It's not just about having an online presence — it's about having a strategic, dynamic, and effective online tool that aligns with their goals. And this is precisely where Stylemix steps in, crafting products that serve as powerful tools for business growth.
How did it all start, and what are your achievements to this day?
In 2007, during my university's second year, my cousin Victor introduced a game-changing idea. With friends Arseniy and Alexander, we launched Stylemix, focused on creating websites for local and international businesses. Initially a part-time venture, we quickly pivoted to market our services aggressively. However, financial support from my family waned, prompting me to seek independent income. This became a transformative opportunity. Tirelessly, I scoured Elance.com for international clients, using WordPress to build their websites. This experience instilled a strong work ethic and determination. While on Elance, we honed our skill in crafting captivating custom WordPress themes. Yet, custom designs drove costs high. To serve budget-conscious clients, we turned to Themeforest.net, where premium WP themes streamlined site creation for cheap. A turning point arose in 2011-2012 when we conceived crafting our themes for Themeforest.net. Drawing on our WordPress background, we unveiled our debut WP theme on Themeforest. After several revisions with reviewers, we finally got our first WordPress theme approved and published. Our item was embraced by the Envato (Themeforest) community. Recognizing that crafting bespoke WordPress sites curbed growth, we boldly shifted from service to product orientation. This strategic evolution expanded our horizons, allowing us to cater globally and flourish. Customer insights fueled innovations like Education and Car Dealership themes. Till March 2021, Themeforest fueled growth, with COVID-19 boosting 2020 earnings. Post-March 2021, sales plummeted, driving us to explore new business opportunities in WordPress. Our second breakthrough came in 2021 as we pivoted to WordPress plugin development due to Themeforest decline. We started to create & sell WordPress plugins from our website stylemixthemes.com. This pivot has been a remarkable journey. Why shifting from lifetime sales on Themeforest to direct annual subscriptions on our website? Themeforest lacked subscription adaptability, and was unable to track conversions or reach customers via email. So you just cannot create a full-size marketing campaign around it. Thanks to that move, Stylemix has reached Top-20 on Envato Market and earned Envato Power Elite author badge, meaning we earned more than $5,000,000 and made more than 100,000 in sales.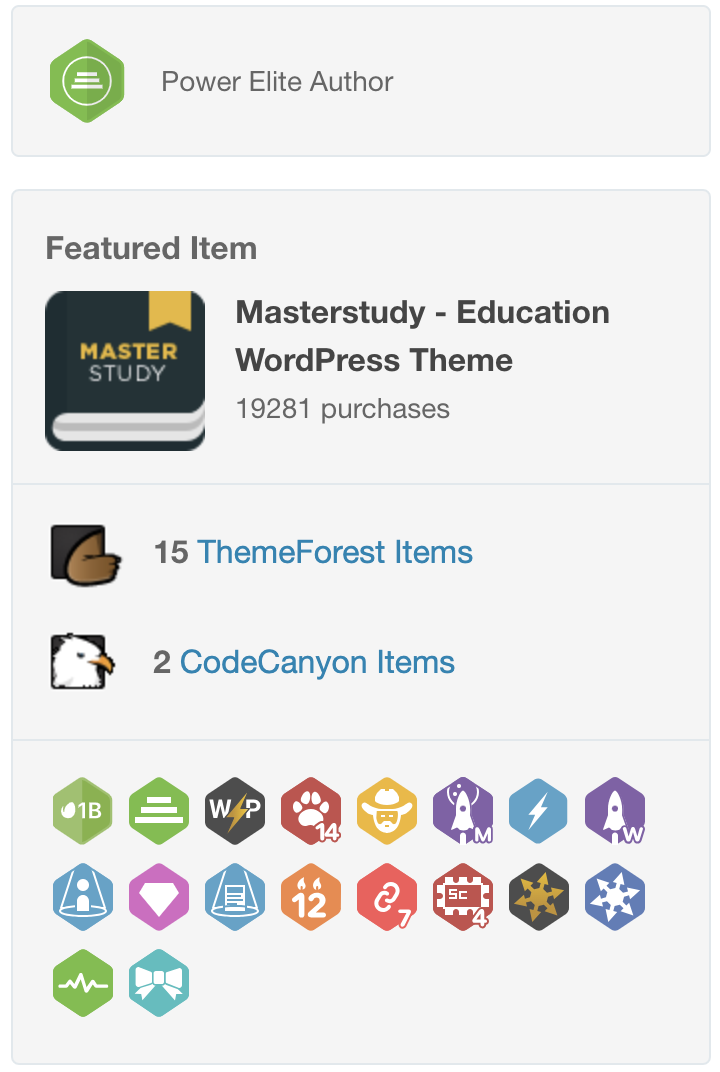 Themes and plugins differ. On the other hand, plugin development is akin to software development. While no-code solutions are also altering this landscape, we are actively building no-code functionalities for the benefit of our WordPress users. Themeforest still works, but we've outgrown it. We need a subscription based business aligning with our evolving strategies in a competitive market. Based on our research, the 'one-time/lifetime' purchase model is becoming less attractive for customers worldwide. When it comes to our MasterStudy LMS, customer interaction lies at the core of our approach. We actively engage with our customers and attentively heed their feedback. Our trove of ideas is a direct reflection of the invaluable insights shared by our customers. Yet, challenges and hurdles remain a constant companion on our journey. Particularly in the realm of new software products, a significant obstacle arises during the inception and rapid development phase. The rush to unveil a Minimum Viable Product (MVP) to gather user feedback can sometimes lead to unforeseen complexities down the line. As an MVP gains traction and profitability, expanding the team and allocating resources introduces a unique conundrum. Legacy code with limitations in architecture and scalability presents itself as a formidable challenge, necessitating the intricate process of code refactoring — a task that can prove arduous for the product owner, team, and end-users alike. In the modern landscape, a pressing challenge we confront revolves around product analytics. As developers, the intricacies of this domain have proven unfamiliar, given our past absence from larger product enterprises. The shift toward data-driven analysis is a demanding shift, requiring a new mindset and skillset. Initiatives to address this have included attempts to hire analysts. However, sourcing qualified candidates locally, especially those with IT product experience, has posed a challenge. Despite these hurdles, we've made strides by integrating Mixpanel.com into our products. Additionally, tools like Google Analytics, Google Search Console, the Freemius panel, and a bespoke dashboard tailored to each product facilitate data collection and tracking. These efforts, though met with challenges, underscore our commitment to elevating our product analytics capabilities. We're resolute in our mission to deliver optimal outcomes for our esteemed customers. Since we began offering our WordPress themes on Themeforest, we've accumulated
more than 4,300 reviews, with the majority being notably positive
. I'd like to share a testimonial here: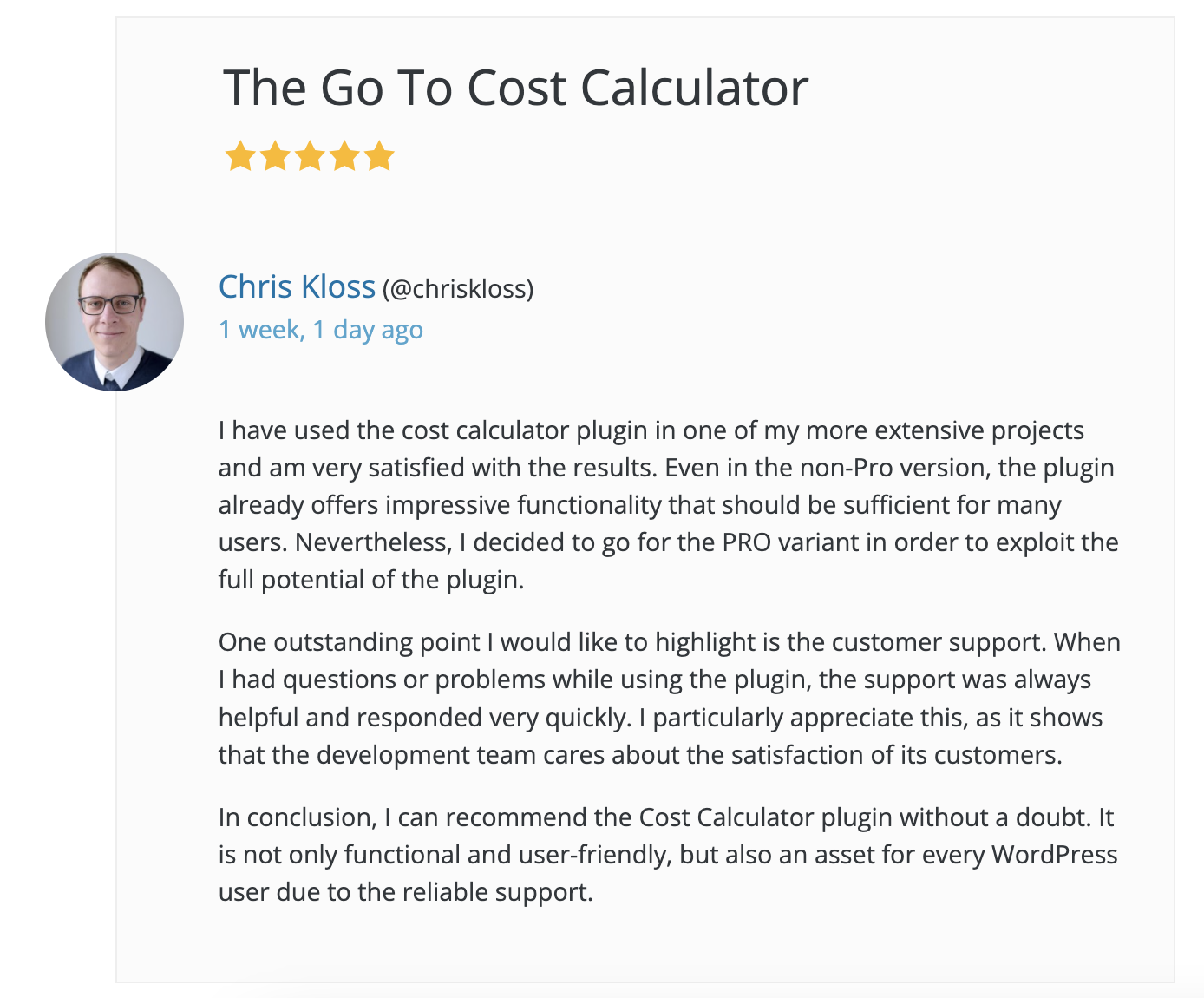 * Note: All reviews are public, you can read them on WordPress.org and Themeforest.net
Are there any feature releases, or expansions planned?
Absolutely, let's delve into our upcoming plans for product enhancements:
MasterStudy LMS Plugin
: We've recently rolled out a substantial update featuring a brand-new drag-and-drop Course Builder. This innovation enables users to effortlessly create and edit courses within the front-end editor, providing an instant visual representation of the entire course page. But we're not stopping there; we're currently hard at work on another significant update for the new Course Player, slated for release before November 2023.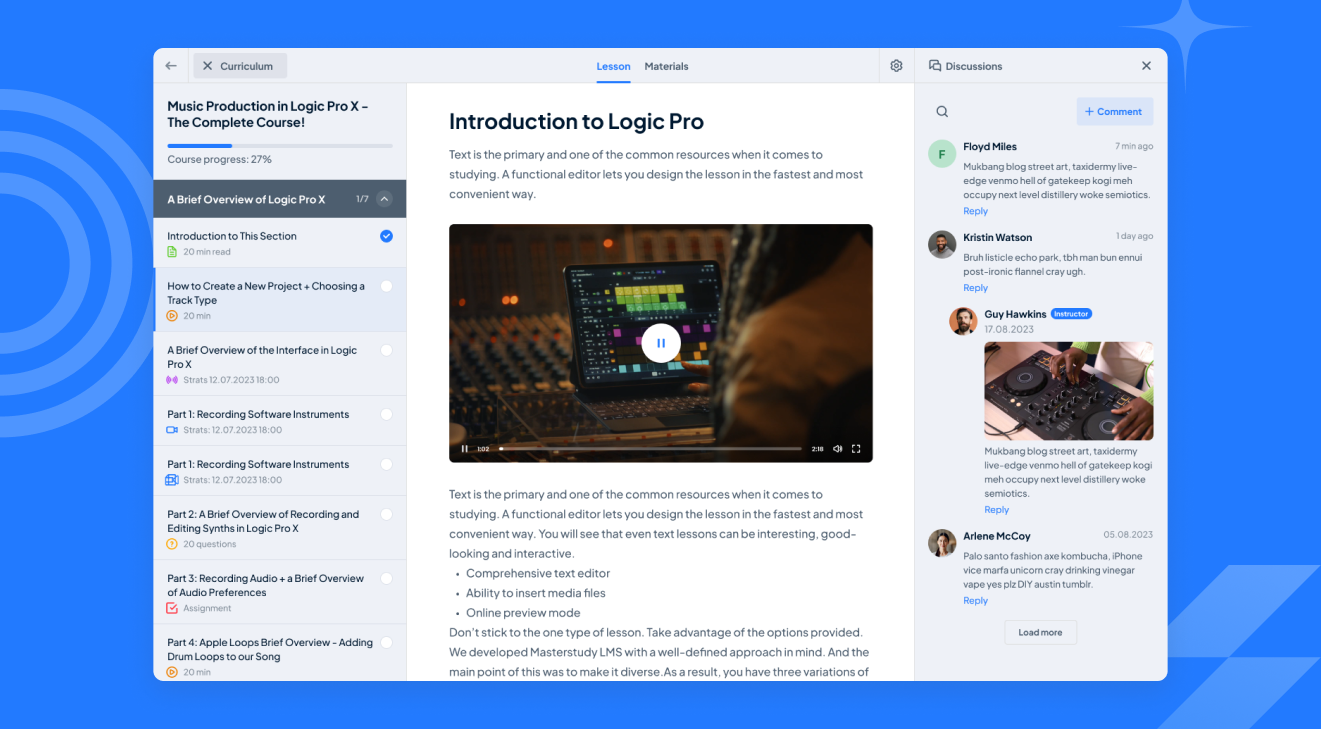 Cost Calculator
Plugin
: Our latest addition, Webhooks, has already made waves. Building on this success, we're actively incorporating customer feedback to introduce various enhancements and smaller features. Moreover, we're expanding our payment gateway options to include 2checkout, Razorpay, and Authorize.net. A noteworthy update in the pipeline is the 'Step-by-step' calculation form, a project we're diligently working on and aiming to unveil early in 2024.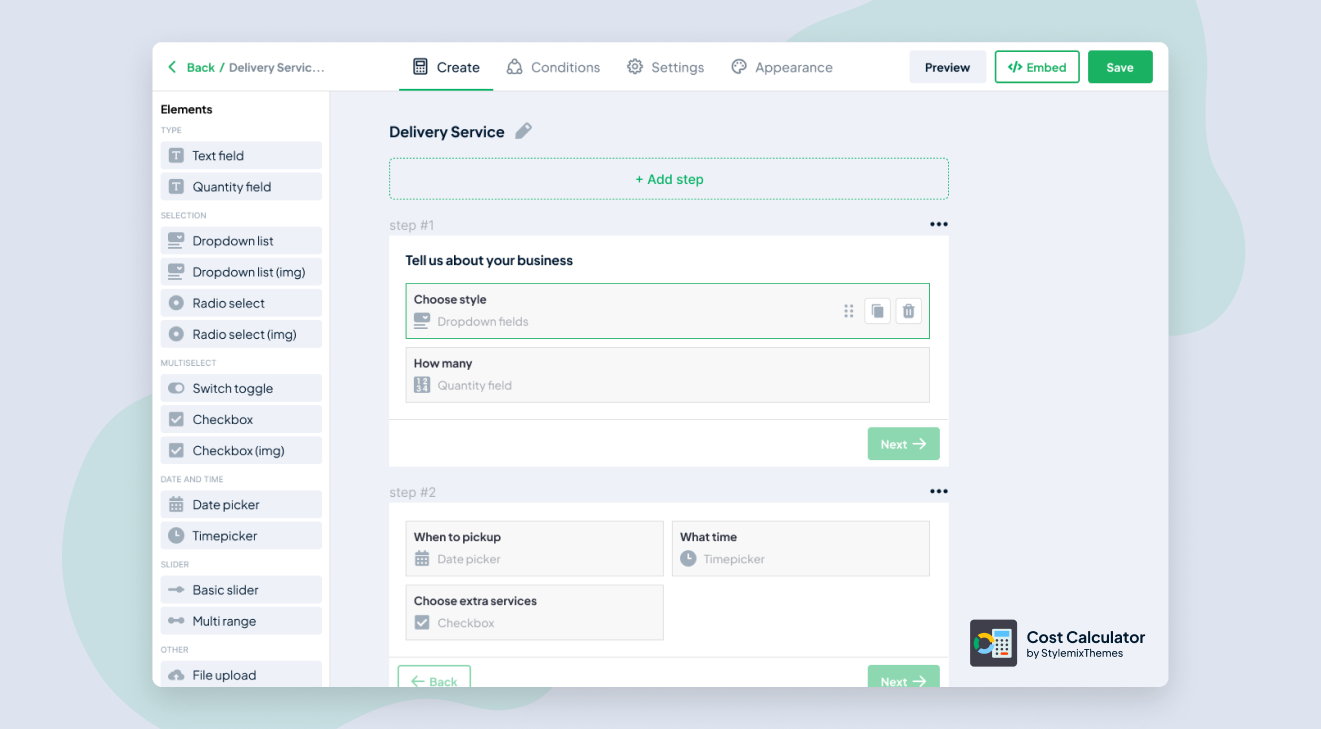 Motors
: We're in the midst of a core plugin refactoring process. Our goal is to unveil the advanced Motors plugin just in time for Christmas 2023. This revamped version will empower users with swift product searching and efficient filtering of extensive inventory databases.
Constant UI Enhancements
: Across all our major products, we maintain an ongoing commitment to improving the user interface, ensuring that our customers enjoy an exceptional and intuitive experience.
WordPress Website Maintenance & Support Services
: We're dedicated to enhancing our service by automating processes, ensuring our customers' websites are always safe, up-to-date, and well-optimized. Our efforts extend to improving SEO services and website monitoring tools. Stay tuned for more detailed monthly reports coming soon.
We are open to Partnerships and Collaborations: We're always on the lookout for exciting partnership opportunities and collaborations with other WordPress products or services. If you have any ideas or proposals, we're eager to explore them.
These updates and commitments are central to our mission of providing smart solutions for business, continuously enhancing our products to better serve our valued users.