With template-based themed websites so widely available, many websites are beginning to look the same. So how does a site stand out in the crowd of the internet?
Ronen Hirsch,  founder of Studio Umbrella
, accomplishes just that by rejecting the cookie cutter approach and custom crafting beautiful and unique websites – one at a time.
This interview was originally published on

November 15, 2018

.
Please tell us a little bit about your background before founding Studio Umbrella.
My background is well; it's a little mixed up! I studied Computer Science in Israel at university after completing my army service. After a semester or two, I wanted to be more creative, so I transferred to HIT, the Holon Institute of Technology, to pursue product and industrial design. I then continued my studies in Holland at the Design Academy Eindhoven where I completed my degree. Because of my background in computers and programming, I was able to build an online portfolio of my work. I then built one for my girlfriend and then for another friend, and I realized "Hey. I like creating websites!" and that's how I got into it. I taught myself programming using Google, online tutorials and videos. Almost immediately after school, I started StudioRonen, which I eventually renamed Studio Umbrella.
What services do you offer?
Our main service is designing and building websites, from beginning to end. We don't create just another theme-based website, but rather custom design and code our projects, making them unique and giving our client a more interesting way of presenting themselves, their services and their products. We've done corporate websites, portfolio type websites and of course WordPress.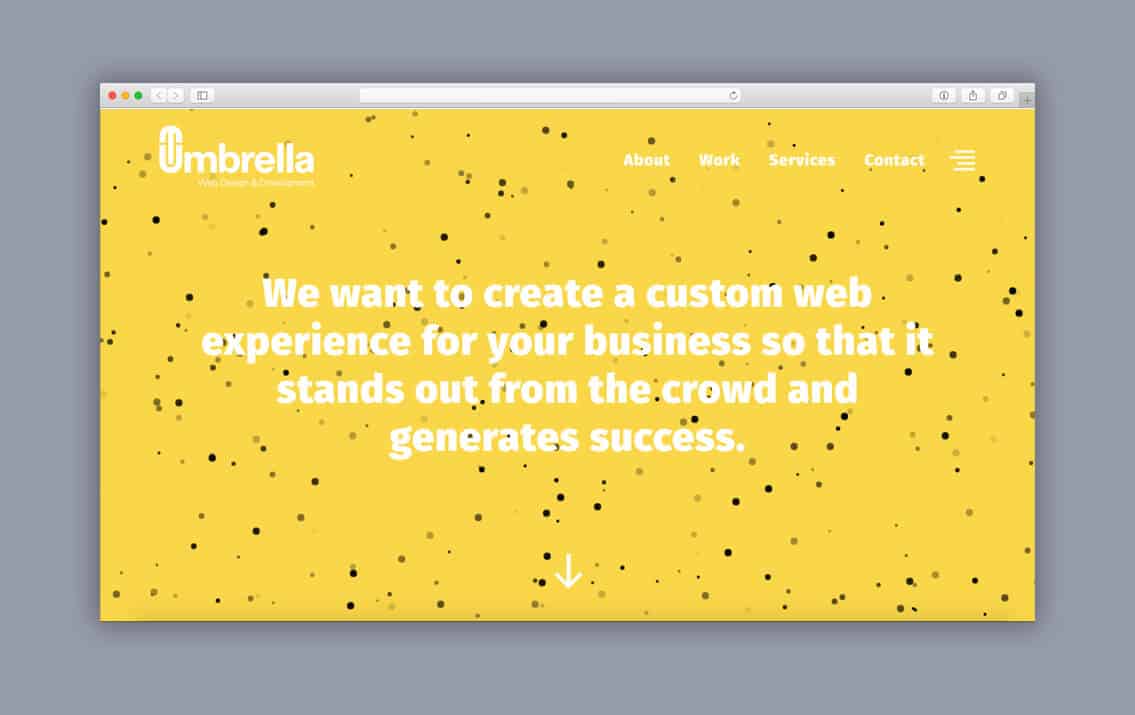 We've also been doing a lot of e-commerce shops in Shopify and PrestaShop, with a serious focus to its UI / UX aspects. Another service we offer is custom online applications, such as a lead generator done for an insurance company. It's a quote estimator which goes through the process of asking some questions and generating a price quote based on the answers. The application links up with the insurance company's CRM so that they can follow up on those leads and contact potential clients.
When working with tools like WordPress or Shopify which are template/theme driven, do you still integrate custom design into these products?
Yes! Many times we start with a theme that has specific backend functionality a client needs but customize the design so much that it doesn't look like it started as a theme. This way we maintain the code that gives a site that extra functionality and our clients have the benefit of a design that is unique. But it's carefully thought through and wire-framed for their needs. We don't just pick a theme and say "OK, here's the theme. We'll change the colors, we'll change the font, and here you go." That's not a site that's interesting or worth our client's investment.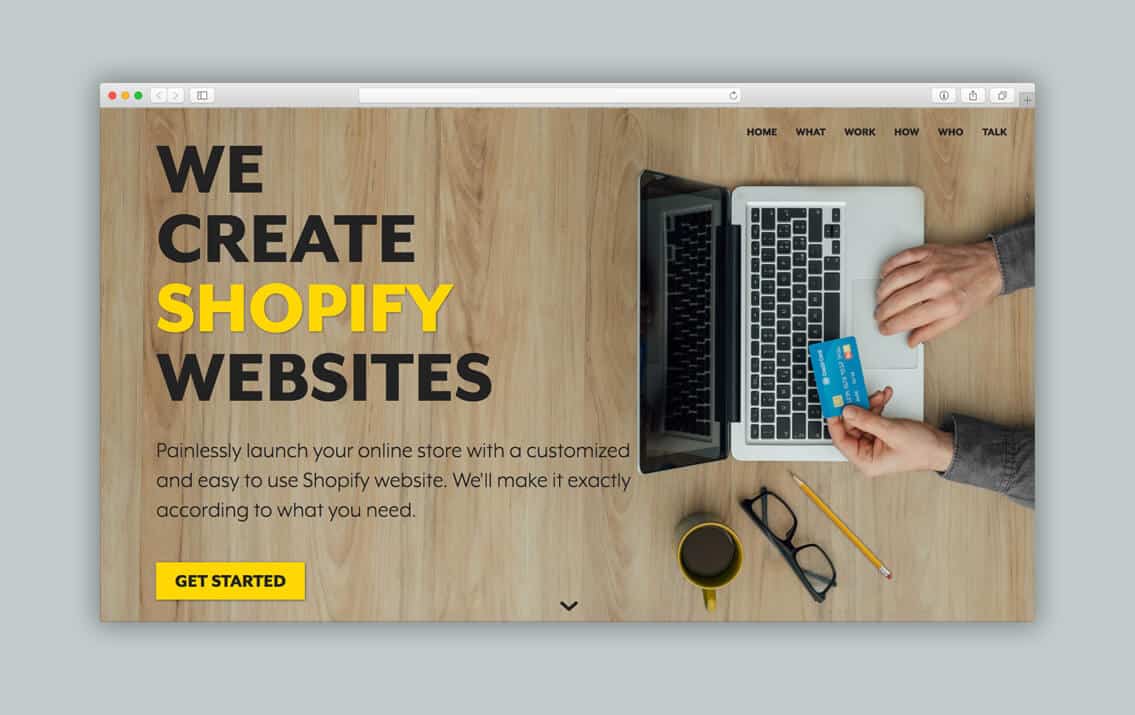 When working in WordPress, there are times we will use existing plugins. There's no point to build a contact form if there is already a plugin that works well. However, if a client requires a contact form with special functionality, we will custom build a contact form application that is tailored to their needs.
Do you specialize in creating projects for a particular industry?
Not really. When I first started in Israel, I worked a lot on portfolio-based sites for fellow designers, architects, and artists. But since arriving in Los Angeles, I've designed and built projects for all sorts of industries, including fashion brands, insurance companies and a large seller of healthy food & snacks.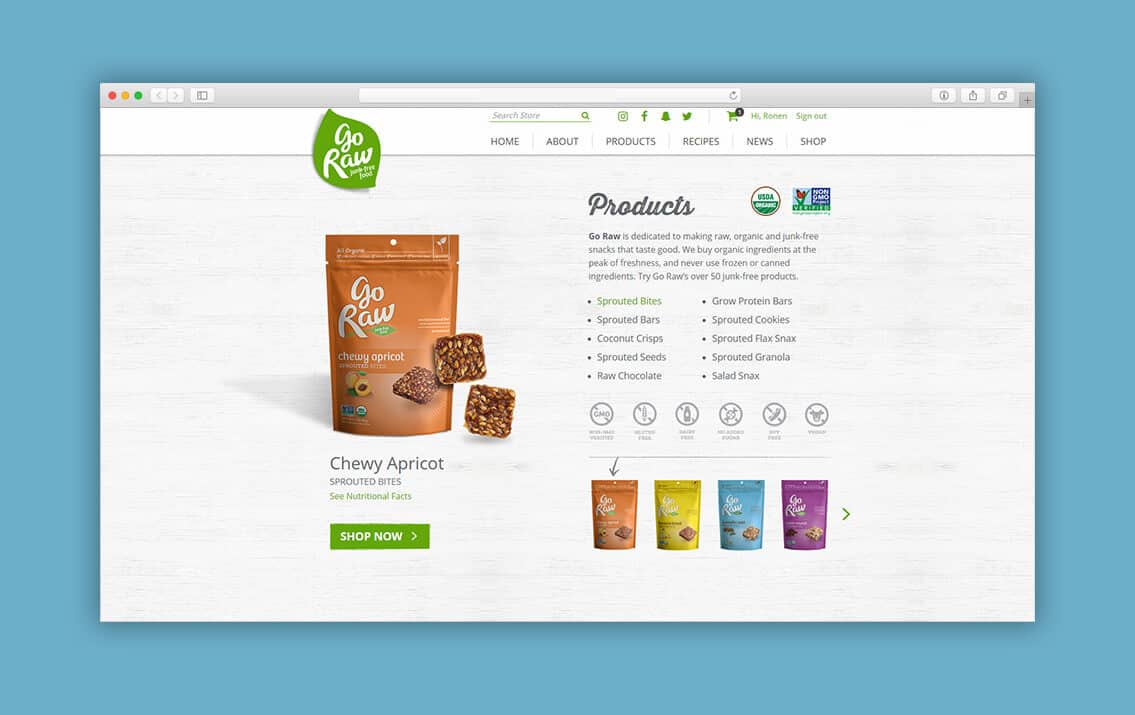 Recently I've been collaborating with a designer whose background is in the beauty industry, so, I'm looking forward to jumping into that world. Our current project is a website for a false eyelash brand. I'm also working on sites for a jewelry company and a children's vitamins manufacturer. All three of those projects are e-commerce sites but from different industries.
What is a mini site?
A mini-site is usually a one-page website with all the features of a regular website. There is typically a menu at the top which when clicked, will jump to a specific section of that page. Usually, I recommend larger websites because "Content is King," and content is the way to be found on the internet. But sometimes, a client may want just this little concise summary to make sure their visitors can immediately focus on their content. Mini sites are also a good solution when a company is marketing a particular product or service. When advertising on the web, on Google and so forth, they may want a specific place to redirect customers. In essence, it's a landing page, but more advanced than a simple landing page with a contact form.
Earlier, you mentioned a lead generator you built. What other custom projects, aside from websites, have you created?
Custom projects are a lot of fun to create! Another application was for a car warranty company which was similar to the lead generator in that it also used inputted information and created this connection to the client's CRM. For an architect, we created this unique navigation system that looked like an old iPad or iPod wheel, which was really a change from the ordinary website projects we do. I created a Facebook game "The People's Choice" for Armoza Formats, an Israeli company that sells TV formats. It was a fun trivia game which I think is offline now, unfortunately, but is still in my portfolio. For a site that sold bicycles, I created a "product builder & customizer" where customers could select the frame color, type of tire, etc. they wanted. During my first 5 years in the industry, I was a serious Flash developer. Aside from designing fun, animated websites, I created dynamic POS animations for YCD Multimedia, a company that develops digital signage playback and management systems. Using their system, a coffee shop manager, for instance, would select an image, enter a title, a price, etc. and an animation would appear on screens positioned in front of cashiers in view to the customers. We created these screens for many known brands.  Another was a fully animated scoreboard for the new soccer stadium in Netanya, Israel. The system is also able to control the content the fans see on the big screen. Those projects were not actually internet based, but still required Flash, JavaScript, and HTML coding and were a lot of fun to create.
Now that Flash is no longer functioning or supported, have you recreated your older Flash projects in another platform or simply retired them?
We recreated only one, perhaps two Flash sites by employing JavaScript and HTML to maintain their original appearance and functionality. Apart from that, we didn't replicate the pre-existing Flash projects; instead, we progressed by reimagining and redesigning them to align with contemporary trends and the present time. I was sad when Flash was declared "dead" because the Flash sites I made were so much fun and so adventurous with many different layers and animations.  There was a lot of freedom with Flash which I think was actually its downfall. When I saw how websites created incorrectly in Flash were draining devices' batteries and creating other problematic usability issues, I understood Steve Jobs' opposition to the platform. The transition was a little bit tough, but website trends were moving away from these complicated animations anyway. People didn't have the time or patience for front page splash animated intros. They wanted simple, minimal "Show Me the Content" websites. So, at the end of the day, it was actually a good thing. I always liked Flash's little details like animated rollovers, so when moving projects over to new platforms, I learned how to recreate a lot of those animations using CSS, JavaScript, and jQuery. In a way, Flash has stayed with me through those special little details that make a website stand out.