I had the chance to sit down and chat with Trevor Hatfield, founder at Inturact, an agency helping B2B SaaS Companies hit 12-Month MRR and 5x ROI (Guaranteed!). We have already explored some of his success stories with
Inturact
, but today we will talk about one of their recent acquisitions – Ring4. We discussed the story behind this acquisition, how Ring4 stands out from the competition, and what challenges and opportunities Trevor sees in the near future of their industry.
Let's introduce Ring4 to our audience. What is it and how does it work?
Ring4
operates as a pioneering phone system in the cloud, tailored for the contemporary requirements of Startups, Freelancers, and SMBs. What truly sets it apart is its flexibility: the platform seamlessly marries the functions of a web console with a mobile app. This integration empowers users to maintain their work lines on their personal phones, harnessing the potent capabilities of a contact center from virtually any location, as long as they're connected to the internet.
Startups, Freelancers, and SMBs find Ring4 particularly beneficial
. Here's why:
Global Reach, Local Presence: As echoed by a user review, traveling professionals can effortlessly obtain local SIM cards abroad, yet remain accessible via a local US number. This essentially eradicates exorbitant roaming fees, yet maintains uninterrupted communication, no matter where they are.
Work-Life Balance: Ring4 ensures that professionals don't have to compromise on personal space. With a distinct work number on a personal device, users can manage work calls without any interference in their personal life.
Swift Onboarding: A testimony from another user elucidates that getting started with Ring4 is a matter of mere minutes. This promptness ensures that businesses can remain agile and responsive
Also agencies working on client projects will find some unique perks:
Client-Centric Communication: Agencies can preserve a client's typical workflow, ensuring uninterrupted communication. This is because Ring4 supports number migration, facilitating seamless communication channels.
Impression Management: For agencies, the first impression can make all the difference. Ring4 portrays an image of 24/7 availability, elevating their professional stature in the eyes of clients.
What made you decide to acquire Ring4? What potential did you see in it?
We decided to acquire Ring4 due to its innovative approach to bridging the gap between traditional communication and the demands of a modern, remote workforce. Its seamless integration of a web console with a mobile app provides flexibility for users on the move. We saw an opportunity not just in its current capabilities but also in the potential for further integrations and expansions, positioning Ring4 as a leading player in the evolving communication technology sector
How does Ring4 mission differ from the other companies in its niche?
At the core of Ring4, we're not just another cloud phone system. We envision a world where work is not confined by geographical boundaries, and communication remains seamless no matter where you are. Our mission pivots around three main pillars.

Personal-Professional Balance. While numerous platforms offer business communication tools, we believe that the modern worker should be able to manage their professional commitments without sacrificing their personal space. By allowing users to seamlessly integrate their work line with their personal phones, we facilitate this delicate balance.
We have a tailor-made Ring4 for the Modern Workforce. Startups, Freelancers, and SMBs often operate differently from larger corporations, with unique challenges and flexibility. By zeroing in on their specific needs, we ensure that our features, usability, and pricing resonate directly with them.
An emphasis on Mobility and Global Accessibility. We've entered an era where professionals are not just working remotely, but they're also constantly on the move, sometimes across international borders. With Ring4, they can easily use local SIM cards when traveling yet remain reachable through their local US number. This feature is a testament to our commitment to truly global communication.
Who are your typical clients and what problems do they have when they come to you?
Our clientele is as diverse as the modern workforce itself. We cater predominantly to Startups, Freelancers, and SMBs. These are professionals and entities that are agile, often navigating the complexities of a global market, yet wish to maintain a local and personal touch in their communications. One of the primary problems they face, perhaps the #1, is the challenge of staying connected globally without losing the intimacy of a local communication channel. Imagine a freelancer traveling abroad for an assignment. They need to be reachable for their clients back home without incurring exorbitant roaming charges or constantly switching numbers. Similarly, startups and SMBs want to offer their teams the flexibility to work from anywhere, yet ensure that team communication and client interaction remain smooth and professional. Before finding us, many tried various alternatives – purchasing multiple SIM cards, using traditional VoIP services, or even juggling between different communication apps. Some even considered our competitors, seeking a solution that could be both efficient and cost-effective. However, ignoring these communication challenges often resulted in missed opportunities, misunderstandings, and even potential revenue loss. Furthermore, in today's digital age, the semblance of a constant, reliable communication channel can greatly impact a brand's image.
And what makes them eventually choose you over your competitors?
That's a pertinent question and something we ponder often. We believe our clients gravitate towards us because of the unique blend of functionality and human-centric design we offer. One standout aspect of Ring4 that resonates deeply with our users is the seamless combination of our web console and mobile app. This dual interface ensures that they're always connected, whether they're at a desk or on the go. It's about granting them freedom without compromising on professionalism.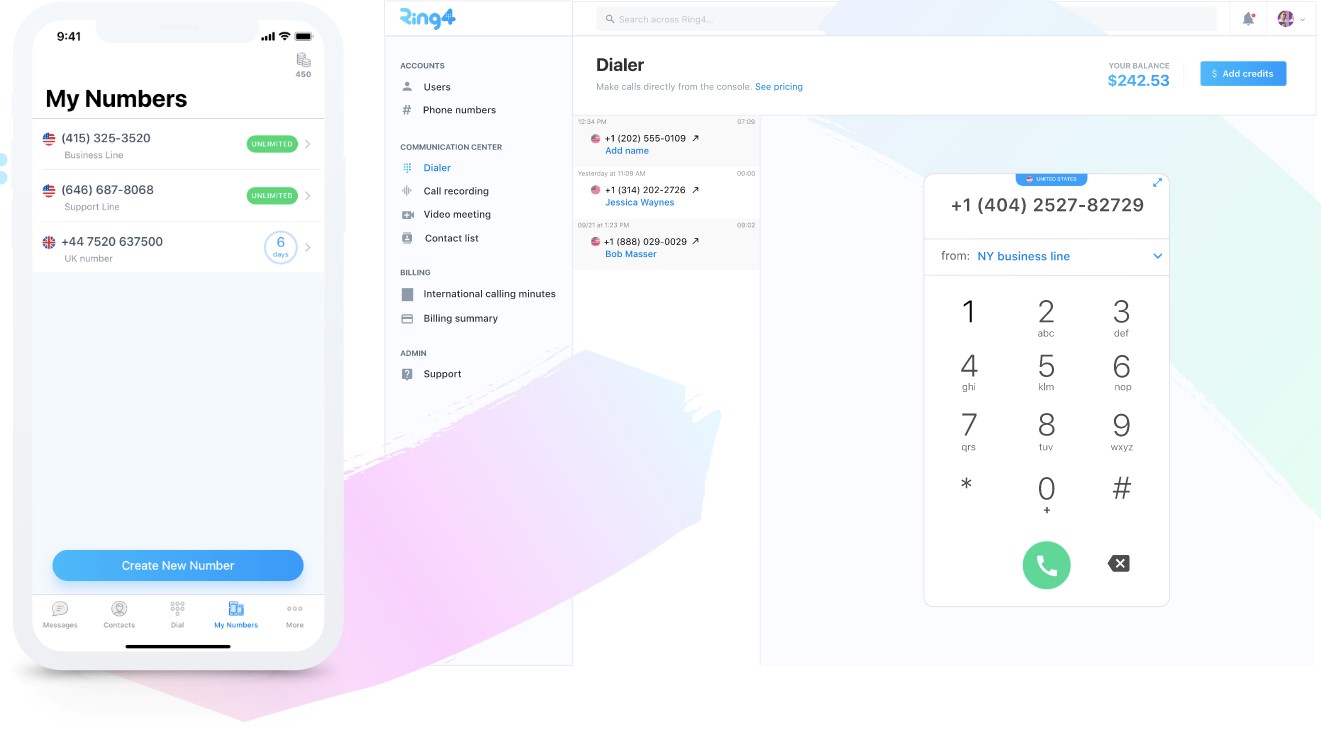 The tangible results speak for themselves. Clients often report increased efficiency in their operations. They're no longer tied down by communication barriers, so they're faster to respond, making their businesses more agile and customer-focused. They've been able to expand their reach, taking on clients or projects from different parts of the world without the traditional communication hassles. In terms of transformation, it's profound. A freelancer, for example, can now travel overseas, immerse themselves in a new environment, and yet remain just a local call away for their clients back home. Startups and SMBs can now truly embody the spirit of a global company with a local heart. When clients recommend us – and it's always heartening when they do – they often emphasize how Ring4 has liberated them. How it's not just a tool, but a partner that understands and molds itself to their dynamic needs. One sentiment we hear frequently is that with Ring4, they feel they're always "on top of their game" and that the platform gives an impression of 24/7 availability, even when they're offline. It's this blend of reliability, flexibility, and personal touch that sets us apart in a market of seemingly similar solutions.
If you had unlimited funds, what improvements would you make?
It's always exciting to think about the boundless possibilities. While Ring4 has always been focused on providing exceptional service with the resources we have, unlimited funds would certainly accelerate our vision in multiple ways. At the heart of any tech solution lies innovation. We'd invest heavily in R&D to not only refine our current offerings but also to anticipate the future needs of the global workforce. Whether it's integrating advanced AI for smarter call routing, enhancing voice clarity, or even exploring holographic communication, the sky would be the limit. With unlimited resources, we'd form collaborations with a broader range of tech platforms and tools. This would enable our users to integrate Ring4 seamlessly with their favorite tools, streamlining their entire digital workflow. We'd invest in fostering a vibrant community platform where our users can share insights, collaborate, and even form new partnerships. It would be a hub for networking, learning, and growth.