Whatever your internet goals – increasing engagement, driving sales or revenue, or just wanting to get to know your users better – interactive content has been proven to get more responses and gather more authentic data than standard static forms.
Assaf Parag, CEO of Opinion Stage
talks about their platform wfhich easily creates the type of fun, interactive content that people love to participate in and share.
This interview was originally published on May 22, 2020
What is Opinion Stage?
Opinion Stage is an interactive content creation service. We offer eight interactive tools for creating items such as surveys, quizzes, forms, and polls. While we have some customers in the eCommerce, education, and content creation sectors, the main focus of our platform is for marketers and publishers.
What type of quizzes can you create with your Quiz Maker?
While there are many types of quizzes you can create, they fall into two archetypes. The first is a knowledge quiz like a trivia quiz where each question has a correct or incorrect answer. The second type is an outcome quiz like the BuzzFeed type personality quiz, where you can define different outcomes. Every answer adds a certain amount of points to each of the possible outcomes, and the one that receives the most points upon completion is displayed to the user. Branch logic can also be used when creating these quizzes.
What is the value of interactive marketing?
Interactive marketing is very valuable for boosting engagement, gathering more qualified leads, driving sales or revenue, and extracting actionable insights.
Let's discuss these values one at a time. How does it boost engagement?
To demonstrate how interactive content boosts engagement, I'll start with some numbers. We see, for example, that when publishers pose a very focused quiz to a relevant audience, they can get up to an 80% participation rate and even up to a 90% completion rate. These numbers are really phenomenal compared to static content and why large publishers such as NBC and Fox use our polls & quizzes. There are several reasons our interactive content results in higher engagement. People are always interested in discovering things about themselves and others, and quizzes are a fun and engaging way to do that. And people want to share their results on social media – be it their opinion, a funny result of let's say a personality quiz, or a high score on a trivia quiz.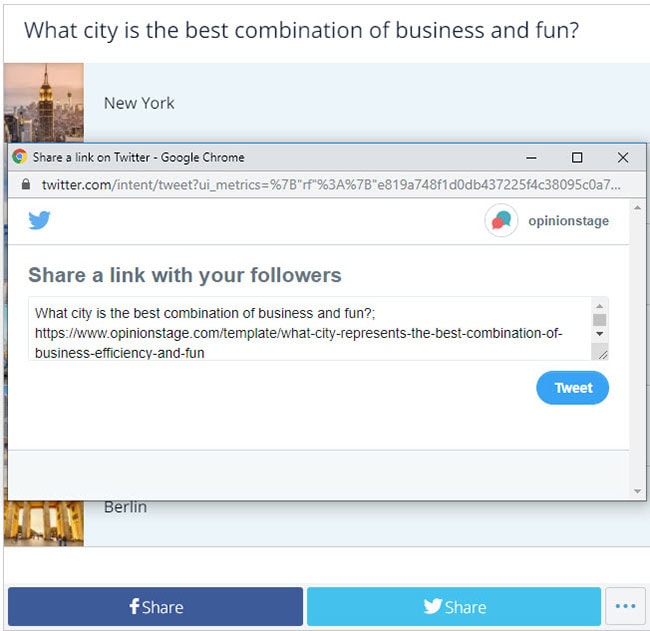 Additionally, Google now views the amount of time spent on a page as an important parameter for ranking. Since our interactive content increases the amount of time someone will spend on your site, it also helps with SEO. I should also mention that since the corona outbreak, we have seen 2-3 times more interest in our platform as companies begin to understand the value of communicating with their audience
and
employees with these types of fun, interactive activities.
How does your content generate more qualified leads?
The ability to gather more qualified leads is of great value to marketers, publishers, and almost any type of content creator. Instead of a regular contact form on a website, the lead form is integrated inside the quiz. This works really well because people are engaged with the content and have more incentive to give their contact information because they want to complete the quiz and receive their score. Because of these factors, we see customers receiving up to 500% more leads over the standard static form.
What makes these leads more qualified?
These leads are more qualified because the answers associated with the contact information can help you understand if a customer is of interest to you or not. Depending on their value, you can decide if you want to follow up, and if you do – at what cost per lead. It can also boost conversions by giving you the information you need to send a more tailored follow-up message to these leads.
How can interactive content drive revenue and sales?
The revenue stream for most publishers is advertising, which is why a lot of large publishers use our platform. They find the CTR (click-through rate) on advertisements integrated in our interactive content up to 3X higher than static content.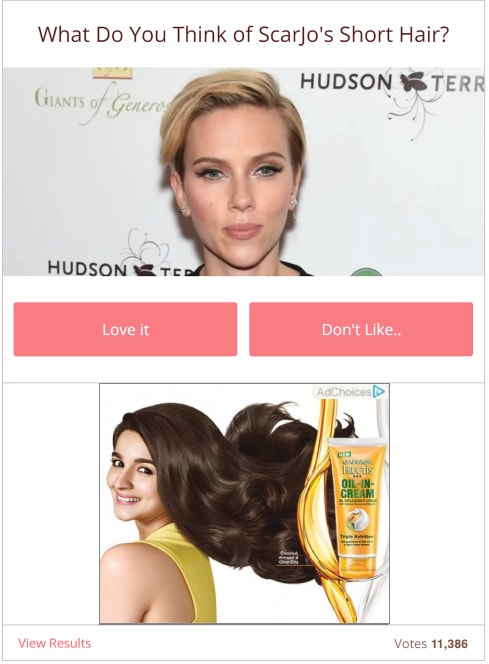 They can, for example, integrate a standard text or banner ad from Google or another advertising network inside a poll. Since polls are very engaging, these ads receive more focus resulting in many more click-throughs. We also offer a service of programmatic advertisements for publishers who do not have their own ad stack and want us to manage their advertising for them. For driving sales, eCommerce sites use products like our Product Selector to create a kind of interactive wizard to make product suggestions to users based on the answers they provide. Using the same format as the outcome/personality quiz, you can help a visitor to your site choose a birthday gift for their father by only displaying products that fit their preferred criteria like budget, age, interests, etc.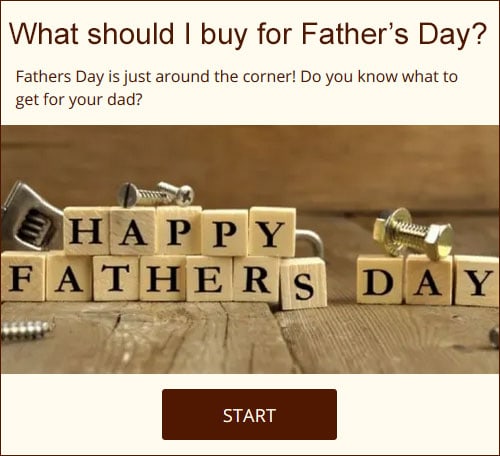 How can it generate insights?
Generating insights is very important to marketers, and interactive content like surveys and quizzes give them not only a lot more insights but also a lot more
authentic
insights. Let's say you are a food site and want to know more about your audience and their interests. Rather than creating a static survey form, you create a fun, engaging quiz entitled "What Type of Foodie Are You?" Within that quiz, you could ask, 'How often do you cook?' 'What is your budget for a typical dinner for two?', etc. Not only will you receive more responses because of its interactivity, but you will receive more authentic answers because people want accurate quiz results. This is a great cost-effective way to gain insight into your audience while they are having fun. When Outbrain wanted to show a large car manufacturer how successful a campaign was, they created an engaging quiz 'What type of driver are you?' They included questions like 'Do you get mad when somebody passes you?' 'Are you polite on the road?' as well as 'Are you familiar with this car model?' Outbrain received vital insights into the campaign performance because while taking the quiz, people were answering important questions that they saw as entirely unrelated to the campaign they saw earlier.
How is content created in Opinion Stage?
When creating a form, poll, or trivia or personality quiz, you can either choose one of our hundreds of templates or design from scratch. Items are then added using effortless drag-and-drop technology.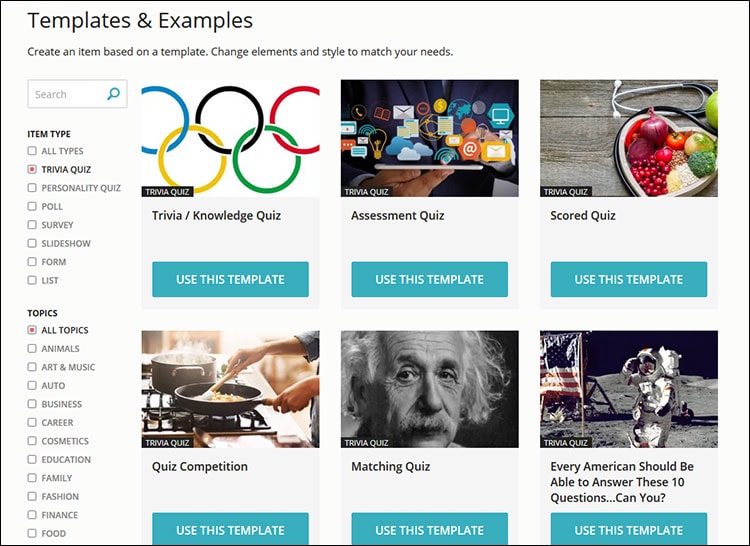 The most common way to embed our content into a site is to copy and paste the link into the article. If you are working with WordPress, our plugin can do it from within the editor. If you run a daily or weekly quiz or poll, you can streamline the process by inserting user placement code just once on either a single page, several pages, or even a section, and then from the dashboard, decide what's displayed there at any given time.
What kind of analytics and reporting is available from these tools?
Reporting is a significant part of our offering, so we aim to give you as much useful information as possible. Performance reports show how many people viewed the quiz, how many started it, and how many completed it. A drop-off report shows specifically at which question participants left the quiz. Now if you see a common drop off point at a particular question, you can try to determine why. Was it a question they did not feel comfortable answering or was it difficult to understand? You can then optimize your quiz by changing, improving, or removing the question. Result reports include the answers to each question broken down visually into a pie or bar chart that can be shared. You can also see how many people received which outcome, and in the event of a scored quiz, the scores.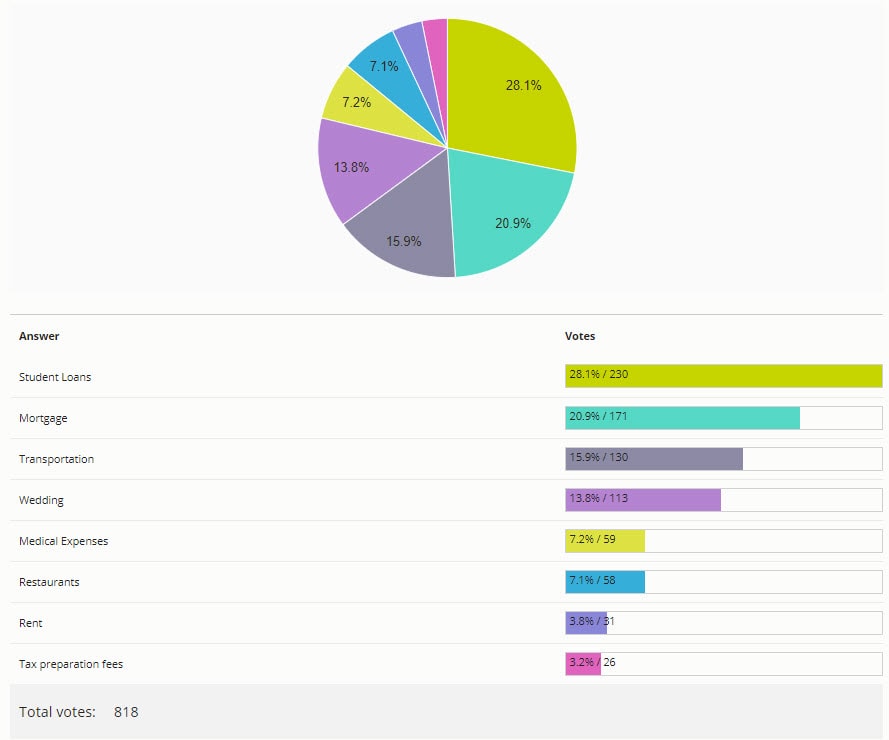 We also generate response reports with all the details of each submission along with an export option. We integrate with hundreds of marketing automation email platforms and CRMs so all the data, leads, and responses can flow directly into your marketing stack.
Is A/B testing possible?
Yes. We have something called placement, which instead of embedding a specific quiz on your site, acts as sort of a placeholder. Now in that space, our platform will display quiz A 50% of the time and quiz B 50% of the time. Viewing the performance reports of both quizzes will help you optimize future results.
Do you support customers in creating effective interactive content?
Yes. Most of our clients can quickly get the help they need using resources like our chat support, chat forum site, and our documentation with advice on creating useful questions and content. Customers who would like more assistance can set up a meeting with us. Larger clients are assigned an account manager. We also offer full service where we create all the content for you.