Website Planet
had the chance to sit down and chat with the entire team of Netart.com, a CloudHosting provider from the NetArt Group, with over 1 million customers spread across nearly 100 countries worldwide. We looked at how they stand out in the hyper-competitive web hosting market by lowering the Total Cost of Ownership (TCO) through a comprehensive offer that includes web hosting and all the necessary addons an online business may need.
What types of hosting plans do you currently offer?
Netart.com offers 3 subscription hosting plans:
CloudHosting Start (100 GB)
CloudHosting Business (500 GB)
CloudHosting Pro (1 TB)
All of that as well as the CloudHosting Pay-Per-Use plan with a flexible billing model only for the resources consumed. CloudHosting provides power of up to 8 vCPUs, 8 GB of RAM, CDN, PHP and Node.js integration, comprehensive 2FA security for email, automatic compression of graphics on pages to modern webp format, and 24/7 technical support. To explain the difference, the Start, Business and Pro packages differ in disk space size, maximum CPU usage, data transfer limits, number of application servers and application auto-installers, as well as detailed security parameters, among other things.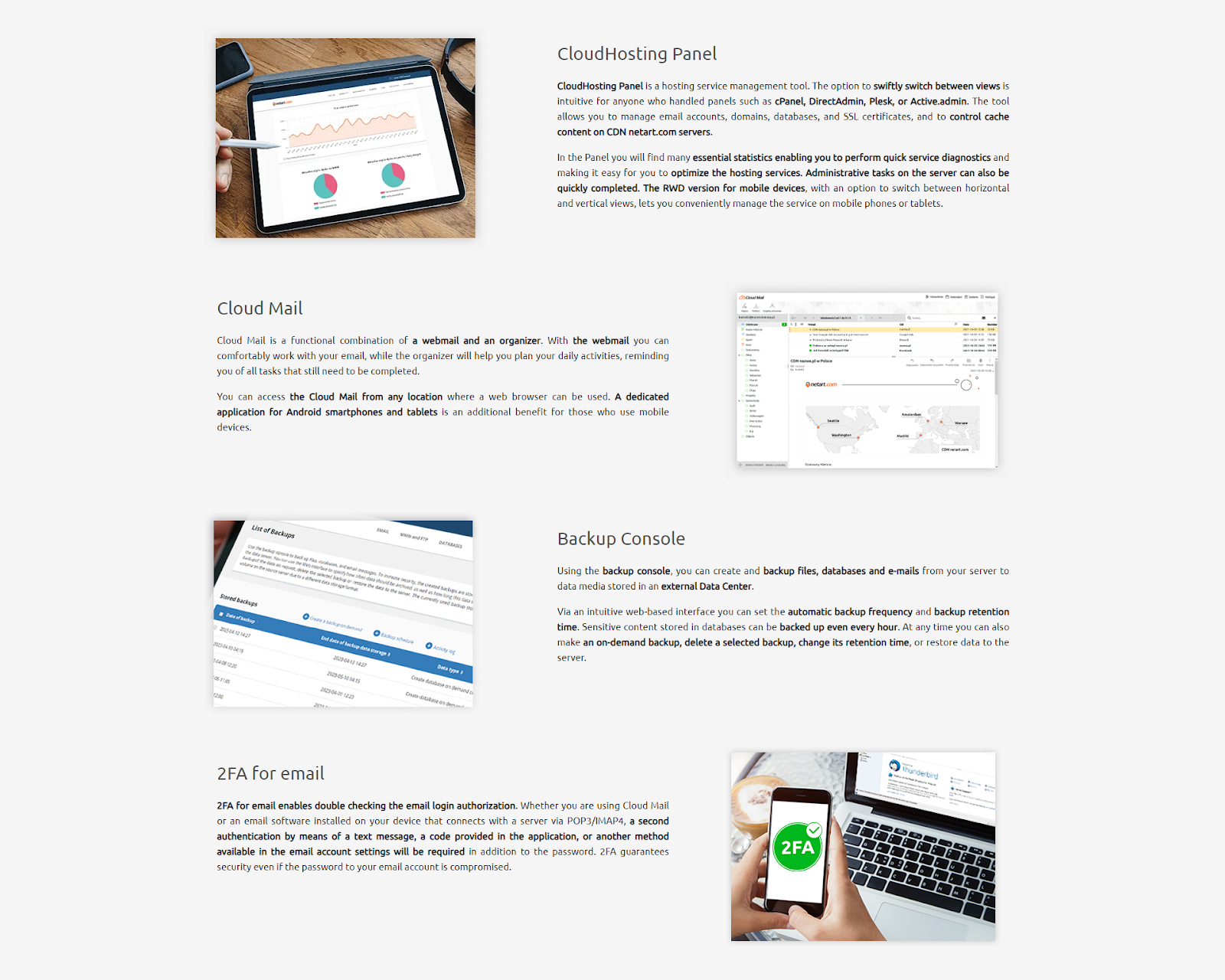 Are there any hosting plans tailored for e-commerce websites or content-heavy blogs?
CloudHosting e-Shop is a netart.com solution dedicated to e-commerce sites. The service offers an automatic CMS PrestaShop installer along with specially selected add-ons that make it easy to run an advanced e-store. CloudHosting WordPress is an ideal solution for blogs, galleries, online stores and company websites. It includes many add-ons that make it easy to build any kind of website. Users are provided with automatically configured Redis data storage (1 GB), which perfectly speeds up WordPress. CloudHosting from netart.com is implemented using cloud computing technology, in which each website is served simultaneously on several hundred servers. In case of sudden demand for resources, traffic is automatically directed to the least busy machines in the cluster, ensuring maximum speed at all times. This does not involve any additional charge. If required, the customer can increase up to 2 TB of available disk space, the limit on e-mails sent or CPU usage time. The CloudHosting Pay-Per-Use service combines the advantages of high computing power of 8 vCPUs and 16 GB RAM, unlimited disk space and the amenities offered by hosting. This is a solution for users who do not want to use CloudHosting in a subscription model, but want to bill the service only for the resources actually used. Moreover, any user of the CloudHosting service from netart.com can take advantage of cloud computing technology, which ensures maximum web speed. CloudHosting is automatically integrated with the CDN, whose nodes have been placed in key locations around the world for Internet traffic. The netart.com's client sites open instantly, which is also helped by automatic compression of images on pages into WebP format. Not insignificant is the fact that netart.com servers are equipped with modern and very faster high-clocking Intel Xeon processors. Cloud hosting users can also take advantage of a number of extras, such as 2FA security for messages received via webmail, IMAP4 and POP3, dedicated geographically localized IP address, Reverse DNS, CDN netart.com, automatic compression of images to WebP format and data backup console, among others. Our offer is not limited to hosting, of course. We provide modern VPS servers equipped with state-of-the-art high-clock Intel Xeon processors, email packages (up to 2 TB), Cloud Backup and Mail Backup software, SSL certificates with ECDSA encryption or domain registration service (over 300 available extensions).
How does your mission differ from the competition?
The goal of NetArt Group, which includes the netart.com brand, is to provide the most modern and innovative premium solutions. We focus on informed customers who need fast and secure solutions that will give them a competitive edge. We are guided primarily by a high organizational culture, and we emphasize continuous technological and product development. We understand that advantage is mainly built with fast, secure and reliable solutions. Users also pay attention to total cost of ownership (TCO). Since we offer a whole ecosystem of additional services together with hosting,
customers don't have to worry about the costs associated with replacing systems or hiring IT specialists on their own
. They have everything they need provided by netart.com. One example is lowering the Total Cost of Ownership (TCO) of a hosting service. The user does not have to incur the additional expense of setting up his own infrastructure and operating it. Another example is the increase in web page loading speed due to integration with CDN netart.com, which is important for maintaining adequate conversion rates especially for e-commerce sites.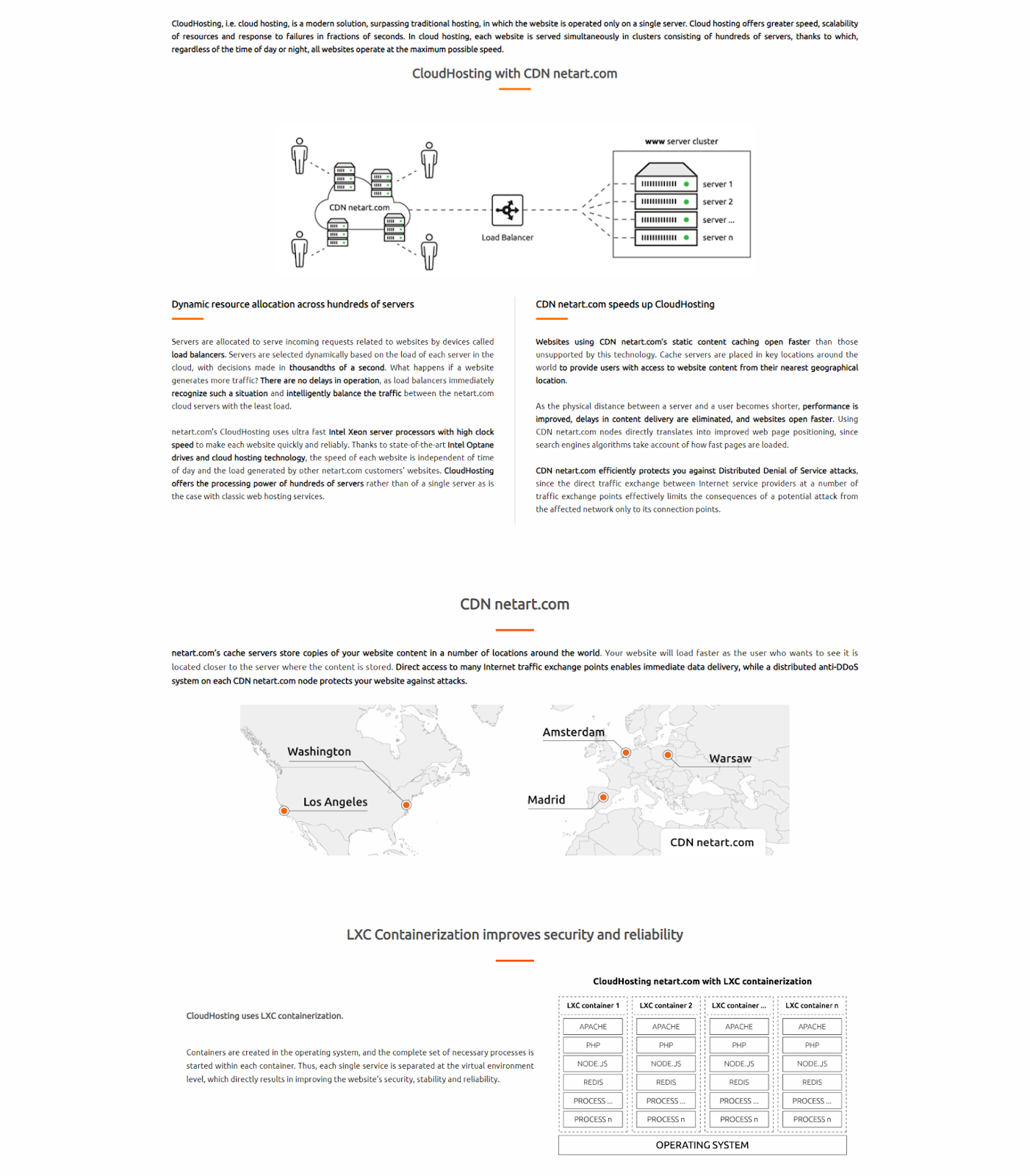 Who are your target customers, and how have you tailored your features to their pain points?
NetArt Group, which owns the netart.com brand, provides premium-class hosting dedicated to the most demanding customers. A large number of additional services for CloudHosting at netart.com ensures that every CloudHosting user from netart.com can run their business online efficiently, quickly and securely.
What is the number one thing that sets you apart from your competitors?
While most hosting companies run their services on a cloud basis, netart.com's services are themselves a cloud. CloudHosting from netart.com offers dynamic load distribution for each individual service and automatic CDN integration. Each CloudHosting service is given access to hundreds of processors and terabytes of RAM, and only the parameters of the purchased offering limit how much resource it can use.

How do you ensure scalability for those clients that experience massive traffic growth?
CloudHosting technology protects against the effects of a sudden increase in traffic on clients' sites.
When any of the websites starts generating a higher load, the load balancers, which are in charge of allocating servers to handle incoming web requests, automatically distribute the incoming traffic among free resources across the server cluster in a fraction of a second. We also make sure to make our servers traffic-proof.
CloudHosting services offer an SLA / Uptime availability level of 99.9%
. In a situation where any of the servers that make up the cloud would fail or need to undergo maintenance, it will not affect the operation of our customers' services. Load balancers will redirect traffic to slow servers in the netart.com cloud in a fraction of a second.
Users of netart.com services are protected from DDoS attacks by our managed Scrubbing Center
. This is an advanced intrusion detection and prevention system that allows attacks to be detected at the network scanning stage, even before they even begin. The total bandwidth of netart.com's network to other operators is more than 400 Gbps.
What challenges and opportunities do you see in the future of the web hosting industry?
Today, users are betting on high-tech services that will give them a real competitive advantage online. This trend will continue. At the same time, with the growth of the Internet, there are more and more threats from cyber criminals. The challenge facing hosting companies is the need to combine speed and reliability of solutions with maximum security. At the same time, users are demanding that everything essential be available in one place, so that they do not have to pay additional costs, which can sometimes exceed the initial price of hosting many times over. At netart.com we anticipate these needs and already offer solutions that should become the gold standard in the future.
Lastly, what's in your roadmap for the next 12 months?
Currently, netart.com's offerings are available in the European and African markets. In January 2024, we will launch sales in America, Asia and Australia.