Website Planet
had the chance to sit down and chat with Steve Toy, CEO of Memrise. We discussed how the company started, and the vision behind this groundbreaking language app currently used by over 65 million learners in 189 countries.
What's your background, and what is your role at Memrise?
I was brought in to be CEO a couple years ago in order to take Memrise to its next level of growth and to implement the technologies that are becoming available today. My background has been in technology, EdTech, and Artificial Intelligence, in leading companies, and that's why I'm here.
Let's introduce Memrise to our audience. What is it and how does it work?
First and foremost, we're here to help people talk to each other. We aren't here to help people pass a test, get a credential, become native in their sound and tone. Fundamentally, we're just here to help people understand each other and form connections in different languages.And we believe that the best way to do that is to go in-country and survive. We all know that you progress faster in a new language by just going to the country and speaking it.
What we're doing at Memrise is bringing that feeling and experience of learning a language in-country to an app that is available any time, anywhere.
How did it all begin and what have we achieved so far?
Our founders have backgrounds in neuroscience and neuropsychology. One of them is a memory champion who gained recognition through the book "Moonwalking with Einstein" and has won memory contests in the past, so we can say that memorization played a crucial role in our early days. This said, memorizing 2,000 words of a language doesn't guarantee comprehension when you encounter native speakers in a real-life context. To truly learn a language, two additional steps are essential:
You need to hear the words being spoken in real-life situations, with different accents, speeds, and for various purposes. This exposure helps you understand the true meaning of words, as simply reading words on flashcards isn't sufficient.
You must actively use the language by immersing yourself in conversations and practice exercises which enable you to apply what you've learned. It's the combination of exposure and active usage that leads to true language fluency.
We understand the importance of these principles and have designed our language learning program accordingly.
By providing immersive experiences and opportunities for active practice, we help our users achieve real fluency in their target languages.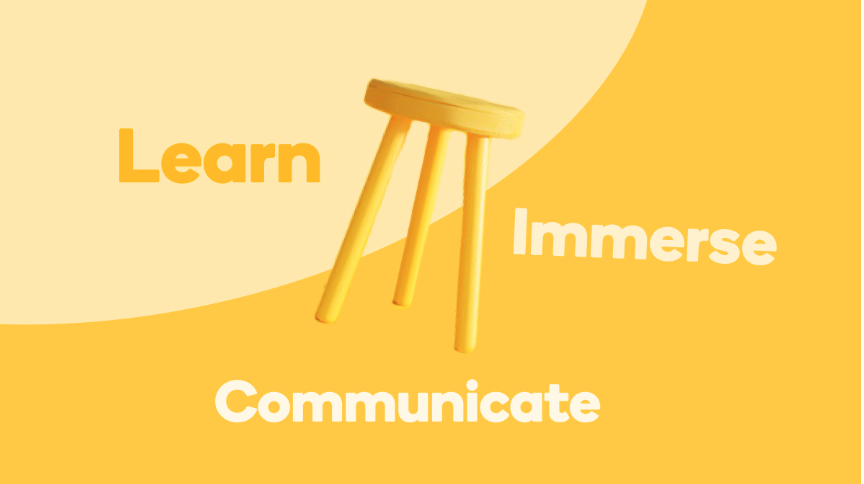 The three legs of the Memrise stool
How does our mission differ from other companies in our niche?
Our 'Learn, Immerse, Communicate' approach sets us apart from other companies in the language learning industry. While many platforms focus on helping users memorize words, we go beyond that. We believe in providing a way for learners to immerse themselves in the language through comprehensible input from a wide range of content. Instead of just creating our own videos, which would be limited in scope and would make us unable to cover all the topics and interests users have, we leverage the vast amount of existing video content on platforms like YouTube and TikTok. Our smart tech breaks down these videos into words and phrases, and then matches them with our dictionary. This allows us to filter the content and present videos that have a higher chance of being understood by our users. In essence,
we provide real-life scenarios through the videos we curate
. By utilizing comprehensible input, we strive to create an engaging and effective learning experience for our users.
Who are your typical clients and what problems do they have when they come to you?
Our ideal customer is somebody who wants to learn a language for functional purposes through an engaging learning experience.
When you immerse yourself in a country, you have no choice but to practice the language all day, every day. However, if the process becomes boring, you're less likely to commit to it. That's where our solution comes in, with a wide range of videos that cater to different interests. You want to learn Spanish with music? We've got Shakira videos that you can turn into lessons. You are a chef and you want to learn Italian with cooking? Our cooking videos will be your lessons.
We curate existing content from around the world, filtering it based on the words you've learned so far
. Each video is accompanied by a word count, indicating how many of the words you know to help you gauge your comprehension level and choose videos accordingly. We also cater to those people who are unwilling to try to speak a new language because they're afraid they will sound like a five-year-old at the beginning. The reality is that nobody really cares – people know you're learning a language – but we are human beings and we worry that we're going to sound stupid nonetheless. The solution? Take the human element out of it, and let you talk to a robot while you build your confidence. We've called this 'MemBot', and we want our users to think of it as their AI-powered language partner. For example, with MemBot you can simulate a situation where you are in a new coffee shop in your neighborhood and you want to order coffee. MemBot acts as the waiter. If you don't know what to say, you can ask MemBot for a hint, and the conversation keeps going You can practice this over and over again, and it will be different every time. MemBot closes the 'Learn, Immerse, Communicate' pedagogical loop by offering our learners the chance to practice their written or spoken language skills anywhere, anytime.
And what makes them eventually choose you over your competitors?
When it comes to language learning, many people naturally gravitate towards video-based platforms like YouTube, FluentU, and Youglish.
What makes people switch to Memrise is our unique approach.
We don't just inundate you with random videos; we provide you with comprehensible video content tailored to your specific vocabulary knowledge. Learning with video is not groundbreaking, but the ability to filter video content to match your vocabulary is truly remarkable. But let's now talk about memorization… Platforms like Duolingo, Babbel, Busuu, Drops and Mondly claim to help you memorize words with fancy flashcards, but that's just scratching the surface. Once you've learned the words, you need real-life practice in hearing and using them, just like when you're in a foreign country. This is where Memrise wins hands down – by providing exclusive content that nobody else can access. Our implementation of technology allows us to filter and deliver content in a way that makes us a unique language learning platform that goes beyond basic memorization and offers a truly immersive experience. Our historical competitors, like Duolingo, stop at learning. But after that, people need to immerse themselves and communicate using their language, preferably without judgment, but still while receiving gentle hints, suggestions, and corrections. That is how we are different.
Can you share one success story from your customers? What was their pain point, and what results did they get thanks to Memrise?
There's a website called The Francofile, owned by two Americans learning French. They heard about Memrise and they decided to check it out recently. Their review said that Memrise is better than a one-to-one tutor for three reasons:
Response time: you can open up to the app anytime and start practicing.
Conversation quality: with MemBot, you can have better conversations than with any tutor, on-demand, with infinite support and patience.
We are what people want: if you're getting ready to travel, we can give you chats that are appropriate to travel. We give you the tools you need at any given moment to get you speaking as soon as possible.

What do you see in the future of your industry, and how do you plan to cope?
In the five years preceding the start of this year, we had made nearly 2000 different groups of words to help people learn a language over five years. Due to our smart tech, in the five months since the beginning of this year, we've made 6000 groups of words. We will add more languages and more words to our dictionaries in the languages that we have, particularly in the area of colloquial language, as these are the things that one really needs to understand in order to communicate in the real world, despite them being rarely taught. We will use more generative AI to make the audio video files that we use to teach those words, and we will scoop up more and more video out there in order to provide an ever richer and deeper experience, through hearing real language surrounding the topics that are interesting to you.