Website Planet
had the chance to sit down and chat with Abhishek K., Co-Founder at
Longlist.io
, all-in-one recruitment CRM built for small recruitment businesses. We learnt how Longlist.io stads out in helping recruiters reach out and engage with clients and candidates, and what plans they have for the future.
What problems are you solving with your products and services?
We are building Longlist for small recruitment businesses, especially if you have just recently started your agency. Longlist is everything that you need in a technology solution to quickly fix your database, candidate & client management workflows. Small recruitment businesses often feel overwhelmed by the number of products & plug-ins that are out there, they end up spending a lot of time and money to take several subscriptions only to come to a stage where they end up complicating the process, which was supposed to be simplifying the job for them. Longlist is an all-in-one recruitment CRM, that integrates with recruiters' inbox, Linkedin and all the major job boards for you to source and engage better while tracking all of this automatically. It comes with advanced reporting, sourcing, parsing capabilities which is all a part of the same solution. Hence one solution is all you need that gives you the ability to handle your entire recruitment workflow in one product, without breaking the bank. Most products have built a basic product that recruitment businesses need, and they charge them for each advanced functionalities. Young recruitment businesses often see themselves in a place where they don't want to over invest in additional expensive plug-ins, but also feel their basic product is not giving them enough value on its own. Longlist brings the power of resume parsing, advanced sourcing on top of Linkedin & job boards, tracking & reporting all in one product and not as separate plugins. Apart from this we openly share the new product features that we are developing in the coming months with valued existing customers, we give them the opportunity to share their problems with us and co-create features that might be important for them.
Recruitment businesses save a minimum of USD 7500 annually using Longlist.
Our current customers end up saving 100 hours working hours every month by using Longlist with all its advanced capabilities, leading to more placements. Longlist CRM on the day 1 of the access would not only provide an interface to their clients but also populate new & existing data for their industry. Our customers love the part, that they never sign up to the product, with nothing on it and they keep waiting for the day when there will be enough data for them to utilize. Longlist would not only create candidate & client profiles from your CSV"s but also add new data from your industry, so your team is excited to log on to the product on the first day. Our clients in the onboarding itself are made to feel comfortable using automation & job postings.
How does your mission differ from the other companies in your niche?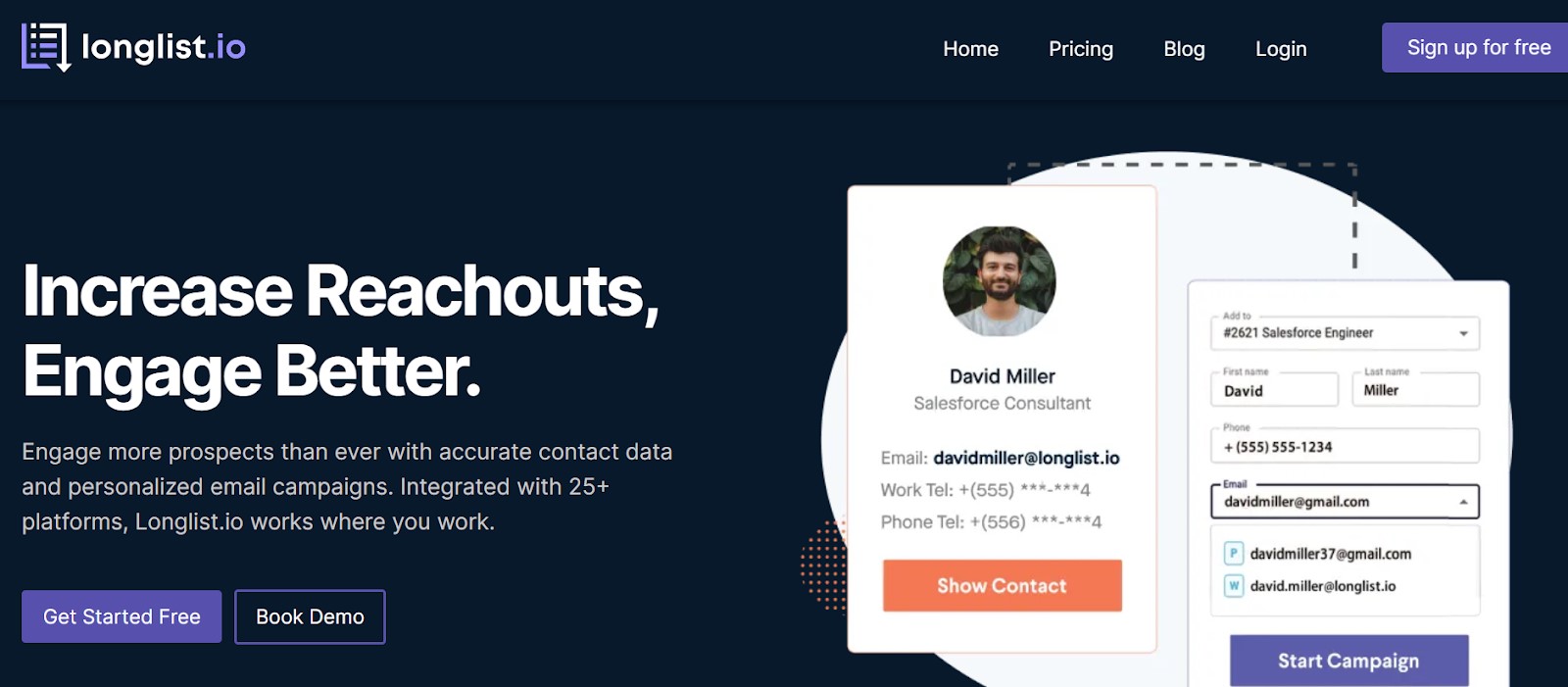 We are built keeping small recruitment companies in mind. It provides the all-in-one product and is everything that you need to run your operations. We co-create the product with our clients, communicate the product roadmap in advance. This gives you a chance to co-create solutions for the problems you are facing in the business. We are constantly collating knowledge & information material for your users, so they are growing as professionals and contributing to their full potential. We run a fast growing community for our users to learn from industry peers and experts.
We aim to simplify running and growing a recruitment business and become
the biggest provider of technology solutions to small and medium sized recruitment businesses globally.
What industries or business sizes benefit the most from your solutions?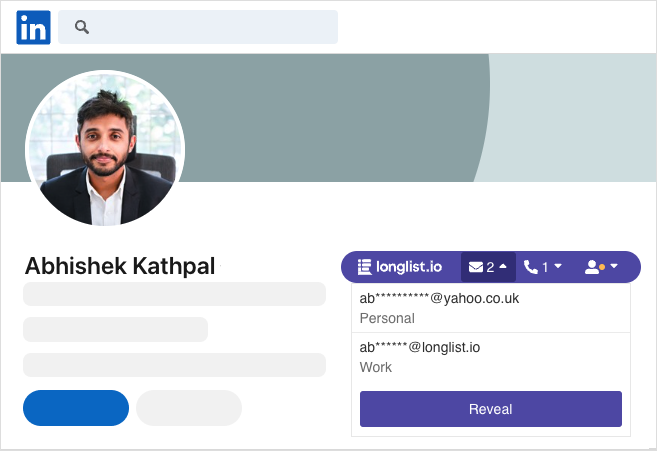 Small recruitment businesses are Longlist's heavy users, which is a tool exclusively built for recruitment businesses that could be operating across the industries. For example, we have clients across technology, Energy, Manufacturing, Retail, Banking, Healthcare and Oil & gas.
Small recruitment businesses often get trapped into using free tools for tracking and expensive tools for data
. Longlist provides them a powerful combination of data, workflow management and automation. There are other products in the market that are built for similar audiences, however most of them would give you a very basic product to use as a small business, and for every little thing you need to test out for your business, you would end up paying 2-3X the cost of your original product. Products like Bullhorn, Loxo and many more would provide basic features, that would not be anything more than a glorified spreadsheet. The moment you would sign up for slightly advanced (that are actually) capabilities, like Analytics, sourcing, Resume parsing, you would end up paying twice as much for the subscription. Longlist is built for small businesses to succeed and hence all data, automation, advanced capabilities are at a disposal for all our customers. For those concerned with data migration from one product to another and the adoption of the new product, we try to address that by providing free data import & expert. Those above are the reasons why
we are rated 5 stars on G2 and Capterra
for adoption as the UI is very simple to use.
And what makes them eventually choose you over your competitors?

Longlist being one stop solution for our clients is the biggest reason they choose us, we end up replacing at least 4 different products & plug-ins they might be using currently.
Ease of use is the other reason why they choose us. Product offers a very simple UI for experienced or even young recruiters. Adoption time to use Longlist in its full capacity has been less than 1 week. Our customers have added 40% more data week on week at a user level, since integration with existing job boards & linkedin makes it very simple to do so. The database size in our customers CRM tends to grow at 4 X better speed. Longlist makes it very easy to add data from Linkedin, job boards and other sources. Adding new data and refreshing current data is made much easier. Time that our users spend on administrative tasks has gone down 80%. They can utilize this time to speak to more candidates & clients, which is what recruiters enjoy the most. Everything from sourcing, engagement, adding data to the CRM, tracking candidate & client life cycle is made very easy by Longlist. The biggest feedback we have received from them is that despite being a small business, they have always participated in Longlist's product journey. They are always kept in loop of what is stored for them in the coming months and have an opportunity to participate in that. Now, they mention us as their go-to recruitment business – all one needs for the next 3 years at least.
What other tools and best practices do you suggest using in combination with your products?
It is good to have a very basic Linkedin subscription along with Longlist, so you don't hold back on sourcing and engaging with candidates.
In combination with Linkedin Premium, Longlist can increase your reach, help you save more than USD 3500/
Can you share any success stories where your product made a significant difference for a business dealing with those challenges?
We started with a recruitment business in SE Asia called Credhire. They signed up with us when they were a two member team. Being founder lead, they were facing immense challenges to prioritize new business development and candidate engagement. They were constantly swamped by their ongoing jobs and candidates in the pipeline. Hence, building sales & candidate funnels for the future was near impossible. We worked on a solution, where sourcing and engaging candidates, along with reaching out and following up with clients was made easier with the Longlist engagement suite. While the founders were busy doing what they were doing, they were able to continuously generate a candidate & client pipeline with longlist. In the end, they were able to create 5 new jobs every month, just from the activity done via Longlist. Alongside that their time to source came down massively, as they always had an ongoing engaged pool of candidates that they continued to engage via Longlist. Database alongside email automation played a big part for them for their initial success They have now grown to 9 people, and all their team members have been able to do 360 work because of the culture they were able to build from early days.
What opportunities and challenges do you see in the future of your industry?
AI is the biggest revolution that is happening right now, it would soon start becoming mainstream in recruitment too. Recruitment industry would clearly differentiate technology adopters businesses from laggards in the coming years. We look to revolutionize the way sourcing is done by recruiters. Recruiter at the moment, source candidates on multiple platforms and constantly matching in their head and gauging whether the candidate fits the job description or not. We are building 'Smart Sourcing' technology which would continue to keep your data refreshed and help you proactively suggest relevant candidates from your existing data. We are in the early days of building a community 'TFRE' i.e. Tech first recruitment entrepreneurs. It is already enabling our users to learn from other players in critical areas of recruitment business.